Julian Brown, BS, ACE-CPT, NASM-FNS
JulianBrownTraining.com   
 
Julian is the co-owner of The Yard Fitness, an established fitness writer, a professional natural bodybuilder, a fitness & sport nutrition specialist, and a certified personal trainer. He began strength training at the young age of fourteen to improve his sports performance and hasn't looked back since. Julian is a graduate of Grambling State University, ACE & NASM certified, and he has over a decade of personal experience in strength training.
Julian Brown, BS, ACE-CPT, NASM-FNS's Latest Posts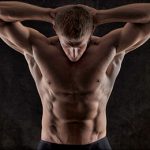 So You Want to Trim Your Stomach Fat For the majority of people, the stomach or midsection seems to be a top trouble spot when it comes to excessive weight.  Not only is fat around the belly unhealthy and linked to diseases such as cardiovascular disease, hypertension, and diabetes, it is also unattractive and embarrassing. […]