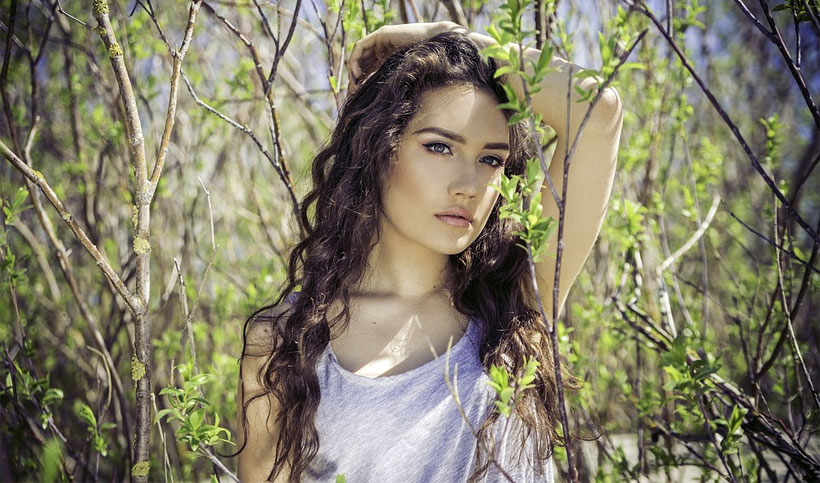 Long wavy hairstyles are taking the world by storm. They are super sexy and give off a fun and youthful vibe. And they are really easy to duplicate if you have the right tools. A curling iron, some hot rollers or even your flat iron can do wonders to pull of long, luscious waves!
To make sure that your waves hold, spray your hair before you make the curls and again after with a medium hold hairspray. Also, it is always fun to leave some loose tendrils hanging out for a sexy and romantic flair.
10 Fun and Flirty Wavy Hairstyles for You to Try
Check out our top looks for long, wavy hairstyles and don't forget to pin your faves!
#1. Radiant Long Wavy Hair With Bangs with Double Twists or Braids

This wavy hairstyle is great for those with long wavy hair. If you have straight hair, you can use a medium barrelled curling wand to curl 2-inch sections of your hair in soft, romantic waves To give it a Boho chic vibe, you can make two thin braids or twists staring at one side of your hair and have them join in the back in to add some texture to your wavy locks. Leave your bangs out of the braid and style them to one side.
This style is especially pretty on a dark brown base with golden highlights like the one shown here. The contrast between the two shades is the perfect blend of warm and cool tones for a truly multi tonal vibe that adds a ton of depth to your wavy tresses.
#2. Gorgeous Wavy Long Golden Blonde Hair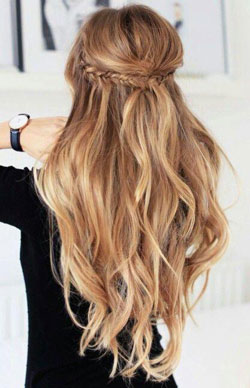 This blend of blonde hues is stunning on naturally wavy hair. Start of with a light ash blonde and blend in light golden blonde and platinum blonde hues to add depth and dimension. If your hair is naturally wavy, out can spray it with sea salt spray and allow it to dry naturally for a casual, carefree finish.
To add a bit of flair to wavy hairstyles, you can make simple braids starting at the front of your head and join them in the back into a loose, flowing small ponytail that blends beautifully with your cascading waves. This looks especially stunning on a V or U-cut hairstyle.
#3. Long Wavy Hair With Volume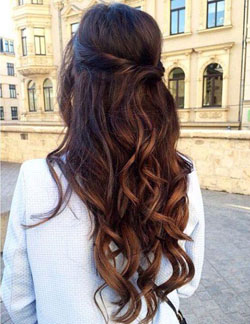 If you want a style with a ton of volume, this long wavy hairstyle big, loose waves is very elegant. It can transform easily from work to play or even an evening out on the town. Simply twist sections of the sides of your hair and join them into a ponytail at the back of your head.
This pretty dark chocolate brown shade is stunning on its own, but if you add in some light auburn highlights it adds a bit of texture and movement to your wavy locks to add to the volume of those loose wavy ringlets.
#4. Blonde Balayage Tousled Smooth Waves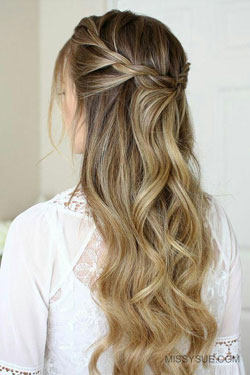 If you want smooth and polished waves, this blonde and light ash brown balayage blend is the perfect canvas. Make loose waves with your curling wand or flat iron and comb your hair with your fingers to break them up every so slightly, giving them a chic and refined look. Make a loose French braid at the top of your head and end it in a ponytail at the back of the top of your head.
If you want to lighten up your dark brown hair, ask for ash brown and soft golden blonde highlights throughout for a multi dimensional look. Go heavy on the blonde, especially at the bottom of your hair to add movement and body.
#5. Natural Tousled Waves with a Crown Braid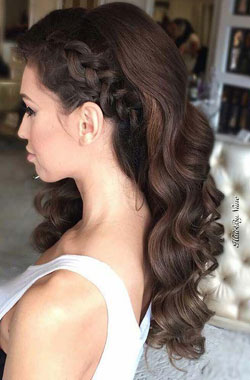 Natural waves are so pretty and this tousled style is very elegant and chic. What really sets this look apart is the slightly loose crown braid. Start at the front of your hair and make a Dutch, French or Milkmaid braid that meets at the nape of your neck. Fasten it tightly in place with some hair pins and then let your long romantic curls cover the braid and cascade gracefully down your back. Tug gently on the braid to give it a slightly messy vibe.
Some carefully placed light brown highlights on your dark brown hair will add even more texture to this sophisticated and demure wavy hairstyle that is perfect for a formal affair.
#6. Romantic Haircut S-Shaped Waves with Fishtail Braid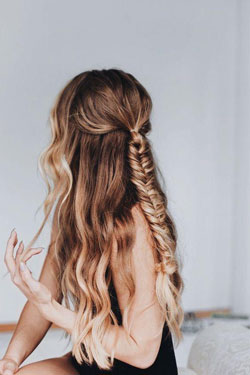 S-shaped waves are super easy to do as all you need to do is wrap your hair around your curling wand several times and then break up the curls ever-so-gently with your fingers. This style is very glamorous with a hint of Boho-chic with the fishtail braid going down the back of your hair. Start midway, leaving a few inches of hair to frame your face. Make a thin, loose fishtail braid, leaving out some of your hair at the ends.
To add even more depth to this fun wavy hairstyle, add some light blonde highlights to your dirty blonde tresses. These will look even more stunning in the braid and add a ton of texture.
#7. Caramel Balayage Waves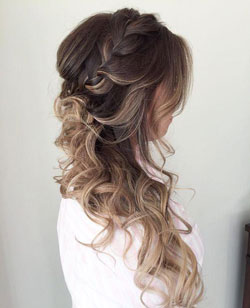 If you love braided and wavy hairstyles, this loose double braid is very elegant and feminine. Make two braids in the style of your choice on the side and top of your head and join them into a wavy ponytail at the back of your head. Toss your wavy locks over one shoulder for a totally chic and sexy vibe. This look is really pretty with a dark and light contrast such as the dark caramel brown and very light blonde shades pictured here. Keep the ends light and let your curls flow naturally.
#8. Sexy and Undone Ponytail Wavy Hairstyles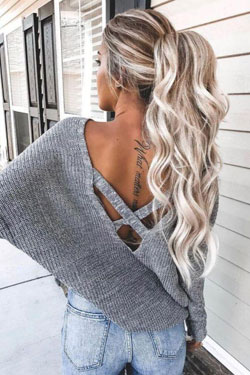 If you want a super sexy yet carefree look, this messy voluminous ponytail just oozes sex-appeal. Make loose beach waves and then gather your hair into a loose ponytail. It can be slightly messy as that seems to drive men wild. It also gives you a fun and youthful vibe. And the contrast between the dark ash blonde and platinum blonde highlights just screams depth and dimension.
#9. Crown Braid and Wavy Half-Updo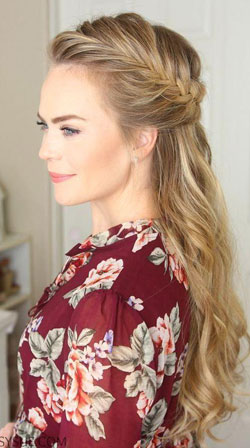 This pretty crown braid half updo with long soft waves brims with elegance and sophistication. Make a loose Milkmaid braid starting at the front of your head and meeting in the back. Tuck your waves under the braid and pin it securely in the back. Allow your natural waves to fall down your back. If you want a "lived-in" look, brush out your waves for a smooth finish. The buttery blonde hues add a ton of depth to this contemporary, yet classy ,wavy hairstyle.
#10. Effortless Beachy Feel with Wavy Ponytail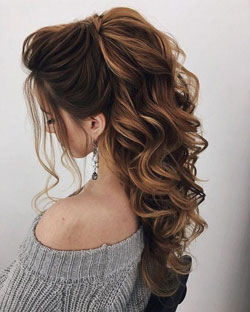 Beachy waves are so sexy and practically effortless if you have naturally wavy hair. And this high voluminous ponytail is so sexy and fun with its long flowing beach waves.
Gather your hair into a loose high ponytail and pin it high in the back of your head. Cover the hair tie with a piece of your hair. Leave a few loose wavy tendrils hanging out at the front on both sides for a flirty vibe. Tease the front to add more volume and fullness.
If you want to make this look even more fun, blend in some soft caramel brown and light auburn highlights on your chocolatey brown tresses for a multi tona vibe that adds more depth to your wavy locks.
The Bottom Line
We hope that you have gleaned some new ideas for sexy, wavy hairstyles! Pick your favorite or try them all for a fun and flirty new way to show off your gorgeous wavy hair!