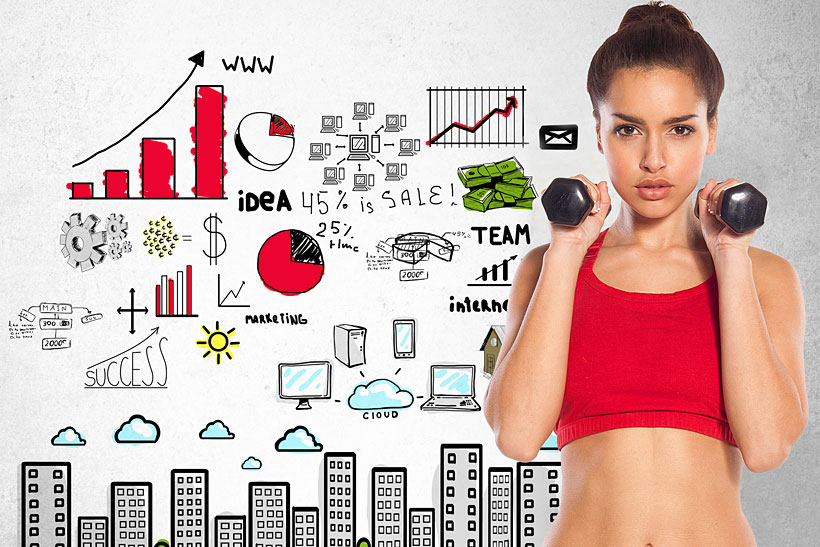 A fitness business is one of the best business ideas for women out there, especially for those who are passionate about health and fitness.
The importance of health and fitness cannot be overstated and it's a money-maker now, more than ever before.
You see, it's no longer news that many of us want to look as fit as possible.
And for good reason.
Apart from how much more attractive fit people are, they are also healthier than those who are not fit.
That's why many people keep trying to be as fit as they can.
That's also why it has become one of the ways to judge how health someone is – how fit they are.
While it's not always an indication of health all the time, it is… most of the time.
The healthier most of us are, the fitter we are. And the fitter we are, the healthier we are.
Again, it's not true all the time, but it's true most of the time.
It's hard now to find someone who doesn't admire fit and healthy looking people.
In fact, some people even use how fit someone is, to decide whether to date them or not.
Even if many don't admit it to others, they admit it to themselves, all the time.
Problem is – it's hard to do it all on their own. And it's definitely even harder to do it all from home.
That's why fitness businesses are so important, now than ever before.
It's big business now helping to keep people fit. And this big business is only going to get bigger.
And yes, anyone can start this business, even YOU, especially if you are passionate about health and fitness.
If that's you, this article presents 3 foundationally important tips to help you start and succeed with a fitness business.
#1. Be Passionate about health and fitness
It's obvious, isn't it?
While a lot of money can be made with this business, you can make a lot more if you are actually passionate about it, before you even start.
You don't want to go into a business you hate or have zero passion in. It will definitely be very hard making money from such a business.
Even if you do make some money, it's hard to make enough to call the business a success.
And apart from all that, you won't really be helping people if you don't like what you do.
It's also a good idea to practice the principle of "charity begins at home" when it comes to fitness.
You should first get fit yourself, if you are not already… before trying to teach or help others with your fitness business or as a personal trainer.
Sometimes just seeing you and how fit and healthy you are will encourage many others to join your business.
Even if you want to do your fitness business as one of those jobs for stay at home moms, you still need to be as fit as you can, to pass on the right message to your customers.
And all that won't happen if you are not really very passionate about health and fitness.
So, yes, that's the obvious and most important tip I have for you.
When you are passionate, you put your heart and soul into it, until it succeeds.
Even if things get hard along the way with the business (and they will), your love and passion will help you stick through, until you succeed.
And when your staffs see how much passion and love you have for the business, this can encourage them to stick with you, to make the business successful.
#2. Have a plan of action before you start
While love and passion is important, you don't want to go into the fitness business without any plan.
Your love and passion will keep you going, yes, but you need a plan of action to guide you through.
Your plan of action will gives you the necessary roadmap or guide, towards achieving success with the business.
It's true what they say – those who fail to plan, plan to fail.
If you fail to plan your fitness business, then you plan to fail.
It can be as simple as that!
You can start your plan by researching what to do to make your business successful.
You can find out what others are doing or have done to make their fitness business successful and make notes to implement same with yours.
It could be even doing things like helping your customers make money while losing weight or something else more unique than other fitness centers are doing.
So, yes, your plan of action must include how you intend to market your business to reach those who are interested.
If you are able to reach and attract enough people interested in your fitness business, you are sure to succeed, especially if you provide them with a really good "value for money".
They will always be happy to keep paying to use your services, if they get what they are paying for.
This obviously also means your plan must include how to make your business the best it can be.
You can check what other fitness centers around you are offering and plan how to make yours better in terms of equipment, training and of course deliverability.
The more time and effort you put into the planning stage, the more likely you will succeed.
#3. Choose a great location for your fitness business
Ever heard the popular "location, location, location"?
While it's more to do with real estate, it's very true with a fitness business.
If you really want to succeed and attract as many potential customers as possible, you should choose a great location.
And what makes a location great can include:
It is situated around a busy shopping area
It has a lot of people traffic all around
Is easy to reach by any means of transportation
Is safe for people to get to and from, even at nights
As you can see, all these will make it far easier for you to get customers and make it easier for them to come and go, without problems.
Conclusion
There's a lot more to know and do, of course, to make your fitness business successful, but the above are among the most important.
If you are not passionate about health and fitness and you don't do enough planning before you start and you don't find a great location for your business, it's very hard to succeed… even if you do many other aspects right.
So, yes, these are some of the most important basic foundations necessary to achieve success with this business.