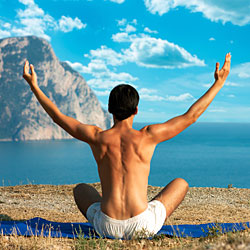 Nobody wants to spend their days feeling stressed. Stress is something that can easily ruin your mood and even your entire week if you let it fester.
Your health will also be affected by stress, both physically and emotionally, and you could even develop anxiety as a result. In order to avoid this, you must learn how to properly unwind and get back to your normal self.
In fact, it can be much easier than you may think to shake stressful events out of your mind, and here are four ways to do it.
Given that every emotion is a result of your mind, you will have to learn how to maintain a positive attitude. It's also important to learn how to relax. Focusing your attention on something else is a great way for you to get over what made you upset, in addition to obtaining plenty of exercise.
#1. Maintain Positivity
It is important that you maintain a positive attitude no matter what you do. How you perceive the world around you will affect the choices you make and how you spend your days. If you are happy, you will also find it easier to achieve your goals and succeed at work, whereas if you are constantly letting stress define who you are as a person, you can't move past those thoughts. Use positive language, instead, no matter the situation, and look at the optimistic side of anything that happens. There always is one!
#2. Relax Your Mind
You need to make a habit of relaxing your mind for a bit every single day. This way to do this will vary based on different personalities, but you should spend at least a few hours doing something you enjoy outside of work. It could be a hobby, or even meditation in order to better clear your mind of worries. No matter what you choose to do, remember that you are not a robot and you cannot work like one.
#3. Participate in Activities With Friends
Spending time with friends is another good way to easily de-stress. These are individuals who should know exactly what to say to make you feel better and being in their company can put a smile on your face right away. Why not focus your attention on other thoughts by doing an activity together? There are plenty of festivals that happen year-round in major cities, and other types of events that you can go to any time. If you want to give your brain some problem-solving tasks, you can spend an hour solving the puzzles and mysteries of an Escape Room with your friends.
#4. Exercise
Getting enough exercise is something that is good for both your physical and mental health and thus helps alleviate any chaos from your brain. These activities help improve oxygen levels, and your brain's production of endorphins or the 'feel good' chemical. You will experience a feeling of euphoria while getting your body in excellent shape in the process. It's a win-win!
#5. Eat Healthy
Alongside exercise, eating healthy has one of the most profound positive impacts when it comes to stress reduction. Abs are not only made in the kitchen, so is a sound mind. Poor diet leads to a number of health issues and this ultimately has a negative ripple effect throughout your being. For example, over consumption of coffee can lead to increased anxiety due to the overindulgence of caffeine, which is a powerful stimulant. Eating to many carbohydrates, especially low quality simple carbs found in many of the sweets in our modern foods, can also really wreck havoc on your energy levels and lead to increased anxiety among other things.
The Bottom Line
Giving your mind a break and de-stressing from a situation that is causing you a lot of chaos does not have to be an expensive endeavor. You do not have to spend a few hundred dollars at a spa just to feel yourself again! Follow the tips mentioned here or think of something else to do that makes you feel happy.