Six Key Preparation Tips For Running Your First 5k Race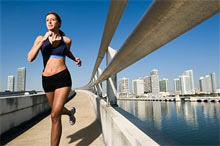 If you've thought about running, you may have browsed running programs for beginners.
You may have every intention of starting soon, but maybe you are looking for additional motivation, a tangible end to your goal when you can feel a sense of accomplishment for your hard work. You may need to set your sights on a race.
A great way to start your racing career is the 5k. Roughly three miles long, the 5k is a common race for beginners and advanced runners alike.
As a beginner, a 5k can serve as a test of your running fitness. It can also serve as a steppingstone in preparation for longer races if you plan to advance into a long-distance runner. And as a veteran runner, you'll find yourself integrating an occasional 5k race within your long-distance running plan.
Six 5k Race Preparation Steps To Help You Prepare For Your First 5k Race
Get Your Doctor's Permission

Step #1
Although this step is not completely necessary for everyone, if you have a history of joint injury, heart disease, or other similar condition, you may want to check with your doctor before starting a running program. If none of these conditions apply to you, you should be ready to start. Either way, make sure you have a clean bill of health.
Get The Right Footwear

Step #2

It's simple enough to buy a pair of running shoes at your local sporting goods store. But to get started on the right foot (no pun intended) and to help prevent injuries, go to a specialty running store to get fitted for the right pair for you. At a specialty store, a running expert can perform a quick gait analysis and recommend footwear options based on your gait and goals. On your first visit, expect to spend 30-45 minutes trying on at least a few pairs of running shoes.
Run

Step #3

Set aside three days of 45-minute blocks each week for your running sessions. If you're goal is to run a 5k, try to cover this much distance in each of your training sessions, even if most of your time is spent on a brisk walk. These are a few progressions you can work with as you start from mostly walking to completely running 3.2 miles.
Walk-Jog.
If it's your first time ever running, alternating between one minute of jogging and two minutes of walking is a good start. Over time, you'll want to increase the amount of time you spend jogging and decrease the amount of time you spend walking.
Jog-run
As you get more comfortable with jogging, you may want to add one-minute bouts during your training session where you increase your pace and then return to a jog. As you did with your walk-jog segments, work gradually to increase the amount of time you spend running versus jogging.
Run
Ultimately, you want to get to the point where you can run a 5k comfortably. This may not happen by your first 5k race. If you're a new runner, it may take several months before you even discover your comfortable running pace. This can be one of your long-term goals.
Record Your Progress

Step #4
As rewarding as it will be to complete your first 5k, it will also be satisfying to see improvements along the way. To keep a record of your progress, you can use a smartphone application for running, a sports trainer watch, or iPod. Some of these options may also let you sync up to your computer so you can see your progress over time in terms of running pace, time, calories burned, and other metrics that may be important to you.
Add Flexibility Work

Step #5
Over time, you will feel some tightness in your legs from your running workouts. Once you've gotten used to your running program, it's important to include flexibility exercises early in your training plan. Flexibility will help you prevent injuries, improve mobility, and even delay muscle soreness.
Although you can include flexibility after and before your run with static and dynamic stretches, it may not hurt to include an extended flexibility session in your training plan every week or two. A standalone session to work on flexibility and mobility is a much needed active recovery from your vigorous running workouts.
Integrate Core and Strength Training

Step #6
Once you've managed to include to running and flexibility training a few days a week, consider adding core and strength training. Core and strength training will help improve your running fitness. A strong core will help support your back, which absorbs a lot of impact from running. Strength training your lower body may help improve your endurance.
You don't have to train six days a week to get everything in — running, flexibility, core, and strength. Just one or two days a week of a few core and strength exercises can make a positive impact on your running fitness. Basic core and strength training exercises like planks, bridges, push-ups, lunges, and single leg squats will help complement your running.
Training for a 5k takes commitment. You may start with three days a week of running, but to improve your running fitness and prevent injuries, you'll want to add in a couple more days of flexibility, core, and strength training. Once you combine all six steps and pick a race, you'll be on your way to completing your first 5k healthy and injury-free!
Website: MyExerciseCoach.net IdeaFit: Melissa Rodriguez    Melissa Rodriguez is a personal trainer, strength & conditioning coach, and fitness industry analyst. Melissa coaches committed exercisers and keeps a pulse on consumer and business trends in fitness and sports participation. She is a certified personal trainer through the National Academy of Sports Medicine, strength & conditioning coach through the National Strength and Conditioning Association, and manager of research for the International Health, Racquet & Sportsclub Association. With a special emphasis on obstacle course races, Melissa's website, MyExerciseCoach.net has training tips, reviews, and activity news. Although content is often focused on beginners, advanced athletes will also find valuable tips and insight.