Want to burn fat, increase energy, and build muscle while you eat?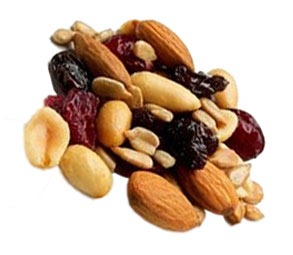 Your workout doesn't have to end when you step off the treadmill. There's a way for hardworking women to continue getting results, even after they've cooled down.
For the first 30 minutes following a workout, the body offers what is called the "recovery window". During this time, the body works overtime to convert carbohydrates into energy producing glycogen in the muscles and protein to help build lean muscle tissue.
Maximize your workout results by consuming the right combination of carbohydrates and protein post workout to pack the greatest punch.
Here are what I believe to be some of the best post workout foods for women.
Best Post Workout Foods for Women
Fruit and Yogurt
Protein-rich yogurt helps the body replenish essential amino acids that can help build lean muscle mass. Yogurt also contains carbohydrates to allow your body to store energy until your next workout. Choose a low-fat, low-sugar option when selecting yogurt, and add fruit for additional carbohydrates, as well as fiber and other nutrients.
Hummus with Pita or Whole-Grain Bread
Made from pureed chickpeas, hummus provides a healthy source of both protein and carbohydrates. For additional carbs, pair your favorite hummus variety with pita or whole-grain bread. Watch your serving size, though. A serving size of hummus is typically only about 2 tablespoons.
Apples and Peanut Butter
Peanut butter's high protein content makes it an excellent post workout option. Spread a few tablespoons over some apple slices for an added source of energy building carbohydrates.
Turkey Sandwich
Working out right before lunch? The combination of protein-rich turkey and carbohydrate dense whole-grain bread will satisfy hunger, as well as encourage glycogen production and replace essential amino acids. Pile on the veggies to increase the health factor by adding on fiber and extra vitamins.
Veggie Omelet and Whole-Grain Toast
Eggs are a fabulous source of protein and help the body rebuild muscle tissue. While egg yolks often get a bad rap, they contain a lot of important vitamins, such as B-12, B-6, and A. By adding vegetables to this breakfast staple you'll add extra fiber and essential vitamins. Finish off with a slice of whole-grain toast for a carbohydrate boost.
Dried Fruit and Nuts
Craving a sweet/salty combination? Grab a handful of dried fruit and nuts. Nuts offer a healthy dose of protein and healthy fats, while dried fruit provides needed post-workout carbohydrates. Be careful not to overindulge, however. A typical serving size of dried fruit and nuts is only about a handful.
Tuna With Whole Wheat Crackers
A 4 ounce-can of water-packed tuna might be just the source of protein you need to continue building muscle while you eat. Stir in a teaspoon of mustard and spread across a few whole-grain crackers for the perfect post-workout combination of both protein and carbohydrates.
Honorable Mention: Chocolate Milk
Although it's technically not a food, this childhood favorite has everything you need to boost workout recovery because it contains the perfect ratio of protein to carbohydrates. In fact, recent studies by the University of Texas at Austin show that athletes who drank low-fat chocolate milk post workout built more muscle and shaved off more fat during training than those who drank other recovery drinks.
Final Thoughts

Our bodies crave fuel to restore muscle glycogen and to begin the muscle repair process post workout, so if you consume the right combination of carbohydrates and protein post workout you can indeed maximize your results.  The foods covered in this article are a great place to start, especially if supplements aren't your gig.
Kym is an ACSM Certified Personal Trainer, a health/fitness advocate, youth sports coach, and an experienced freelance writer who specializes in active lifestyle content including health, fitness, sports, nutrition, travel and more.