Top 5 Best Ways to Keep Your Eating on Track
The most powerful determining factor in transforming your body inside and out will not be your exercise program, but rather what you're putting into your body. If you want to get and continue on a healthy path, you need to give your body the appropriate foods in the appropriate amounts.
For a balanced diet we need to eat a variety of "real" whole foods – vegetables, fruits, whole grains, lean meats and other protein foods, low fat dairy, the healthy fats like omega-3 fatty acids in fish and monounsaturated fats in avocados, and plain old water. So how much, and is there a simple way to keep track of nutrients without counting calories that's worth while?
For some, changing eating habits may be the most difficult challenge, and the last thing you need is to feel overwhelmed. Surprisingly enough, it can be done simply, and in a way that can easily be applied to busy lives. Here are the five most simple, practical tips that can be incorporated into your everyday eating.
I don't write down what I eat or count calories. Instead, I've learned to be critical about the types and amount of food I eat. This is how I keep my own eating on track. Focus on these five tips in every snack and meal, and it's enough to support the change to an overall healthy lifestyle.
The Top 5 Best Ways to Eat Healthier
Here are five simple ways to be accountable to yourself about your diet without feeling overwhelmed.
#1. Smaller Portion Sizes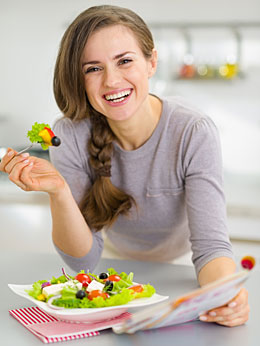 In the beginning of your fitness journey, you want to make sure you're taking on changes little by little. At the start it's best to take a look at your portion sizes, make adjustments there and cut back. There are many ways to do this. There are portion control plates you can buy that will measure out how much you should be eating in a portion. Remembering simple food/object associations is another way to remind yourself approximately what a portion should be. They're smaller than what you may think they are, and take some getting used to. For example, one cup is approximately the size of a baseball, a 2–3 oz. piece of me at is about the size of a deck of cards or standard soap bar. The most difficult one to accept is that a dessert portion like a brownie is the size of a dental floss container or a motel soap, not the size of a football!  Another idea is to use the size of your fist as a guide. A food portion should never be bigger than your fist. It's certainly not exact, but this and the other portion control methods will help you to begin to look at portion sizes more critically.  This is exactly what you should do. Experiment with what works best for you.  This one change in itself can make a huge impact on your ability to lose weight and be fit for life.
#2. Fill Your Plate with Nature's Colors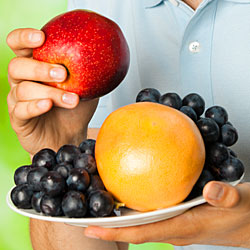 We not only need a variety of fruits and vegetables for healthy carbohydrates and the vitamins and nutrients they provide, but also for the special antioxidants and phytochemicals in these colorful fruits and vegetables. Antioxidants and phytochemicals like lycopene in tomatoes and beta carotene in spinach and broccoli, help protect cells from damage, boost immunity and eye health, and are a good defense against heart disease and cancer. By eating a variety of colorful vegetables and fruits that are low in fat and nutrient-dense, you'll be protecting your body as well as fueling it. Another great benefit of these healthy choices is that they're loaded with fiber and will make your body feel fuller and satisfied longer.
#3. Use USDA "ChooseMyPlate"
In 2011 the USDA replaced the "MyPyramid" food guide with "MyPlate". This is a more visual example of what your plate of food should look like. Its main focus is on what amount of your plate should be covered with a specific food group. About ¾ of the plate is filled with carbohydrates – mostly vegetables and fruit, with the vegetable portion a bit larger than the fruit portion. The remaining carbohydrates portion, is a bit smaller than a quarter of the plate, and is mostly made up of grains, the majority of them should be whole grain. The protein portion should take up just a bit less than the last quarter of the plate, and should include lean meats, fish, as well as other healthy protein sources like nuts and eggs. A portion of dairy is included next to the plate, and should be low fat options. Compare the "MyPlate" portions with what your own plate looks like at meals.
#4. Estimate Carbs, Protein & Fat%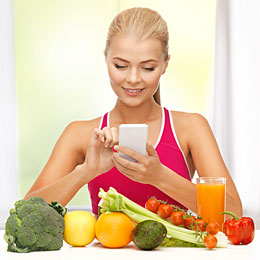 Estimate the percentage of carbohydrates, protein, and fat in your diet. An easy way to remember and learn the proper food percentages for each of these nutrients, is to envision a circle. Estimate how you're filling up the circle and, and with what types of food you're filling it with daily. Carbohydrates should be 55-65%, a bit more than half the circle. Your carbohydrates consist mostly of vegetables, fruit and some grains. Protein should be just a bit less than a quarter of the circle, about 20%. Your proteins should be your lean meats, chicken, turkey, leanest cuts of beef, fish, nuts, and eggs. Fats should be approximately another quarter of the circle, 25%, and certainly no more than 30%. The fats should be mainly monounsaturated and polyunsaturated fats from vegetables like in olive oil and nuts. Only about 1/3 of your daily fat percentage should be from saturated fat sources. Practice estimating for every snack and meal, as well as for your entire day; use it with the "MyPlate" guide, and soon you'll easily be able to keep a rough estimate of your food nutrient percentage intake.
#5. Eat Regularly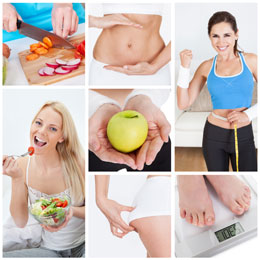 Even though reducing your daily overall caloric intake is most important in losing and keeping the extra weight off, being consistent with regularly fueling your body with healthy food contributes to your results. Never skip meals. Whether you eat three meals a day with a healthy snack in between, or eat several small snack-like meals throughout your day, make sure you're not going more than a few hours in between eating. Eating regularly ensures you'll have more energy, be sharper mentally and keep your blood sugar level constant. Also, you will be less tempted to over indulge because you haven't let yourself go too long without eating. The key here is nutrient-dense foods and snacks, and to hold yourself accountable for what you've already eaten – these are a must!
The Bottom Line
We need to hold ourselves accountable for what we eat and how much we eat. However, it doesn't need to be such a tedious, time consuming process. Practicing these tips will ultimately help you become more critical of your portion sizes and the types of food you're fueling your body with.
By applying these five simple principles to your meals and snacks you will be able to maintain the healthful changes you're making to your body through exercise. Those who've progressed to the point where they may have a very specific training goal need to know more about the exact amounts of calories and nutrients they are putting into their body. Other than that, these simple rules are enough to keep your eating on the correct path.
Apply these top 5 best ways to eat healthier tips to your eating, combine them with regular exercise, drink water, and you'll be on your way to your fittest, healthiest you.
References
USDA ChoosemyPlate.gov:  http://www.choosemyplate.gov/index.html
Clark, N. (2008). Nancy Clark's Sports Nutrition Guidebook, Fourth Edition. Chestnut Hill, MA: Human Kinetics.
Author's Website Rochelle Ramirez is an enthusiastic personal trainer and wellness speaker. She holds personal trainer certifications from the NSCA and ACE, is a certified group instructor through AFAA, a certified Aqua Fitness instructor through APAI, and is a Battling Ropes Level 1 Coach. Rochelle's specialty is in designing highly effective, low impact workouts that focus on the needs of Older Adults and Senior Population. She also holds a BA in Liberal Studies with a minor in English from Cal Poly Pomona, and graduated from CNI College with a certificate in Personal Training / Exercise Science. Rochelle's philosophy is simple; she believes that the human body is the greatest work of art, and that it's our responsibility to move it correctly and feed it healthfully for a lifetime.