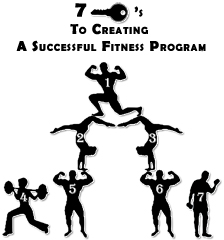 The mystery of fitness programs to me is that there is no one right answer for everyone as to what works – or doesn't work. It is very often trial and error that finally results in a positive result.
I have found in my own experience that once you decide that being fit is what you want to become, there is little that can prevent you from achieving your goals.
This article will highlight what I consider to be the 7 keys to creating a successful fitness program. I hope it helps you in planning for 2014 and inspires you to take a new path that reveals more of your true potential and abilities – mentally and physically.
7 Keys to Creating a Successful Fitness Program
1.  Define your goals clearly.
The biggest mistake people make in planning to start a fitness regimen is thinking "too small". Losing 20 pounds is not a long term motivator and will never inspire compliance – even if you are doing what you enjoy. The best way to approach your health and fitness goals is to focus on what you VALUE about your life and the many things you enjoy doing – either alone or with others that you care about. Set your sights high and imagine the best result that you can envision. Getting results that are meaningful to you requires dedication, focus, discipline, skill development, effort and planning. Give your goals (vision) for wanting to become fit in the first place the proper respect they are due – and you WILL succeed!
2.  Define your priorities.
I like to think performance based training succeeds more often than fails because through accomplishing specific goals we inspire ourselves to strive for greater things in our lives as a whole. Setting specific objectives can help you in planning your fitness activities – and program. If you want to complete a 10K or simply walk a mile be willing to write it down – and follow through with ACTION. The simple act of writing your intentions down on paper will enable you and empower you to stick with your daily activities in support of what it is you wish to accomplish. Be willing to limit your list initially so that you can accomplish them in a timely manner and not become overwhelmed. Keep it simple and be willing to get excited!
3.  Define your primary activity.
Do you want to improve your ability to do the activities of daily living more effortlessly? Do you want to eat more healthfully? Do you want to sleep better each night? Do you want to deal with stress more effectively in your life? Do you want to respond to issues in your life in a more balanced way? These and other questions can be important to becoming someone who lives the fitness lifestyle for the right reasons – to live a higher quality of life – and enjoy the days of our lives more completely and fully. People have often neglected to examine their lives at all and as a result never really know how to deal with change intelligently and with compassion. Take a look at your life and decide what it is YOU want to do as your primary activity and GET GOING! Make the change to healthy living today and see what happens.
4.  Define your plan.
Clarify your activities in an easy to follow to plan. Decide how often you will train, what changes you will make to your daily routine including a healthy eating plan, how you will measure your progress and reward yourself for reaching milestones, and a method for tracking your results. I record my runs, my weight training sessions and keep the logs over time to review how I am doing relative to my goals. Writing down what you do, when and where you do it, your response to the program, recognizing your progress, or any other important variable is essential to maintaining forward energy and commitment.
5.  Define a variety of strategies for success.
Give yourself a break. Nobody gets it right the first time! Strategies are nothing more than pathways to your success and sometimes we choose the wrong path! Big Deal! When you find yourself a little lost or frustrated with your chosen activity – take a breath. Realize that even the best fitness professionals make mistakes too. Just recognize when you are NOT feeling right about something you have chosen to do and change course. If yoga is not right for you try a stretching class instead. If group exercise is not working for you, try training with a friend for a change of pace. Knowing there is always support available to you can take the sting out of those days when you seem to be lagging – and we ALL have those days. I just say to myself: "You are blessed to be able to do this" so just say thank you – and move!"
6.  Define your vision – "Think Like an Athlete".
I always remember to appreciate TODAY because it is the only present I will know. Take a moment and envision the person you want to become – active, happy, lean, strong, excited, curious, engaged, imaginative, the adventurer, the "game changer", or whatever captures your imagination. This is the most common technique used by the world's greatest athletes. Yes, they are supremely talented and as in the case of the very best, they practice incredibly long hours. You too can create an image of who you want to BE and your mind (your subconscious) will support you in your efforts to achieve your goals. Getting your mind and body to work "as one" is critical to your eventual success. "Practice the presence of your inner power" and use it when you train. BE PRESENT everyday and train with the thought of WHY you have decided to become the person you deserve to be – and NEVER GIVE UP!
7.  Define the "Fun Factor".
This last key is probably most important to the success of your program. It HAS to be fun or you will never be able to sustain your effort. I always think back to my days on Maui when I was a little boy and how much fun we had playing and enjoying our time together as only good friends can do. I think about why I became active all those years ago and remember the joy it brought me. Even though I sometimes forget to remember, I DO come back to the basic truth that being active SHOULD BE FUN or why bother, right? Let's remember that at the end of the day being active and engaged in something you enjoy is ALWAYS the best medicine. Define your "fun factor" and see what happens. You may be pleasantly surprised and NEVER want to stop! Wouldn't that be a great way to live?
Final Thoughts
I wrote this article because it occurred to me that no one seems to think much about WHY we do what we do as fitness professionals. Do we even know how to clearly explain to people what separates failure from success in terms of health and fitness programming? It is a conversation well worth having not only with each other but people of all ages as well.
My hope is that these keys will help all of us remember that we are human – and we will ALL fall short at some point in time. However, we ARE resilient and courageous too and isn't this why the human spirit is so amazing? I think so. I wish each of us much success in the year ahead!
Website: HealthyHappyFit.com      Email: [email protected] Nick is an author, teacher, and speaker and has been a certified personal trainer and lifestyle and weight management consultant since 1992. He is currently recognized as a master trainer by the IDEA International Health and Fitness Association. He has been a runner since 1964 and has accumulated over 60,000 miles in that time.