Examples, Myths, and Mythologies of Aging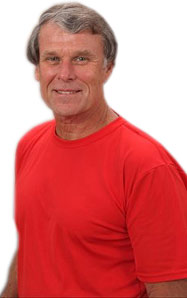 Time has moved quickly for me over the past decade. The years of my 50's have so quickly (or so it seems) turned into the years of my 60's and now I seem to be staring at my 70's in a very short time. With this acceleration in time I have taken to the idea that there are examples, myths and mythologies of aging that simply don't "go away" – no matter how much we attempt to "debunk" them.
I sense a need in me now to follow in the footsteps of those I have admired over the years. They are my role models – people of integrity who lived – or are living examples – of what I call "the complete human being". I think it is a good idea (sometimes) to follow the examples of those we have come to admire and live out of a genuine purpose and vision that creates or expands on an existing "framework of good". The ideas I share here are designed to "pull you forward" on your own path of achievement, leading you to your OWN unique accomplishments and contributions to life.
John Wooden coached the UCLA men's basketball program for over 35 years. He won more NCAA championships (10) than any other coach in history and in the process touched thousands of young lives. However, his greatest years probably occurred AFTER he retired as a coach because he was able to move beyond basketball through his "Pyramid of Success" and other thoughts he shared to help countless people outside of the athletic arena – particularly the youth of America. His example of honesty and humility – and intellect – stands the test of time. At his passing in his late 90's he was remembered by all those his life touched.
John Wooden is a role model for me because if I get to be in a position as he was to help others hurdle life's barriers I will feel my life has had meaning. This is what I mean by being "conscious" of the gift of life – and the opportunity to serve. It is in giving to others that we derive our strength and resolve for the years "beyond retirement" when our bodies are no longer capable of doing what they used to do. Find your role model and follow their example by carving out your own unique path while adhering to the principles that guided those whom you have admired and came before you.
Myths abound in today's world about the aging process. The facts do NOT support these myths. Jack LaLanne broke the myths of aging LONG AGO by being active right up until the end of his life in his mid 90's. He was NOT weak, frail, feeble, or "addled". As a matter of fact he was probably MORE engaged in his life (i.e. selling his juicer and extolling the fitness lifestyle with his lovely wife for example) and happier than he had ever been. He knew his legacy would live beyond his life and the evidence against the idea of aging as "bad" or "scary" was proved completely FALSE through the way he lived his OWN life! I admire Jack for being "the lone voice" in the world over a half century ago urging people "to get moving" and to have fun physically and emotionally by becoming their own example of the fitness lifestyle. The myths of aging as being something "awful" are disproved every time you examine a life such as the one Jack lived. He was training 2 hours a day right up until the end of his life!
Vin Scully is the "voice" of the LA Dodgers. He is in his 63rd year of broadcasting Dodger games and is still in love with the team and baseball in general since he started calling games in New York in 1950! He has indicated that he will be back for a 64th season in 2013 because he wants to "see what happens" with the team as it is currently constituted (a new commitment to winning through new ownership. I can't imagine Vin Scully ever retiring because as he has said repeatedly "he has been blessed" to have had such a life of incredible opportunity. He realizes that at 86 he is still valuable and appreciated – and loved – and he knows that he is open to experiencing the years to come because each one is a gift. His attitude, wisdom, focus, and passion are an example for me to follow. He was on stage with John Wooden at the Kodak Theatre in LA as a part of a unique evening where the two of them were interviewed and allowed to tell their "stories" to an audience for charity. It was a memorable evening with TJ Simers ("page2" as he calls himself – his reference to the page of the LA Times sports section where his column appears) serving as moderator. It was shown later on PBS and was one program – and moment – I will never forget. Thinking of those two amazing men sharing a lifetime of wisdom and knowledge (on the same stage) with all of us remains with me to this day.
I suspect in sharing these thoughts with you I am renewing my own commitment to do whatever I can in the years ahead to move not only their legacy ahead – but mine as well. I will keep their memories alive through my own work and down the road someone else may do the same for me because of the influence my work had on their lives!
Find your own unique "legends" to admire and respect. Follow the BEST of what they represented to you, and fulfill your OWN life's purpose in the process – leaving the world a "better place than you found it" AND aging gracefully along the way! I know I AM!
Website: HealthyHappyFit.com      Email: [email protected] Nick is an author, teacher, and speaker and has been a certified personal trainer and lifestyle and weight management consultant since 1992. He is currently recognized as a master trainer by the IDEA International Health and Fitness Association. He has been a runner since 1964 and has accumulated over 60,000 miles in that time.