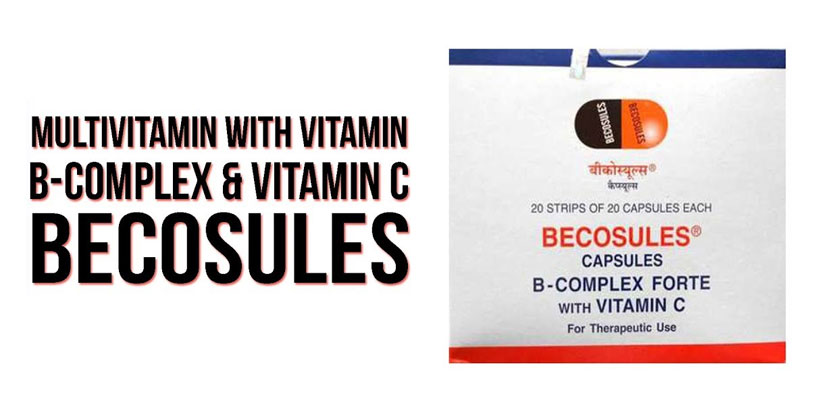 The body requires a variety of vital nutrients to maintain itself and help you to carry out daily functions. Vitamins and minerals help to maintain cellular efficiency and more, therefore, it is very important to nourish your body to help it perform at its best.
In the fast-paced modern life, various challenges associated with obtaining nutrient-rich foods in sufficient quantity is commonplace. Therefore, taking a multi-vitamin is an obvious choice to help us replenish nutrients missing from our diet. With ample options available, one should look for a multi-vitamin that caters to all specific needs. Becosules is one such multi-vitamin that provides essential vitamins with various benefits.
What is Becosules?
Becosules capsule is a multi-vitamin containing vitamin B complex, Vitamin C and calcium pantothenate that helps in treating conditions like acne, hair loss and vitamin B12 deficiency. It is recommended to those who are on an unusual diet or to those with insufficient diet, like elderly people, alcoholics and those suffering from diabetes mellitus. Before starting with the mediation, one should make sure that he or she is not allergic to any of its ingredients or is suffering from serious liver and kidney problem.
Being a nutritional supplement, Becosules capsule heals a number of issues related to hair, skin and overall health. The medicine is a combination of vitamin B complex that includes vitamin B12, B1, B2, B3 and Folic acid.
Becosules active ingredients are as follows:
Vitamin B12 – 15 MCG
Niacinamide – 100 MG
Pyridoxine – 3 MG
Folic Acid – Vitamin B9 – 1.5 MG
Ascorbic Acid – 150 MG
Riboflavin – 10 MG
Thiamine – 10 MG
Biotin – 100 MCG
Calcium Pantothenate – 50 MG
Will Becosules Benefit Me?
The short answer is, Becosules may or may not be for you. Before introducing Becosules into your life, consult with your doctor to find out if Becosules will even be beneficial to you. Speaking with your doctor is especially important if you are currently taking existing supplements or medications. Becosules is relatively harmless but like any supplement or drug, it may not mix well with some of the existing medications you may be taking.
Don't have a doctor? No problem. With the ease of technology today, access to doctors is just a click away and it is very convenient to find best doctors online and get a quick medical assistance. One can ask their health queries, book an appointment and get useful health tips too. If you still need help in choosing a right doctor, you can read more here.
What Health Conditions Can Becosules Treat?
Becosules is used as a nutritional supplement in cases of deficiency of multivitamins or when there is a requirement of above-mentioned vitamins and calcium pantothenate. The drug is used in treating the following conditions:
Oral ulcers: Oral ulcer can be caused by certain conditions like viral infection, cold sore virus and also due to the deficiency of vitamin B12.
Hair fall: Hair fall is common among both men and women. It is mainly caused due to the deficiency and excess of vitamins. Due to the presence of biotin, a B complex vitamin that improves the protein infrastructure of hair, skin and nails. Becosules decreases the rate of hair loss and promotes the growth of new hair follicles, as well as helps in improving the hair quality.
Acne: The medicine is used in the treatment of acne and skin related problems. It not only helps the patient get better but also improves endurance and the overall resistance of the body.
Megaloblasticanemia: The medicine is used to cure megaloblasticanemia that is caused due to the deficiency of folic acid in the human body. Since, Becosules contains a fair amount of folic acid in its chemical composition.
Diarrhea: This disease is mostly caused by stomach infection and food intolerances. It causes dehydration in which the body does not have enough fluid and it may weaken a person's immune system. Becosules therefore, helps by building energy and boosts performance. It also helps in regulating the metabolic rate.
Muscle cramps: Muscle cramps are mild twitches that cause intense pain. They are caused by nerves that malfunction due to a health problem, like spinal cord injury or a hurt nerve in the neck or back. This medicine improves muscle tone and cellular nerve functions.
Weak nails: The vitamins present in Becosules helps in fighting against the free radical damage. The supplements of the nutrients that are missing in our diet can be balanced by taking Becosules which helps in maintaining healthy nails.
Arthritis: This medical condition causes pain and swelling in the joints. Becosules provide relief by increasing the capacity of physical work that reduces fatigue and produces energy during physical exertion.
Potential Benefits of Becosules
The drug contains vitamin B complex that is responsible for increasing the metabolism of carbohydrates and amino acids that helps in tissue repair in the body. It's another ingredient, calcium pantothenate is responsible for the utilization of carbohydrates and preserving the blood vessels integrity. Some of the benefits of the medicine are:
It treats and prevents the deficiency of biotin
Relaxes the nerve signals
Increases the synthesis of fatty acids in the DNA
Helps in treating various skin conditions like eczema and psoriasis.
Increases the body's metabolism that is important for maintaining the health of both hair and skin.
The Bottom Line
A patient using Becosules should keep some things in mind. The medicine must be stored at room temperature and kept away from direct sunlight. The use of this medicine should be accompanied for treating primary illness as it is a nutritional supplement and does not completely cure the underlying cause of any disease.
A patient can also follow these simple tips to stay active and fit always.