HEALTHY AGING: Physical Activity – Where the Rubber Meets the Road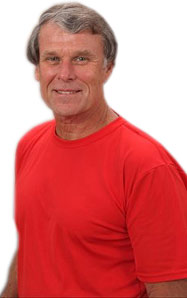 Americans are not moving. They sit in their cars for everything including driving up to the ATM machine or purchasing their fast food meals! They sit at their computers for hours on end and now with tablet technology and phones that access everything in the universe of technology, they are sitting even more! What to do we do as a profession with all this sitting? How do we make a difference when all people can think about is sitting?
Our challenge is daunting, isn't it? When I think of my first memory on Maui being in a swimming pool with a coach holding me by my stomach teaching me to paddle and kick my legs I smile. I know the days are long gone where parents could allow their children the same freedom I enjoyed on Maui with my friends – playing, swimming, competing, and generally having a ball! If the parents are sitting and the children are sitting the fat – and weight – will grow. The joy I felt as a boy about physical activity never left me as I grew into adulthood and when running became a part of the equation, I had my "link" to remaining fit! Today people don't really "feel" any joy when it comes to being active – it is viewed more as "work" as in "working out". We have to find ways to bring joy and fun back into being active and as I think of the tremendous challenges to come in the decades ahead, we will all play a role in solving this dilemma:  How do we bring the joy of physical activity back into the lives of families who have no clue as to its real potential?
The solutions lie in the programs and initiatives on all levels of society – from government (Michelle Obama's work on childhood obesity, sports programs in the schools, fitness professionals working in tandem with local community groups and non profits, medical and professional organizations dedicated to improving the health of the community (Hoag Hospital's outreach and educational programs for example), schools and family centers, and creative programming from foundations through organizations like the NFL, major league baseball, the NBA, the Tiger Woods foundation and many other examples I could name. My perception of the problems with obesity, the sitting of America, and the complexity of the issues that are resulting from this "new" lifestyle is that we MUST ALL begin an educational program that touches the lives of families at the grassroots level. I see children every day in my world with parents having "family time" at McDonalds or Jack in the Box. The food choices have improved of course but the predominant meal centers on French fries, hamburgers and other related foods because that is the way the parents eat! The children are starting to look like their parents at a very young age and I see the obesity starting to become apparent in kids as young as 3 or 4 but "they can't see it" because they "don't know what they don't know"!
My daughter started my grandson in a new school today in Irvine, CA as a second grader. He is in a place we used to live in now (Woodbridge before my divorce) and my daughter was speaking to me on Labor Day at our BBQ about wanting me to become involved with Hunter as a grandfather teaching him to play baseball and run – and help him evolve in swimming as well. I am excited to know I will have a role to play in Hunter's young life now that he will be closer to me and I will no longer have to drive to LA to see him. She indicated that he would be enrolling in a Karate class because he wanted to learn a martial art and I am impressed with the picture that is emerging for my own grandson. With Lisa thinking about these issues when planning for Hunter's educational and fitness future he has a chance to become well rounded and healthy and choose a life that brings HIM joy. My hope is that I will be around in the years ahead to see how all this planning and thought turns out for him. I KNOW that my influence in helping to raise Lisa is assisting her in making sound decisions when it comes to Hunter's future.
These "connections" – both family and institutional – (and what I will label as 'understandings') are what it is going to take for us to become a "moving" society and NOT a "sitting" society anymore. If we can somehow bring the joy and fun I have always felt when I am lifting weights or running – or just playing with Hunter – back into our lives we will indeed make a difference in the world of families across this country – and maybe even the world. Who knows? We MUST start now if we are to save the lives of all those children sitting with their parents at McDonalds eating all those fries! Now is the time for all of us in the fitness industry to become creative, passionate, and committed to a singular purpose: Taking the SITTING – and "bad" family time out of America!
Website: HealthyHappyFit.com      Email: [email protected] Nick is an author, teacher, and speaker and has been a certified personal trainer and lifestyle and weight management consultant since 1992. He is currently recognized as a master trainer by the IDEA International Health and Fitness Association. He has been a runner since 1964 and has accumulated over 60,000 miles in that time.