45lbs Instead of 50?
One of athletics most puzzling questions is now answered. Why is it that when you go to rack weight on the barbell, the heaviest plates read 45lbs instead of 50? And have you ever questioned whether or not the plates actually weigh what they say they weigh?
It all comes back to the metric system. In the way-way back days, even as far back as the first Olympiad, units such as the meter, kilometer and kilogram were recognized as the standardized unit of measure during competition.
As it pertains to weight-lifting, many of the weights showcase proudly the kilogram weight. In North America, we see both the kilogram listing as well as the pound listing.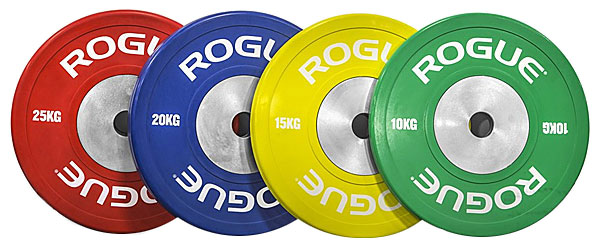 Do My Weights Weigh What They Are Supposed to Weigh?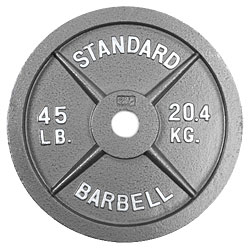 Not necessarily. If we do the math, 1.0 kilograms = 2.20462 pounds.
Therefore, if we list the math of all noted kg weights, we see:
20 kg = 44.1lbs                  (rounded to)      45lbs
15kg = 35.075lbs               (rounded to)      35lbs
10kg = 22.05lbs                 (rounded to)      25lbs
5kg = 11.025lbs                  (rounded to)      10lbs
2.5kg = 5.5125lbs              (rounded to)      5lbs
1.25kg = 2.756lbs              (rounded to)      2.5lbs
So, if at your place of fitness, you read kg to pound conversion charts that show 20kg = 45lbs, or if the weights themselves are listed as 45lbs/20kg, note that the weight you are lifting is nearly a pound shy of what is listed.
Thankfully, many gyms have caught on to this fact and so, you'll see 20.4kg = 45lbs.
The Bottom Line
When you are recording your lifts always make sure which unit of weights your gym is using. For example, with a 45lb bar, and four-45lb plates, you'll be lifting 225lbs, however, with a 20kg bar, and four-20kg plates, you'll actually be lifting 100kg or 220.5lbs, a difference of 4.5 pounds.
Happy Lifting!
True North Chiropractic Erik Uuksulainen is a board certified doctor of chiropractic who specializes in working with athletes, both at the recreational as well as collegiate level. Dr. Erik holds a MS in Clinical Nutrition (2010). In 2004, he graduated from the University of Guelph, Canada, with a BSc in Human Kinesiology.