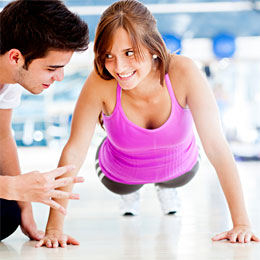 Is 2018 the year that you are going to set out to accomplish those fitness goals?
Maybe you have set goals in the past, got half way there, and quit for some unexpected reason. Maybe you ran out of time, maybe you had a kid, or maybe you took on a new role at work.
Whatever the situation is, time is without a doubt the number one reason that most people give up on their goals. They just don't have time to make it to the gym or meet with their personal trainer when they are supposed to.
What if you could get the assistance of a personal trainer right from the comfort of your own home?
Checking For Proper Qualifications
Now, you can take advantage of a personal trainer right from your computer. You will not only be able to get the knowledge and expertise of a professional, but they will be able to guide you through every step of your workout to ensure you always meet all your goals.
That being said, you always want to ensure that you hire a qualified and reputable staff and can push you can give you the best fitness advice available. You can do this by starting with qualifications of the staff that will be training you.
Make sure the site that you are considering has all the information posted about every one of their personal trainers. They should all have college degrees in an exercise or fitness related field, and they should be certified by a proper organization like ACE (American Council on Exercise.
You can check these actual qualification by contacting ACE of visiting their website.
Consider A Sample Or Trial Workout
A lot of companies will even offer their potential customers access to the best free online personal trainer trails. This will not only give you a chance to work with the trainer first hand, but you will get to see the types techniques and knowledge that they apply in their regiments.
If you can't get a free trial, you might always have the option of checking out some sample videos online. This should serve the same purpose for your needs.
Must Be Informative
Getting accurate information about fitness is extremely important, especially when it involves beginners. As a beginner, you will not understand the importance of gym equipment. You will also not be familiar with the techniques utilized to prevent injuries.
Even people with a high skill level need assistance from time to time. So, when it comes to finding an online personal trainer, you must only consider the ones that are willing to provide you with in-depth and accurate information.
A great way to week out the uninformative personal trainer is to visit their website. The website should have an "about us" page, which provides important about the trainer and his/her service.
In addition to this, the website should offer informative written and video content about specific exercises, eating healthy, the human anatomy and exercise equipment. If this information is not available, it will be in your best interest to move on to the next option.
Contrary to belief, there is no need to settle for just any online trainer, as there are several websites that offer this service.
The trainer should also provide you with contact information, just in case you have unanswered questions that need answering. Also, a quick response would be nice.