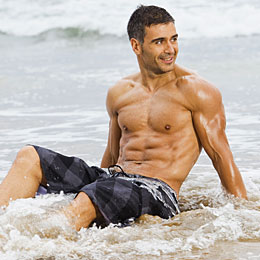 Most people imagine getting older with a wrinkled face, a stooped posture and a senile state. The truth is, you stay young is quite easy when you have nature as your aide. Wind the time back with a few smart activities in your everyday life. A simple diet and lesser stress could make a huge difference to the rate of your aging.
Five Ways How You Can Stay Fit Naturally
#1. Take a break!
A recent study states that stress is the most important reason for premature aging. When you find yourself stressed out, choose to go on a holiday. A short break can relax you and make you feel more energetic. If that doesn't work, pick a quiet corner at home or work and meditate for at least 15 minutes a day. If you don't fancy meditation, do something repetitive like running in circles instead.
#2. Choose your food
Eating a healthy food makes a huge difference in staying young. ask the experts if you are not sure how to start. Adding more Omega 3 fatty acids in your diet is healthy. It is found in salmon, nuts and seeds, it helps to reduce unwanted fat in the body and keeps the skin radiant.
#3. Move the body
A disciplined workout plan helps to stay fit. Avoid sitting for long hours on the couch. Simple exercises can help tone your muscles, lose weight, be more flexible, boost the mood and build stronger bones. Many studies have stated that regular workout as simple as walking can help stay young. Pick up a sport that you fancy like tennis or badminton and join the club near you. Involving other people in your workout routine could motivate you more.
#4. Love can change your age
Love makes one feel younger. Rekindle your relationship and feel the passion. When you are in love, you feel more energetic. If you have a lost ambition, pick it up again. There is no powerful motivation to live than following your passion. Spend time doing what you love. A recent study has proved that isolation and boredom makes one feel older. Join the local community and do things that would improve the quality of life around you. When you do things you like, the body releases hormones like Oxytocin that keeps you young.
#5. The mind workout
Try giving work to your mind as much as your body. Solve puzzles or spend time doing Sudoku. If you are interested, try wordplay as well. Research has proved that mental aerobics has reduced cognitive decline in people. The benefits of a regular mind workout can last for over five years. It also improves the memory of the person.
Conclusion
Nature remains the answer to most of life's unanswered questions. With a few changes in your lifestyle, you can stay fit without spending a dime. When you eat right and give your body a good workout, it makes a huge difference in your health. In today's fast-paced world, it is easy to forget oneself in the mundane routine. Take time to look after yourself and your family. Using natural remedies help you live life without side effects.