Obstacle Race Nutrition Tips To Fuel Your Training Regimen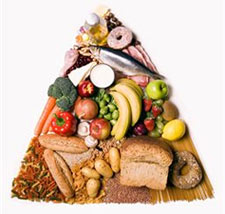 Proper training nutrition for a long obstacle race like the Tough Mudder, Spartan Beast, and similar runs requires a distinct plan from weight loss and general fitness goals. Your diet plan for an epic obstacle race will even differ from your diet for a shorter 5k race like the Warrior Dash, Rugged Maniac, and others. Many take on a shorter race for the first time as a means to meet weight loss goals.
You can train for a 5k obstacle course race while simultaneously pursuing your weight loss goals. Your workouts will be challenging, but usually no more than an hour long, which is typical of many exercise programs designed for weight loss. Use your training for a 5k as a means to lose weight, and structure your fat-loss diet accordingly, managing calories-in versus calories-out.
However, training for a 10+ mile challenge requires a distinct nutrition plan. You'll need to put weight loss goals in the back burner and focus on performance and recovery from your strenuous workouts, many of which can go beyond the hour typical for weight loss and general fitness programs. You'll need to pay special attention to proper intake of macronutrients and micronutrients such as carbohydrates, protein, fat, and vitamins and minerals.
Here are some principles to keep in mind in your efforts to achieve good nutrition balance to fuel your obstacle race training:
No Cutting Back on Carbohydrates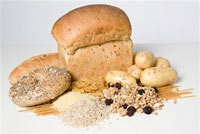 Carbohydrates provide energy for your workouts as well as replenish your glycogen stores following an obstacle race training session. As an athlete, most of your daily intake should come from carbohydrates. So unlike a common weight loss program where you may restrict carbs, you'll need 50-60% of your total caloric intake to come from carbohydrates. If you're a visual person, imagine half of your meal plate to consist of carbohydrate sources.
It's especially important to pay attention to carbohydrate intake after a vigorous exercise routine. A 3 or 4:1 carbohydrate: protein ratio is usually what's recommended. Chocolate milk fits this profile as do many other post-workout beverages.
Throughout the day, you still need to include carbohydrate intake throughout your meals, particularly the 3-4 hours following your training session. Try to focus on good carbs such as whole grains, fruits, and less processed sources.
Use Protein for Muscle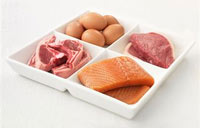 While you'll need carbohydrates to supply energy for your tough workouts, you'll need protein to build, maintain, and repair muscle. When carbohydrates are in short supply, your body may dip into protein as an energy source. However, it's best to avoid this since your priority is to use carbs for energy and protein for muscle maintenance.
As a general rule of thumb, most endurance athletes need between 1.2-1.4 grams of protein per kilogram of bodyweight. Ultra-endurance athletes may need up to 2 grams per kilogram of bodyweight. These ranges total to about 12-20 percent of your daily caloric intake.
For omnivores, lean sources such as chicken, turkey and fish are generally best. And if you are a vegetarian athlete, you can ensure that you are consuming complete proteins by eating a variety of plant-based protein sources such as beans, nuts, and soy combined with whole grains like brown rice, quinoa bread, and cereals.
Consume Good Fat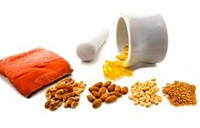 Fat is essential for satiety and provides some energy for your less intense training sessions. Your body also needs essential body fat, so there's no need to cut fat out of your diet entirely. Most women need between 12-14% of essential body fat, while men require around 3-5%.
Fat intake should come from heart-healthy sources as much as possible. These include unsaturated fats such as vegetable oils, fish oils, nuts and seeds, olive and canola oil. Athletes usually need between 1-2 grams of fat per kilogram of bodyweight, which amounts to roughly 20-30 percent of your total calories.
Keep an Eye on Sodium & Potassium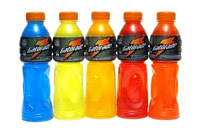 Although vitamins and minerals are needed in smaller quantities, they are important for everyday functions. They help regulate cellular processes, supply antioxidant power, enhance growth, and provide many other benefits. Considering the number of vitamins and minerals essential for your diet, it may be unreasonable to track consumption of all. Overall, it's best to strive for a balanced diet, choosing from a variety of carbohydrate, protein, and fat sources.
Two micronutrients worth keeping an eye on for your training are sodium and potassium. These electrolytes are important in helping maintain fluid balance. That's why most sports drinks contain sodium, potassium, and other electrolytes. If you have a long, rigorous workout planned, it may not be a bad idea to have a sports drink on hand once you've hit the hour mark.
Overall, keep in mind the importance of a balanced diet to ensure you are getting all the necessary vitamins and minerals. Don't cut back on carbs as you will need them to fuel performance and leave protein for muscle repair and recovery. And include heart-healthy fat for satiety and taste. Keep these principles in mind and you will fuel your training bouts properly and endure the challenges of race day!
References:
The Athlete's Guide to Making Weight by Michele A. Macedonio & Marie Dunford (Human Kinetics: 2009)
Website: MyExerciseCoach.net IdeaFit: Melissa Rodriguez    Melissa Rodriguez is a personal trainer, strength & conditioning coach, and fitness industry analyst. Melissa coaches committed exercisers and keeps a pulse on consumer and business trends in fitness and sports participation. She is a certified personal trainer through the National Academy of Sports Medicine, strength & conditioning coach through the National Strength and Conditioning Association, and manager of research for the International Health, Racquet & Sportsclub Association. With a special emphasis on obstacle course races, Melissa's website, MyExerciseCoach.net has training tips, reviews, and activity news. Although content is often focused on beginners, advanced athletes will also find valuable tips and insight.