4 Key Obstacle Race Training Running Workouts to Improve Your Fitness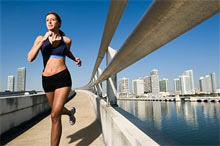 By Melissa Rodriguez, NASM-CPT, NSCA-CSCS
Introduction
If you've trained for an obstacle race, you're probably familiar with the components of an obstacle race training program.  If you're thinking about an obstacle race, most training plans for this sport consist of the following:
Running
Running is the foundation of any obstacle race training program. Since most popular races range from 3-12 miles in length, building running endurance is vital in order to finish.
Strength
Many of the obstacles you'll encounter in an obstacle race require core, upper, and lower body strength: climbs, monkey bars, jumps, crawls, etc. A strength training program that incorporates push-ups, pull-ups, squats, jumps, and similar exercises will address this component.
Metabolic Circuits
If you've done a CrossFit, Spartan Race, or similar Workout of the Day (WOD), you've likely endured metabolic circuits. This training alternates total body strength and cardio exercises that simulate the challenges you'll meet on race day.
All three of these components are important. However, sometimes, and especially for beginners, it's easy to oversimplify the running component. As beginners build up endurance, the focus is typically a walk-run program that culminates in running 30 minutes or a 5k without resting to walk. Once you've met this milestone, it's time to add some variety. You've built a foundation to take on running workouts that will boost your fitness, improve your performance, and make you a better runner. Including a few distinct running workouts in your program will keep your system on its toes, preventing your body from adapting prematurely and reaching a plateau.
To improve your obstacle racing fitness, include these four workouts: distance, intervals, hills, and trail runs.
4 Key Obstacle Race Training Running Workouts
1.  The Distance Run
The distance run is where most beginners start. For beginners, the distance run is a focus on mileage and being able to run up to 3 miles without stopping for rest or to walk. As a newbie, you would focus on this for two or three months. Once you've build a foundation for distance running, though, it's time to shake things up.
When you're ready to progress to the next three programs, you can and probably should still continue your distance runs. If you're training for an obstacle race that's longer than three miles, it's not a bad idea to include a distance run in your plan once or twice a week.
2.  Intervals
Intervals are alternating bouts of hard running with rest or an easy jog/walk. They increase anaerobic conditioning and boost running endurance. Intervals can also improve your capacity to withstand a challenging run, which you'll likely encounter in an obstacle race.
The "work" bout of an interval run can vary from 200m (about ⅛ mile) to 1-2 miles, depending on your fitness level and goal distance. An interval can also be measured by time, most lasting around 1-5 minutes. Intervals can also vary within each "work" bout. For example, one interval may be 200m, while the next set following the rest segment may be 400m. In short, it's possible to be creative with interval lengths!
The "rest" segment of the interval varies across fitness levels. Some advanced runners may complete a 1:1 work:rest ratio, while some beginners may employ a 1:3 or 1:4 work:rest ratio. Most intervals runs consist of 3-8 sets of work-rest.
How To Start
If it's your first time trying an interval run, you may not know what pace to use for your work bout. To start, try a pace that's about 30-45 seconds faster than your typical running pace.
For your rest, you can try an easy jog or walk for 2-4 minutes. Try not to just rest and do nothing at all as keeping a move on will help build your endurance. In order to do this, you'll have to find the right pace for yourself, so feel free to engage in trial and error for your first few interval runs.
Once you've build a foundation for running endurance, try to do an interval run once a week.
3.  Hills
Hill running incorporates segments of inclines–rolling and/or sharp–into a single session. Hills increase leg strength and power, improve fitness, extend stride length, and build cardiovascular endurance. Overall, hills make you a better runner.
How To Start
For a beginner, one of the things to keep in mind for running hills is to start slowly. During an uphill run, it's important to adjust stride length — don't expect to have the same pace as running on a flat surface. Running too fast uphill will put you at risk for injury.
Advanced runners may make a habit out of long, steep inclines, but beginners will see results starting with shorter, rolling hills. Starting slowly this way will also help prevent injuries. Hills can be completed in outdoor trails or indoors on a treadmill.
Beginners can start with short hill repeats lasting 30-45 seconds and rest with a downhill jog or easy walk. Recovery time is usually the duration it takes to walk or jog down hill. The work:rest ratio often resembles a 1:2 or 1:3 pattern. Beginners may start with 3-5 sets and work up to longer hills (lasting 1-2 minutes) and up to 8-10 sets.
Advanced runners may complete 3-4 types of hill sessions over a two-week period. Beginners will gain benefits from running hills just once a week and work up to more frequent hill runs.
4.  The Trail Run
Running outdoors over hiking trails will simulate the challenges of obstacle race terrain: varying hills and inclines blended with flat surfaces. You'll need to adjust your pace over the trails as you would over the course of an obstacle race. A trail run will also give you the benefits of exercising outdoors as you enjoy the fresh air and scenery.
How to Start
To get started with trail running, it's good to have a Nike attitude about it: just do it! You may need to set aside a weekend morning to complete a trail run. For safety reasons, recruit some friends for your outdoor trek.
Start with a trail that's best suited for beginners, mixed with rolling hills and flat surfaces. Try to get in a trail run at least once a month and work up to 3-4 times per month as you get closer to obstacle race day.
Putting It All Together
Once you've built running endurance and can run for at least 30 minutes or three miles without rest, try to integrate the above running workouts into your training plan for an obstacle race. Some aim for three running sessions a week with one long run, one hill or interval run, and one trail run. Find a combination that works for you. Above all, use your running workouts to boost fitness, build leg strength, increase endurance, and get you in obstacle race-ready shape!
References:
1. Active.com – http://www.active.com
2. Runners World – http://www.runnersworld.co.uk
3. Brianmac.co.uk – http://www.brianmac.co.uk
Website: MyExerciseCoach.net IdeaFit: Melissa Rodriguez    Melissa Rodriguez is a personal trainer, strength & conditioning coach, and fitness industry analyst. Melissa coaches committed exercisers and keeps a pulse on consumer and business trends in fitness and sports participation. She is a certified personal trainer through the National Academy of Sports Medicine, strength & conditioning coach through the National Strength and Conditioning Association, and manager of research for the International Health, Racquet & Sportsclub Association. With a special emphasis on obstacle course races, Melissa's website, MyExerciseCoach.net has training tips, reviews, and activity news. Although content is often focused on beginners, advanced athletes will also find valuable tips and insight.