90 Days to a New Body?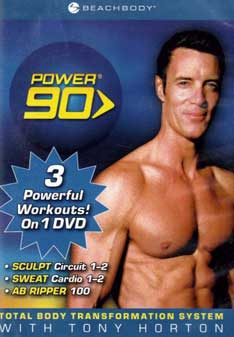 If you're someone who's been reading up on all the various workout programs that you can consider using, one that you might have come across is Tony Horton's Power 90 Workout.
From the same creators who brought you P90X, you can rest assured that the Power 90 workout is going to be just as successful at helping to reshape your body, burn off calories, and get you in the best shape of your life.
So what's the Power 90 all about? Let's take a closer look at what this program has to offer.
---
What Exactly is the Power 90 Workout?
The Power 90 program is one that has been designed to offer you a range of fitness benefits as it include both cardio elements and strength components along with it. By doing the comprehensive workout that takes less than 45 minutes to complete, you're not only going to burn off plenty of body fat but you're going to add muscle tone and definition as well.
In addition to this, the Power 90 is constantly changing, so you can rest assured that it's never a workout that you'll become bored with. You can complete the entire thing right in the comfort of your own home, so there's no expensive gym memberships required either.
It's fast, fun, and highly effective for those who want to get in shape quickly.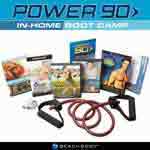 When you sign up to get the Power 90 program, you're going to get six cardio and body sculpting workouts, each one aimed to target a specific area of the body.
In doing this, what he refers to as his 'Sectional Progression', you'll hit all your main trouble zones, making sure you create a body that's well balanced and looks great.
You'll get two different Sculpt circuit workouts, one meant to tone, firm, and strength the entire body while the other is meant to take your progress to the next level and build long, lean muscles that help you burn fat all day long.
Then you'll also receive two Sweat Cardio workouts, the beginner and advanced versions that will include plenty of different cardio moves, kickboxing, and Pilates techniques.
Finally, you're also going to receive his Ab Ripper 100 and 200, which are two routines that will have you performing intense ab exercises to help bring out your six pack abs. These take just four and six minutes to complete respectively, so you can easily add it to the end of any workout that you're doing.
In addition to those, you'll also receive his free gifts, which include a fat burning express workout for those days when you're in a hurry, a 6-day Fat Burning Express plan to help you get jump-started at the beginning, and then a Fat Burner Meal plan so you'll know what to eat as you move through the program.
---
Who is The Power 90 Workout Best For?
The nice thing about the program is that since it includes both beginner and advanced levels, it will really be great for anyone who wants to use it. Whether you're a regular gym-goer and are looking to shift your focus to at home workouts or you're someone who wants to get started on track to better health and fitness, this program will have something for you.
---
The Final Verdict
So overall, you simply can't go wrong with this workout program. With all the various activities it offers, your body will continually keep responding and getting better and better results. When you combine it with the Fat Burner Meal Plan he's included, you'll really take your progress to a higher level and improve the quality of your nutrition as well.
---
More Reviews of Workout Programs on DVD
RUSHFIT With Georges St-Pierre
Get ready for an unparalleled home fitness experience with Georges St. Pierre's RUSHFIT.
P90X With Tony Horton
P90X is the newer eXtreme version of the Power 90 Workout. With the P90X you will not just get a cardio program but a comprehensive functional training program accompanied with a very effective nutrition program.
---
Shannon holds a degree in Exercise Science and is a certified personal trainer and fitness writer with over 10 years of industry experience.