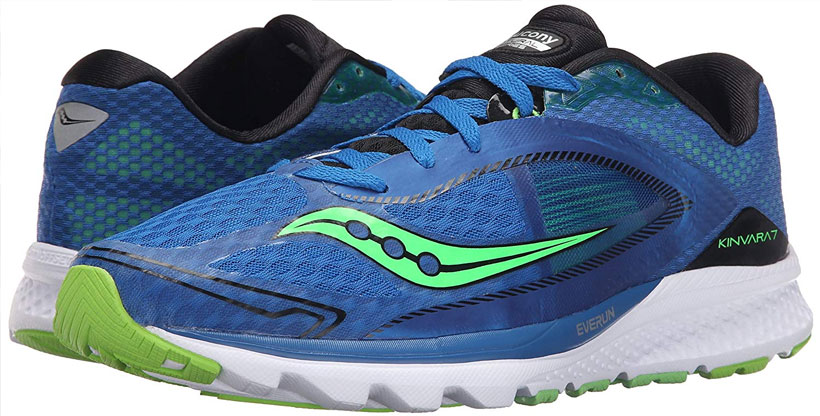 Having plantar fasciitis can make buying shoes more complicated, but it doesn't have to be. Plantar fasciitis is simply inflammation build up in the connective tissue of your heel. It can be very painful when you do not have the correct shoes to help alleviate and manage the pain, and it can seem like your options for shoes are very limited. This can be especially disconcerting for those who really love shoes in a fashion sense, but plantar fasciitis doesn't mean the end of the world to those who love having a variety of shoes in their closet.
One of the main rules for those with plantar fasciitis is to avoid shoes that are flat and thin as there's not much padding there for comfort. Anything with a thicker sole and support will feel much better. Also, looking for shoes that have more of an arched bottom, rather than a completely flat bottom (like a flip flop, for example) will definitely feel much better.
It's also important to get rid of your old shoes and buy new ones when they get worn down. So often we wear our favorite pair of shoes down until they are completely falling apart, but when you have plantar fasciitis you are going to want to keep an eye on how much your soles have worn down and replace your shoes when they begin to change too much.
Worn out heels can especially cause your inflammation to flare up and hurt much worse. Prevent this simply by buying new shoes when appropriate, rather than after the problem has already persisted.
Shoes Tips for Plantar Fascittis Sufferers
The good news is that shoes come in a wide variety of options for plantar fasciitis. Your options aren't as limited as you may think. So let's dive right into a few options right now!
A Good Arched Sneaker
When looking for sneakers you are going to want a well-padded and cushioned shoe with plenty of arch support. Look for running shoes that are arched and padded with a heel drop of about 11 or 12, which will help shift the weight away from the problem area in your heel. Look for sneakers that are made for running and you should be okay with most options. Just check visually to ensure that the front of the shoe seems to slope down from the back. This quality is what helps take that weight off your heel and reduce inflammation flare ups. And again, just make sure the interior of the shoe is cushioned well. Be sure to try shoes on before purchasing just to get a feel for them before you buy them.
Well-Padded Flat Shoes
You may think flat shoes are out of the question, but you can find well-padded flat shoes that are made not only to look good, but also for the comfort of the person wearing them. These can be found in many stores. Just stray away from flat shoes that are thin, flimsy, or very narrow. You can spot them a mile away. You'll want something a bit thicker with more substance.
Definitely keep an eye out for flats that have thicker soles, arch support, and a well-padded inside. If they have thick soles and arch support but lack a little padding, you can easily buy a separate cushion to slip inside and help with that. In fact, adding a cushion to any shoe can help quite a bit, just make sure that the shoe is already arched and has a thicker sole.
If you add padding to a thin, flimsy flat shoe you aren't going to help the inflammation much. You need to start with a shoe that is already working with you toward easing that inflammation, then add extra padding for that additional support.
The Comfortable Heel
Wedges are an amazing option for those with plantar fasciitis as they are created to distribute weight across a greater surface. While you can file a pair of pumps that are well-padded and cushioned with extra support (that could also work for plantar fasciitis), wedges will always be you better option for a heel because of the weight distribution already built in. Most wedges will be beneficial for you, whereas pumps and heels will need to be sorted through in order to find something best suited to your needs. Wedges are almost always guaranteed to be a good fit.
The Mules
Mule shoes are a great contoured footbed option for plantar fasciitis. Definitely a quality, comfortable option for those looking for an alternative to a flip flop or summer sandal. A good mule shoe will be contoured so that your foot makes as much contact with the sole as possible, and you should also look for a heel that is cupped so that it doesn't slide off as much when you walk.
Thick Soles & Arch Support
The main things you are looking for when it comes to a great shoe for plantar fasciitis are going to be the thick sole (this should be the first thing you look for), and then you are going to want to make sure there's a good amount of arch support or a slope from the back to the front of the shoe (the front should be lower than the back) to help ease the tension and weight from your heel.
Padding & Cushioning
Finally, you want to ensure that your shoe is well-padded and cushioned with plenty of comfortable support. If the support isn't enough inside the shoe (most likely it will be if you're looking for shoes with a great arch and thick sole), you can simply add additional support by purchasing slip-in cushions and pads that will add even more comfort. Obviously this isn't as much of an option for sandals, so you'll want to make sure your sandal is great as-is, but sneakers and some pumps/wedges will allow you the ability to add more padding inside. Just be sure that the padding doesn't alter the arch support or slope from back to front.
In Conclusion
These are only a few options and if you want more information go to PlantarFasciitisShoesGuru, but hopefully the tips provided have helped you see that there are far more options than you may have considered. Just be sure to follow the general guidelines when shopping and you should be able to fill your wardrobe with plenty of new options!