It's Gotta be the Shoes! Or Maybe the Marketing?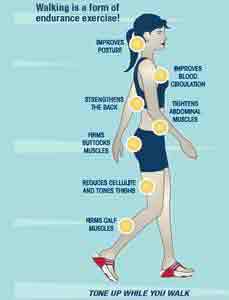 Introduction
One hot shoe on the market are Skechers Tone-ups. There's no questioning the fact that the workout shoes that you choose to wear will influence your overall workout sessions.
First, not only is it going to be important that you're wearing shoes you're comfortable in so that you enjoy the workout session itself, but it's also going to be vital that you're making sure that you are getting the support you need as this will go a long way towards preventing injuries from occurring.
Skechers Tone-ups claim to offer all this and more, so let's take a closer look into what this shoe is all about so you can decide if it's something that you want to be investing in.
---
Skechers Tone Ups Insole Effect
The very first reason to consider Skechers Tone-ups for your workout sessions is because of the highly effective insole that most of their shoes are designed with. This insole is often incredibly soft and many have been created to mimic how it would be if you were walking on sand.
Rather than coming down on a hard and unsupportive surface, as you move through the workout you'll be fully cushioned, which will help put your joints at ease.
Those currently suffering from knee or back pain may in fact benefit from Skechers Tone-ups, so they may want to consider taking a look at a pair.
---
The Toning Effects
Potentially the most advertised benefit of Skechers Tone-ups and what most women come to recognize is the toning benefits they claim to provide.
Since that insole does mimic you being on sand, you can envision how much more stress and tension this will place on the lower body muscles.
If you've ever taken a run through sand, you know precisely what we're talking about here. Running on sand is a great way to firm the lower body while burning far more calories than if you were running on the treadmill or a firmer surface. With Skechers Tone-ups, you'll in theory get these exact same benefits, or so they claim.
In addition to helping to firm the lower body, the core muscles will also be activated to a much larger extent as well, as they'll be required in order to help you maintain better balance and control.
For anyone who is looking for great toning and strengthening benefits in addition to their cardio workouts or wants to take their strength training workout up a level, this shoe is supposed to help you achieve this.
Finally, the nature of their shoes may make it possible to not only have a better overall workout, but recover faster as well. You may find that you're able to feel better sooner after a workout, and will be able to get back into the gym for your next session quicker. Since training regularly is important for success, this can be a big progress booster.
---
Plenty of Shoes to Choose From
Whether or not the claimed toning effects offer any real benefit at all, there is no denying that Skechers Tone-ups come in a variety of styles and comfort levels, making them a great option if you're in the market for a new pair of workout shoes.
You have the choice between many different sneaker looks and designs and you can also purchase Tone-up sandals as well for more casual wear during the warmer months.
All in all, Skechers Tone-ups do claim to offer a number of benefits that the fitness enthusiast would typically consider when shopping for a new workout or running shoe, though in all honesty, the toning effects are a bit misleading.
But even if you do have a normal pair of running shoes that you naturally gravitate to each time you have to purchase a new pair, now might be the time to give it a change and try Skechers Tone-ups instead, not because of the claimed toning effects, but because they offer comfortable and sleek designs that most women love.
Shannon holds a degree in Exercise Science and is a certified personal trainer and fitness writer with over 10 years of industry experience.