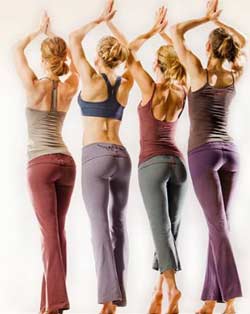 Choosing the Right Exercise Pants Is Crucial
Getting all set up for your workout session? If so, one thing you'll want to do before you step foot into the gym (or outside) is making sure you have the proper active wear and workout gear.
This includes having a very supportive pair of running shoes, having a visor if you're doing your workout in a sunny environment, as well as having a good top and bottom that you feel comfortable in.
Paying special attention to pants is very important since you will be moving your legs continuously throughout the workout. Regardless of the activity you're doing, you can definitely bet that the legs will be called into play, so if your workout pants aren't moving with you, you're going to have a problem.
Let's consider a few of the important things to remember when selecting exercise pants specifically.
Check For Breathable Material
The very first thing to think about when choosing women's workout pants is whether or not you're going to need breathable material.
If you're working out in a cooler environment, you may want pants that are made of a heavier material as this will help keep your leg muscles warm and prevent them from getting tight, restricting your performance.
On the other hand, if you're working out in the heat and know you will be sweating extensively, then you'll want to make sure that whatever workout pants you purchase are very breathable and will wick the sweat away from your body.
Consider Pants That Convert To Shorts
Second, another thing that you might consider when shopping for exercise pants when you know you will be in a hot environment is purchasing ones that will convert easily from pants to shorts.
More and more manufacturers are adding this option where you have a zipper the runs around the entire knee region.
This easily allows you to remove the bottom halves when you get hot as you move throughout the workout.
Go For The Right Fit
Getting a proper fit is the next consideration when shopping for a good pair of pants for working out. While the 'in' look right now may be to get pants that are very form fitting and tight, if you're not comfortable in this type of style, definitely do not force yourself to wear them.
The most important thing about any workout wear is that you are completely comfortable otherwise you're going to have more of your focus on how uncomfortable you are versus how you are performing.
While it's great to be stylish at the gym, it's not great if this comes at the expense of you feeling good as you go through the exercises you're performing.
Check On The Upkeep
Finally, the last thing to check on when you purchase exercise pants is the upkeep required with them. Most you can just wash and dry as normal at home, but there may be some more expensive brands that require dry cleaning.
Since you likely will be washing these pants regularly since you will be sweating in them, you'll want to consider the costs involved with that.  Likewise, even if you don't require dry cleaning for them but they have to be hung to dry, this can be time consuming and if you're in a rush to get to the gym, could prove to be not so desirable.
So make sure that you keep these points in mind as you go shopping for workout pants. Getting comfortable workout gear is highly important so that you enjoy your session more and can put all the focus on how hard you're working your body.

Shannon holds a degree in Exercise Science and is a certified personal trainer and fitness writer with over 10 years of industry experience.