Author Archive for: donnawilt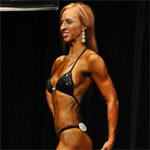 Donna Wilt
Donna is a licensed massage therapist and owner of Advanced Therapeutics Massage and Bodywork. She is a life-long health and fitness enthusiast and uses the principles and biomechanics from training to aid in her clients' treatment plans. Donna has competed and placed in figure competitions and works as a consultant in figure and bikini contest prep.

Working Out Alongside the Ladies: 3 Key Tips Alright fellas, there is a super hot infiltration of these amazingly...
Subscribe to Ask The Trainer
Join us on social media!

Exercise Information Guide