Our Story
Ask The Trainer was founded in 2007, built from the ground up for certified personal trainers of all levels to share their passion for and knowledge of health & fitness with the world. Ask The Trainer has since become a frequent destination for people around the globe from personal trainers looking to further their education to individuals looking for informative tips and advice on a variety of health & fitness topics.
Ask The Trainer was built and is maintained by a small core group of personal trainers. Guest trainers and other health and fitness professionals also regularly join us to share their knowledge. In fact, we owe huge thanks to all who have joined us on this awesome journey and we hope that you'll continue to be a part of our story.
Highlights:
Ask The Trainer is for people around the world to gain exercise, nutrition, health, and fitness information which they can have confidence in.
Ask The Trainer is for certified health and fitness professionals to connect with and share their knowledge with a large worldwide audience.
Ask The Trainer is for certified health and fitness professionals to showcase their personal training, strength & conditioning, or other services.
Join Us by Becoming a Contributing Writer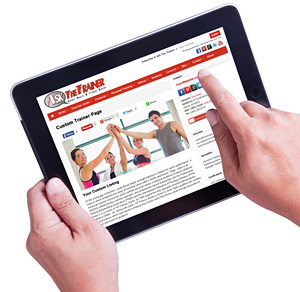 If you have a passionate expertise in a specific area and the credentials to back it up, be sure to send us a message. We do accept guest posts from qualified fitness professionals and this is a great opportunity to tap into a new global fitness audience.  Contributing to Ask The Trainer will boost your Web presence and drive more traffic to your website and social media channels.
Send us a message today, we look forward to sharing your knowledge with our audience!
Benefits Include:
Gain worldwide exposure for yourself, services or website. Each piece of your high quality original writing has a link back to your website and social media networks so interested fans can easily visit your website and social media channels from each and every article you have published.
Topics Include:
Nutrition     |     Sports Strength & Conditioning     |     Sports Psychology
Health & Fitness     |     Bicycling     |     Women's Fitness     |     Clothes & Gear
Personal Training Profession     |     Exercise Equipment     |     Fitness Books
& More…
Stay Up to Date with Ask The Trainer
We love social media! Come join us on your favorite social media networks for free health & fitness tips, content updates, motivation, and more…
Ask The Trainer Top Contributors
Click any contributor to learn about them, connect on the social Web, or read their latest tips and advice!
| | |
| --- | --- |
| Mike Behnken, MS, NASM-CES/PES/CPT, NSCA-CSCS | Julian Brown, BS, ACE-CPT, NASM-FNS |
| Mae Barraclough, BS, NASM-CPT/CES | Nicholas S. Prukop, MBA, ACE-CPT |
| Dr. Erik Uuksulainen, MS | Melissa Rodriguez, MBA, NASM-CPT, NSCA-CSCS |
| Rochelle Ramirez, BA, NSCA-CPT | Brian Pankau, ACE-CPT, ISSA-CPT/SFN |
| Vince Del Monte | Flavia Del Monte |
| Sárka-Jonae Miller, BS | Shannon Clark, BS, AFLCA-CPT |