The Body by Jake Tower 200
Body by Jake products are developed and produced by the Missouri-based Stamina Products, Inc., fitness equipment marketers since 1987. Popular among Body by Jake products is the Body by Jake Tower 200. The company's catchphrase for the Tower 200 is "Got a door? Then you got a gym." A bit of hyperbole, perhaps, but the Tower 200 does offer a large variety of exercises while occupying little floor space.
The Body by Jake Tower 200 consists of a basic, well-designed resistance band cable system that easily affixes to the user's door. The frame is made of durable steel. The brackets that fit over and under the door securing the system are thin enough that they don't prevent the door from closing.
There are three color-coded cables on each side; each has its own level of resistance: grey is 25 pounds; black is 35 pounds; red is 40 pounds. Two soft handgrips are included and can be linked with carabineers to any cable or multiple cables for higher resistance. Maximum resistance available is 200 pounds.
Linking the carabineers to the cables is fast and simple, and offers a fairly fine range of adjustment. Handgrips can be linked at the top of the unit for exercises pulling downward, or at the bottom of the unit for military press and similar exercises. One pair of ankle straps is also included, and can also be linked to any cable or multiple cables. As with any resistance band system, resistance increases as the bands are stretched; minute resistance changes can be made by moving closer to, or further away from the door. (For some user, the 25-pound cable may not be light enough for difficult exercises, such as the lateral raise.)
---
Resistance Training on the Body by Jake Tower 200
An exercise chart and DVD are included with the unit to provide examples and facilitate workout plans. The chart lacks the detailed instructions included in the DVD. The DVD contains an eleven-minute total body workout; a three-minute mixed martial arts total body workout by Ultimate Fighting champion, Randy Couture; and three three-minute routines targeting abs, triceps and biceps, and chest and shoulders.
The routines are fast, comprehensive, and ordered to minimize the time take to switch handles between the top and the bottom. The DVD includes some exercise moves not demonstrated in the exercise chart. The Tower 200 claims to offer 200 exercises; but this is somewhat of an exaggeration as, for example, one-handed exercises are counted twice, one for each side. That said, the equipment does offer many workout options.
Optional items are available with the Body by Jake Tower 200 for an additional fee. These include an extra set of handgrips, which can make moving from one exercise to another much quicker; and a straight bar, which allows for barbell rather than dumbbell style.
The product's weight is twelve pounds. Set-up is straightforward, and requires no tools. One caveat: some parts are plastic and appear cheaply built; and after thirty days, only the solid metal frame is covered by (a lifetime) warranty.
The Tower 200 retails for approximately $150. A similar though more basic fitness system is marketed by Everlast — the Everlast Pilates Door Fitness Gym with Adjustable Tension; this system retails for a mere $17. Weider also sells a similar system — the X-Factor Door Gym. Resistance exceed 210 pounds, more than that of the Tower 200, but the great variety of exercises offered by the Tower 200 is not possible with the X-Factor. The X-Factor is available for approximately $95.
Overall, the Body by Jake Tower 200 is a highly versatile and compact system. It's nicely designed, simple and convenient. It's highly recommended as a fun and valuable tool to assist users in working multiple muscle groups, as well as isolating and defining muscles not always reached with conventional equipment.
---
Body by Jake Tower 200 Product Features
• Basic, well-designed resistance band cable system that easily affixes to the user's door
• Slides onto any home or office door within seconds
• Durable steel frame
• Multi-tension cables provide a total of 200 pounds of resistance
• Supports 200 different exercises
• Limited lifetime warranty
---
Who can Benefit from using Body by Jake Tower 200?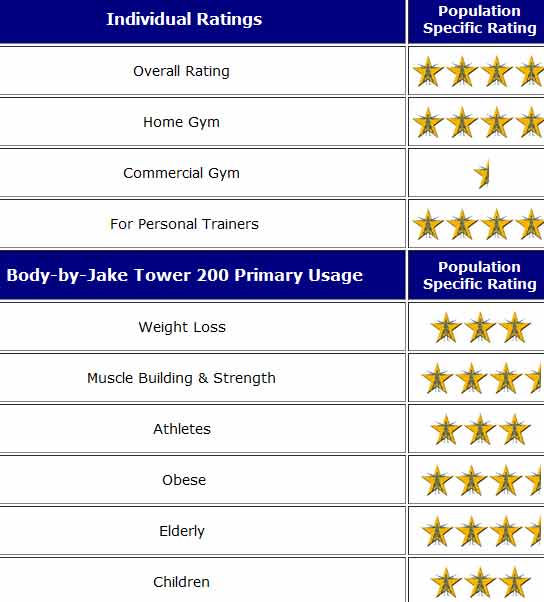 Many as seen on TV products have misleading advertising and the Tower 200 is no different.  Just because there are bodybuilders, shredded athletes and fitness models using the equipment, it never means they got that way from using the product.  Resistance circuit training can provide some cardiovascular benefit but by no means is it a substitute for cardiovascular exercise.The Body by Jake Tower 200 is a good resistance training product for people without a gym membership.  Like the ad says, it can be used by almost anyone who has a door an a limited amount of space.  People looking to lose weight can use the Tower 200 for their resistance training although it must be accompanied by cardiovascular exercise 3-5 days per week and a low calorie diet.
The Tower 200 provides a solid solution for the obese and elderly who want or must workout at home.  Anyone with a sturdy door, some free space and non-slippery floor can use the Tower 200 to help build muscle, maintain or improve overall strength and fitness levels.
---
Is Body by Jake Tower 200 good for a Home Gym?
The Body by Jake Tower 200 is an excellent addition to any home gym!
The Tower 200 is great for most home gyms because it takes up such a small amount of space.  If space is the most valuable commodity of your home gym then the Tower 200 is going to be a valuable piece of your home gym puzzle.  If you compare it to a selectorized cable machine such as the Free Motion the Tower 200 takes up only a fraction of the space.
---
Is the Body by Jake Tower 200  good for the Commercial Gym Setting?
There is a reason resistance bands and bungee cords are not prevalent in commercial gyms.  The reason being, they have a limited life span.  This is not to say that the Tower 200 will break with home use, but it simply cannot stand up to the rigors of commercial gym use (i.e. being used for 10 hours per day, 7 days per week by people of various strength levels.)
---
How is Body by Jake Tower 200 for Personal Trainers?
Personal trainers can use the Tower 200 with clients very effectively.  Since beginners will likely struggle with proper exercise form while using high and low pulleys, the Tower 200 provides a great platform for teaching clients how to use the high and low pulley.
While the Tower 200 is not ultra-portable with its metal door attachments, it can be brought to the homes of clients by mobile trainers to incorporate a large variety of exercises into the clients program.  For those trainers with their own small fitness studio or gym, the Tower 200 is a tremendous use of space for the fraction of the cost of commercial equipment.
---
How do you Exercise with the Body by Jake Tower 200?
The Tower 200 consists of high and low cable pulley set up.  Handles attached to the cables can be pulled for various resistances depending on how many cables are attached to the handle.
The user can perform exercises facing any direction provided the cables will not stretch to their maximum length.  Exercises such as biceps curls, triceps extension, chest press, lat pull down, seated rows and many more are possible.
Since the cable/bungee provides constant tension, most users should perform the motions of the Tower 200 exercises slow and controlled. Some more advanced users can perform more intense (and faster paced) such as "The Supreme Mother of All " DVD (sold separately).
Exercises you can do on the Body by Jake Tower 200
The Body by Jake Tower 200 basically uses a combination of cable, pulley and resistance band types of resistance, you can perform almost all the same exercises as commercial gym selectorized cable machines.
---
Where can I Buy the Body by Jake Tower 200?
The Tower 200 is not sold in stores but you can buy them online from online retailers such as amazon.
| | | |
| --- | --- | --- |
| Vendor |   Hot Body by Jake Tower 200 Deals | Rating |
| Amazon.com | | A+ |
**Compare Very Closely with the Similar Weider X-Factor**
About Michael Behnken
Mike Behnken is a personal trainer who holds multiple NASM certifications and a MS in Exercise Science. Mike loves fitness, travel, and photography among many other interests.