Training Clients Near Crissy Field! – SF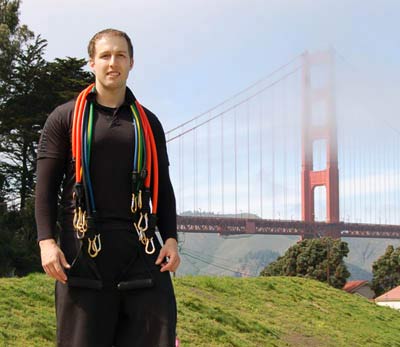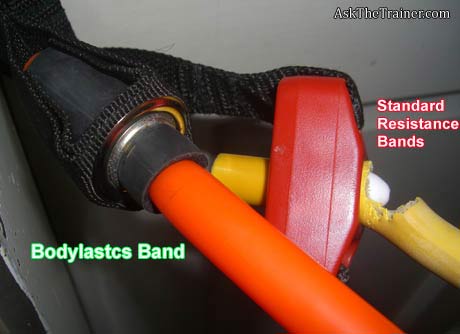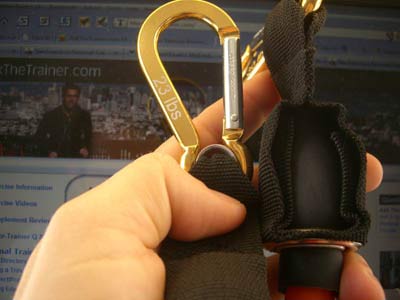 Why Use Bodylastics Resistance Bands?
Resistance training anywhere!
As a personal trainer, I am always looking for new ways to create fun workouts for my clients. One way to spice up your personal training sessions is to get out of the gym for outdoor workouts, especially in California where the weather is nice!
Outdoor workouts always sound good in theory until it comes down to lugging hundreds of pounds of equipment across the city. Bodylastics has solved this problem!
The Bodylastics TO Bands allowed me as a personal trainer to grab my bag of bands and literally run to the nearest park for personal training sessions, opening up a whole new door for my clients and improving my service as a personal trainer.
Bodylastics are Tough in 2 Ways:
1. Bodylastics are very well-made with reinforced ends, allowing them to last for a very long time with proper care (don't leave them in the sun!).
Other resistance bands which I paid good money for always seemed to break with heavy use. Bodylastics are designed to handle heavy use over time and they do it with ease.
2. The clipping feature of Bodylastics resistance bands allow you to add up multiple resistance bands to provide very tough resistance if needed.
It is safe to say that the Bodylastics bands I purchased for around $100 provide enough resistance for pretty much any human being on the planet.
---
What Are Bodylastics Bands Like?
Bodylastics bands are made in various sizes of surgical tubing.
At each end of the resistance band, there is a carabiner which tells you the amount of resistance provided by the band.
The Bodylastics handles are very high quality and very comfortable. Similar to the handles you get with a $3,000+ weight machine.
Depending on the package you purchase, you may receive up to 4 handles, a door anchor, and ankle/wrist straps.
---
What Are Bodylastics For?
Bodylastics Resistance Bands Can Serve Many Functions
First of all, the resistance provided by tubes or bands is different from that of free weights and body weight.
Since the material which makes up the bands stretches, the further the band stretches, the more resistance is provided. This is useful because there will be the most resistance towards the end range of motion during each exercise.
This is good because the end of the range of motion is often neglected while using free weights and Bodylastics band exercises allow you to contract the muscles fully. Bodylastics can also be added to traditional strength training barbell exercises to increase the resistance towards the end of the range of motion.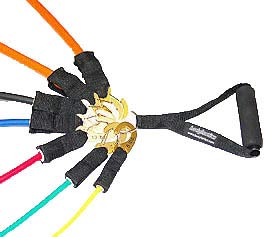 Bodylastics Can Provide Very Light to Very Heavy Resistance
You already know that the Bodylastics TO bands (Super Strong Man Edition) allows you to create enough resistance for even the strongest people in the world. This does not mean you cannot use these bands for light weight. The lightest resistance is 3lbs, which is great for the weaker muscles.
You Can Use Bodylastics to Achieve a Variety of Health and Fitness Goals
Resistance band exercises are simply another form of weight (resistance) training, which allow you to build strength and muscular endurance while toning your body.
If you think there are only a few resistance band exercises, you are sadly mistaken, as you can substitute bands for free weights, create exercises on the fly, or simply add on to existing exercises in your workout program.
---
What Are Some Resistance Band Exercises You Can Do With Bodylastics?
Bodylastics by themselves provide more than enough resistance and versatility to create tremendous workouts. You can not only work all your body parts, transitioning between exercises is extremely easy as well so you can keep your heart rate going to burn maximum calories.
On the right you will find just a small sample of the many exercises you can do with nothing more than Bodylastics resistance bands and a door. These exercises only scratch the surface too, as the bands are a truly versatile piece of workout gear with virtually unlimited flexibility.
---
Where is the Best Place to Buy Bodylastics?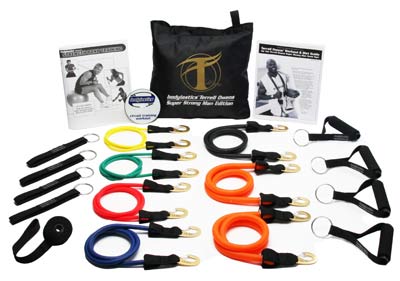 All the sample videos above use high-tension Bodylastics, which allow for both extremely heavy or light resistance. These configurations are very flexible and will be a great long-term investment.
Don't make the mistake of only buying a cheap resistance band which is made to break with limited wear.
Cheap resistance bands not only snap easily, but they do not allow you to achieve the necessary tension. Sufficient tension is needed to increase strength and get the best results, especially for functional exercises where large muscle groups are involved.
Your best option is to get Bodylastics TO Bands / Strong Man versions for they allow you to easily add and subtract multiple resistance tubes to create extremely heavy or very light resistances.
If however you do not need the heavy resistance options that the TO Bands / Strong Man versions offer, you can check out some of the available products here:
| | | |
| --- | --- | --- |
| Online Vendor | Top Rated Bodylastics Resistance Bands | Rating |
| Amazon.com | | A- |
| Amazon.com | | A- |
| Amazon.com | | A- |
See Also: