Which Home Gyms are Legit….and Which Are a Waste of Your Time & Money?
We've all seen the cheesy ads for home gyms claiming to "do it all". With one product, you can (supposedly) ditch the hassle and expense of a commercial gym membership and instead work out effectively in the comfort and privacy of your own home. These home gym products claim to work every single muscle group, get you ripped, shredded, and lean.
So can home gyms really offer these results or is it just marketing hype meant to cheat you out of your money? As a certified personal trainer, I have some strong opinions on the subject that I would like to share with you to make sure you can separate the wheat from the chaff. The good news is that the most expensive and overhyped home gyms are not actually the best ones. It is definitely possible to get great results at home without breaking the bank by purchasing a quality home gym (and a few helpful accessories).
Stay with me to learn the top 5 best home gyms you can buy broken down by budget point, essential tips for setting up a home gym and staying motivated to use it including the most common pitfalls of home gym users, and finishing up with a discussion of helpful home gym accessories you will need to get in awesome shape.
First, let's do what you came here for: review my top 5 home gym choices!
My Top 5 Home Gyms
#1. Total Gym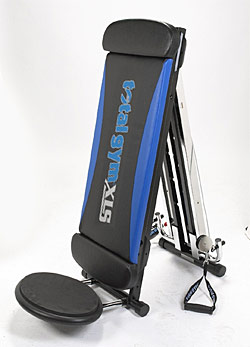 First off, the Total Gym has undeniable built-in badassery because it is personally endorsed by none other than Chuck Norris (I'm sure you've seen the infomercials). But joking aside, the Total Gym is an affordable home gym offering that stands out due to its ability to deliver the goods in terms of functional full-body strength as well as many opportunities for building up your core strength and stability. Many physical therapists will recommend the Total Gym to patients looking to set up a home gym because, when used correctly, it proves functionally helpful and safe for users of different levels.
There are several different Total Gym models on the market, starting with the basic 2000 model and working through some intermediate models all the way up to the locked-and-loaded XLS and even a commercial gym-grade EFI GTS option. Though these different models do offer important points of difference, the basic operational premise of the Total Gym is essentially the same across the board. Basically, the angle of the bench, which sits upon two smooth gliding rails, dictates how much resistance you are selecting as a percentage of your body weight. No plates, rods, or weight stacks are required, making the Total Gym a good choice for those with minimalist sensibilities or those simply working within the confines of a small exercise space in their home.
The lack of external resistance sources, however, does NOT cut down on the versatility of the exercises you can do or the resistances you can select. Fine angle adjustments allow you to use anything from the full weight of your body to a very small percentage. Exercises you can do on the Total Gym include everything from weighted ab crunches and oblique twists to squats and leg presses to chest flies and tons of row variations. There are well over 75 effective exercises you can do on the Total Gym, which include essential compound exercises that allow you to build functional strength and core strength.
The Total Gym is the all-around package for the home exerciser: high quality construction, easy to learn and use, small space friendly, hospitable and accessible to many types of users from beginning to advanced (and it has a 400 pound bodyweight capacity, while many other home gyms cap at around 300), plus, it won't break the bank. Expect to spend around a thousand dollars on the Total Gym XLS, which in my opinion is the niftiest all-around model in the series.
#2. Powerline BSG10X Home Gym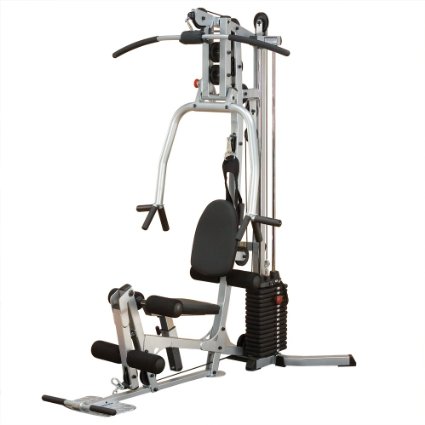 If you are looking for an affordable home gym that offers a more traditional form of resistance than the body weight leverage offered by the Total Gym, I would suggest the Powerline BSG10X. This machine is based on cables which pull on an external weight stack, just like what you would see in the gym. The exercises you'll do on the Powerline will look and feel a lot more like your traditional weight machine exercises as well.
You can do over 40 weight training exercises on the Powerline, including all the meat and potatoes of upper body and abdominal training. Quality pulldowns, chest presses, flyes, rows, and twists are all on the menu, along with many variations. It is well worth noting that the strong suit of the Powerline, however, is not leg and glute training. This may not be a dealbreaker if you are also equipped with a quality dumbbell set that will allow you to do squat, lunge, and deadlift variations outside the machine itself.
Powerline products are manufactured by the Body Solid company, which is widely known in the fitness community for offering durable and well-designed home gym options.
#3. Bowflex Blaze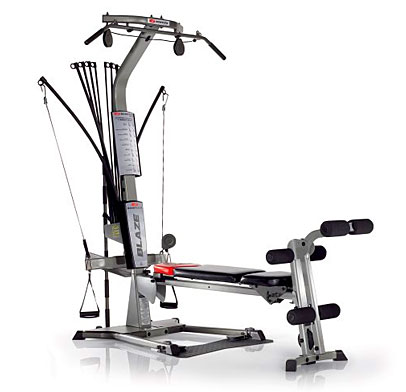 Bowflex home gyms may have gimmicky commercials, but a few select models offer a ton of versatility and value for the home gym user. The Bowflex Blaze home gym boasts a modest price tag for the amount of effective strength training exercises you can do with it. Bowflex is famous for their power rod technology, which offer respectable resistance for you to fight with on both the raising and lowering portion of each exercise. The Blaze comes with resistances of up to 210 pounds built in, and is upgradable up to 410 pounds for more advanced exercisers with the purchase of additional power rods. For your average home exerciser, the max of 210 pounds should be more than enough. The manufacturers of this machine offer a warranty period of one year on the frame, five years on the power rods, and 60 days on all other parts.
Standout features of the Bowflex Blaze home gym include the ability to do up to 60 exercises, including essential compound exercises for the legs and glutes, such as squat and deadlift variations. I also love the cardio rowing feature that comes standard on the Bowflex Blaze. Rather than being solely a strength training machine, the Blaze offers you the ability to get some full-body cardiovascular exercise done with its cardio rowing capability.
If your home gym budget is around a thousand dollars, the Bowflex Blaze should prove a stellar choice.
#4. Bowflex Revolution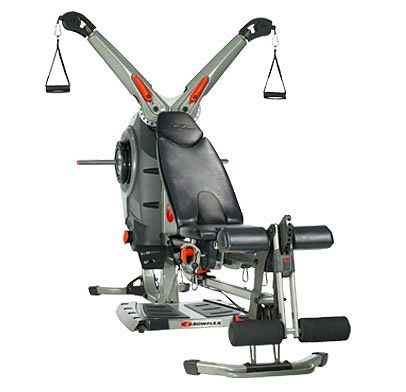 The Bowflex Revolution home gym is the latest innovation from the Bowflex company and yeah, it's pretty awesome. Instead of the typical Bowflex power rods you are used to seeing, the Revolution uses plate-based "SpiralFlex" technology which is housed inside the machine, which immediately makes this home gym more modern and visually appealing upon first glance. The warranty period is also upgraded to a rock solid 10 years.
Compared to the Bowflex Blaze, the Revolution also offers you the ability to do a lot more exercises with more choices when it comes to dialing in specific angles, making it a better choice for the most serious exercisers and bodybuilders. Using the Bowflex Revolution, you can do over 100 strength training exercises, including the compound leg/glute exercises I mentioned above and tons of different angles on lat pulldowns. Since these two aspects are often missing from home gyms, this a major positive feature of the Blaze in my book.
Be prepared to drop around three grand on the Revolution. If that sounds doable based on your personal home gym budget, I'd recommend this option over all others discussed so far in this article. Unless you have specific athletic goals in mind that would necessitate more traditional equipment such as an olympic bar, bench press, and bumper plates, the Revolution offers pretty much everything a home exerciser and even a bodybuilder could need if you are after a machine-based workout.
#5. Body Solid EXM3000LPS Double Stack Home Gym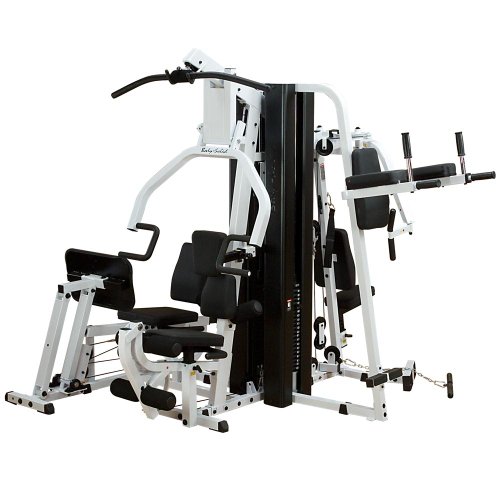 Are you looking for a home gym that looks and feels more like a full gym workout? Do you have a large space in a spare room or your garage just begging for top-quality home gym equipment? Do you want to amp up the fun, camaraderie, and motivation of your workouts by having up to three other family members or friends working out with you? Are you budgeting a couple g's toward your home gym venture? Then the Body Solid EXM3000LPS Double Stack Home Gym is the best choice for you. I love this home gym! The Body Solid Double Stack brings the weight room home with you.
If you are an athlete, a bodybuilder, or simply a home exerciser that wants the best, this home gym will treat you exceedingly well compared to other options we have discussed. Body Solid designs durable, tough, and ergonomically sound products that will allow you to really kick your own butt, adding muscular strength, endurance, and size while performing exercises that will contribute to not only your physique but your athletic performance.
The Body Solid does not exactly have a small footprint, but if you have the space, it's completely worth it. It measures 73-by-83-by-91 inches (W x H x D) and includes two 210-pound weight stacks, allowing you to do, for example, traditional chest and back exercises with up to 210 pounds and leg presses and calf raises at a whopping 420 pounds. To top it off, the manufacturer offers a limited lifetime warranty, which is really hard to find on other home gyms.
Home Gym Set Up Tips
Now that we have gone over my top 5 best home gyms review, I want to share with you some tips that I know will contribute to your success and happiness with your home gym purchase. Let's start with the most common boo boos I see among folks setting up a home gym for the first time. Then I'll go over essential home gym accessories that you will need to include because, sorry folks, contrary to what the marketers would like you to believe, no single home gym can truly "do it all" when it comes to getting you toned, lean, and strong.
The Most Common Pitfalls of Home Gym Users
Many home gym purchasers are new to the game and tend to make a series of common mistakes. Don't let that be you! Here is a quick list of the most common home exercise faux pas and what you should do instead.
Doing the same routine FOREVER. Many people will do the same exercises at the same number of sets and reps ad nauseum. It's easier to stay fresh in a gym setting where there are other people around you trying different things all the time. If you don't change up key variables like exercise types, sets, and rep schemes, your body will hit a plateau and you will become frustrated with your lack of progress. While consistency is key to results, you will need to adjust certain variables at least every couple of months to see changes in your body.
Failing to push yourself. Don't let yourself slack because you are at home. It may be easier to push harder in a public setting as you try to keep pace with other exercisers at the gym. You will need to dig deep within yourself and become your own motivation rather than looking to others.
Getting distracted by demands of home life. This could be kids, work obligations, or that looming pile of dirty laundry lurking in the corner. To be a succesful home exerciser, you need to carve out time, space, and energy, and devote yourself to the task at hand until it is done. Shut the door, turn off the TV, crank up the music, and ignore the laundry and bust your butt until your workout is complete.
Program design failure, and/or poor exercise form. Though these issues are often shared by commercial gym users as well, they may be more common among home gym users working out in a "vacuum". Both of these issues can lead to frustration and wasted time at best and serious injury at worst. If you are new to exercise or trying a new approach by working out at home, consider hiring a personal trainer to help you get a program set up. A quick Google search will yield a list of mobile personal trainers in your area who can come to your house to help make sure you are set up for success. You don't necessarily need a personal trainer there with you all the time, but professional help will be extremely useful at first unless you are already an exercise veteran, and it will be absolutely essential if you are a raw beginner who doesn't know a pec fly from a front raise.
Essential Home Gym Accessories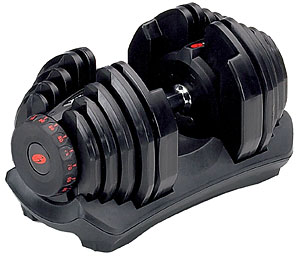 All of these home gyms have something in common: it is best to flesh them out with a couple key accessories.
First among these essential home gym accessories is a quality set of dumbbells, preferably some of the modern adjustable dumbbells that offer you the opportunity to dial in custom resistances on one simple set rather than dozens of individual dumbbells. I am partial to the Bowflex SelectTech Adjustable Dumbbells and the Powerblock Elite Dumbbells. You will need dumbbells alongside any home gym to be able to perform essential exercises like squats, deadlifts, lunges, overhead presses, and more that home gyms just don't offer in the same way that free weights can.
Another consideration for your home gym is how you are going to get your cardio. Everyone needs regular moderate to vigorous cardiovascular exercise, and it's especially essential if you, like many other home exercisers, are looking to lose weight in the form of excess body fat. Your cardio could be home exercise DVDs, jogging, biking, hiking…or you could also invest in a quality home cardio machine alongside your home gym. I like the Bowflex Max Trainer, Schwinn Airdyne Stationary Bike, and Concept 2 Rower for my home cardio. The bottom line is that you will need to budget time, space, and possibly money toward ensuring that you are able to get good cardio exercise.
Best Home Gyms Review: The Trainer's Takeaway
Home gyms can be great tools for losing weight and building muscle strength, endurance, and size in the comfort and privacy of your own home. If you are someone who has the motivation and focus to work out at home, more power to you! Just remember that even the home gyms with the absolute best reviews only work as hard as you do! In other words, you will get out what you put in and there is no machine out there that will take away the simple fact that you will have to sweat and strain to get ripped and lean.
You're wise to do plenty of research before investing in an important fitness tool like a home gym machine. I hope you found my review of the best home gym equipment helpful in determining the right choice to suit your personal needs and preferences. Thank you for reading this review, and be sure to let us know if you have any questions in the comments below!
About Shannon Clark
Shannon holds a degree in Exercise Science and is a certified personal trainer and fitness writer with over 10 years of industry experience.