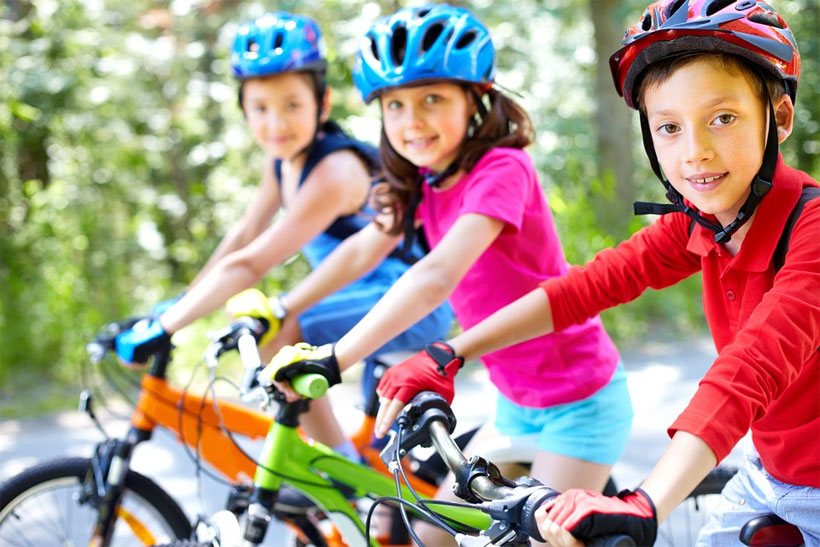 It is hard to imagine a child that does not like to ride a bicycle. Biking is a super fun hobby that will almost always transition with a child into adulthood! Toddlers get pleasure from riding tricycles, preschoolers enjoy riding bikes with training wheels, and teens love riding BMX style or mountain bikes.
Riding a bicycle is not just for fun though, bicycling is also a fantastic way to improve the health and fitness of your child. Some of the many benefits of biking include increased cardiovascular fitness, strengthening of bones, and stress reduction.
Benefits aside, it's very important to purchase a bike for your child that meets some key considerations. A bicycle will need to be selected in accordance with the height and age of the child, and it will need to offer a convenient and safe design, among other things.
Let's take a closer look at these important considerations and dive into some tips to help you choose the perfect bike for your child.
The Principle of Operation and the Design of Bicycles for Children
It has been almost 150 years since the day the first bicycle was invented, and the principle of operation and the design of these means of transportation have not changed.
And there is no difference whether it is an adult or a kid's bicycle, although the models for the little ones have their own peculiarities:
The frame is simpler and lighter, because it does not go through any serious stress.
The seat and handlebars are height-adjustable – thanks to this feature the bicycle can "grow" with the child.
Pedals are more often located on the front wheel axle; you will notice that a chain drive is installed only on two-wheeled models of bicycles for schoolchildren.
Besides, kid's bicycles may come with higher handlebars which can help parents to comfortably control the cycling movements of the child, as well as a basket, sun shades, and even a game panel. But all these elements can only be found in three-wheeled models of bicycles for preschoolers.
Selecting a Bicycle in Accordance with Your Child's Age
For children under the age of 1.5-2 years old, a tricycle with a parental control handle, a kickstand, a folding awning and a deep seat with straps and restraints would be the best choice. The diameter of the wheels should be about 12 inches, the frame can be aluminum or high-quality thick plastic. It would be great if the bicycle was equipped with a musical panel and a spacious basket for children's toys and small items.
For 2-4-year-old children that are not yet able to maintain balance, you can purchase a tricycle with an aluminum frame and without a parental control handle. It is preferable that its weight does not exceed 4 kg, otherwise the child will not be able to handle the bicycle or it can fall or gets stuck at the curb. You will need non-slip pedals with rubber lining and a foot brake. The diameter of the wheels should be about 12 inches as well.
Children of 3-5 years of age, who feel quite confident in the seat, will like a two-wheeled bicycle with training wheels for safety. The frame can be aluminum or steel, the optimum diameter of the wheels is 14-16". Check whether the selected model is height-adjustable and has all the necessary protection gear along with reflectors. In particular, we can recommend the model "Woom 3". In many ways, this is the best bike for 5 year olds, which has all the features mentioned above.
For elementary school students from 6 to 9 years of age, a regular bicycle with a lowered frame and a pair of 18-20-inch wheels will be a great option. Height adjustments and basic safety features are still required. As for the brake system, it should be combined.
Types of Children's Bicycles
Tricycles
A tricycle is an ideal means of transportation for children of 2–3 years of age that are just learning to ride a bicycle. The child does not need to maintain balance, and can fully concentrate on pedaling and steering.
Three-wheeled bicycle models have an extremely simple and reliable design, but their main advantage is stability. The most common are the tricycles with one front and two rear wheels, although there are also the ones with two front and one rear wheels.
Pros:
High stability due to 3 points of support.
Low weight.
Good safety margin.
Bright colors that kids love.
Many models are additionally equipped with baskets, game modules, parental handle bar and other useful accessories.
Low cost.
Cons:
The wheels are usually stiff and loud.
Not folding and take up a lot of space during storage.
Four-Wheeled Bicycles (2 + 2)
An older child, for whom a three-wheeled model is too small, will love a small bicycle with additional, training wheels.
On the outside they resemble a simple adult bicycle: with chain drive and soft rubber wheels. The training wheels can be dismounted as soon as the child learns to maintain balance.
Four-wheeled bicycles are designed for children of 4-7 years old.
Pros:
A variety of models with interesting design (police bikes, sports motorcycles, etc.).
A wide range of adjustments of the height of the seat and the steering wheel.
Small training wheels do not interfere with riding, they only make the process safer.
The child will learn to balance on a bicycle quicker.
Some models are equipped with a removable parental control handle.
Cons:
Upon making a sudden turn, the four-wheeler can fall down on the side.
The foot of the training wheel leans constantly.
Two-Wheeled Bicycles
According to CuteLittleDarling.com, these models are designed for students who have already mastered independent cycling skills. By design, they do not differ from adult bicycles – only in a smaller size.
Kid's edition of mountain and stunt bicycles looks especially interesting, although the market offers – mostly – the usual recreational bicycles.
Pros:
A wide range of models.
Availability of all "adult" features, including speed control.
Often come with folding frames.
A stylish design.
Cons:
Develop decent speed and require some experience from the cyclist.
Children's Bicycle: the Selection Criteria
The Child's Height
This is the main criterion for choosing a bicycle for your child. In order for the child to learn cycling, he must be comfortable sitting and riding his bicycle. To do this, you must "try on" the model you favor by putting your child on it.
A proper bike fit implies that a child has a straight back, the position of the arms is not higher than the chest level and the knee is almost completely extended upon pedaling. If you are trying to order a bicycle over the Internet, it is necessary to follow the dimensions specified by the seller.
Knowing the wheel diameter can also come in handy, if you are trying to choose the model that would be appropriate for the height of your child:
Bicycles with 12-inch wheels – for a child with the height between 2'10" and 3'4".
Bicycles with 14-inch wheels – for a child for a child standing at 3'1" – 3'7".
Bicycles with 16-inch wheels are intended for children from 3'7" to 4'0" in height.
Bicycles with 18-inch wheels – for a child standing at 4'2"- 4'6".
Upon considering the length of the frame – in order to avoid any mistakes – measure the distance between the "nose" of the seat and the line of the handlebars: it shouldn't be more than the distance between the child's elbows and the tips of his fingers.
Frame and Wheel Material
Frames for children's bicycles are usually made of the following material:
Steel
Aluminum alloy
Composite materials
Three-wheeled models for the smallest children can be made of hard plastic. Special strength is not required, but the weight matters here: lightweight bicycles are less dangerous, and they are easier for children to handle. So, leave heavy steel for teenage BMXs, and for elementary school students choose bicycles with an aluminum or composite frame.
Wheels on children's bicycles can be different as well:
Plastic – suitable for smaller bicycles that can be used by a 2-3-year old child on smooth sidewalks or on the playground.
Rubber (inflatable) – provide maximum comfort and smooth travel, including uneven surfaces. But there is a risk of puncturing inner tubes; besides, they have to be pumped up regularly.
Foam rubber – combines the advantages of the two previous types of wheels. There is no inner tube in soft tires, so the wheel won't get punctured, but wear and tear is rather average in this type of wheels.
Brakes
The question of what brakes the bicycle should have torments many parents: some believe that it is necessary to teach the child to use manual hand brakes from day one; others do not see the point in using hub brakes at all. In fact, it all depends on the age of your child and his cycling experience.
The manual hand brake with a lever on the steering wheel is suitable only for teens – the hand of a 6-7-year old child is not yet strong enough to use it (and fingers might not be long enough either).
For smaller kids, the best option would be a foot brake.
If you still cannot decide which one is better, obtain a model with combined brakes.
Pedals
Pedals on children's bicycles can be:
Plastic
Metal
By all means, the second option is much stronger and more durable; it is intended for children ages 6 years and older. If we speak about plastic pedal: it can easily come apart by the end of the first season of intense cycling or fall to pieces from an impact.
Look for a bike with non-slip pedals that protect your child's feet flying off of them. But under no circumstances you should get a bike with pedals equipped with foot straps. Coordination in children is not the best – if the toe gets stuck in the strap, the child can fall off the bike instead of getting up on his feet.
Safety
While studying all the features of the bike, you should not forget about your child's safety. Not only the reliability of the design is important here: the child's weight is light, so it is very unlikely that the bicycle will fall apart under your child.
Most important of all are the small details that seem insignificant at first:
Soft foam plastic on the steering wheel;
Rubber pedal lining;
Absence of sharp edges in any part of the bike;
A guard for the chain and the front sprocket;
Reflective stripes or reflectors, so that motorist is able see the child on the road at night.
For the smallest cyclists who still cannot independently ride the tricycle, a safety belt, a safety bar at the waist level and a deep seat would come in handy; the parental control handle and the kickstands will help your little one to reach home comfortably, when he/she gets tired of pedaling, for example.
About Shannon Clark
Shannon holds a degree in Exercise Science and is a certified personal trainer and fitness writer with over 10 years of industry experience.