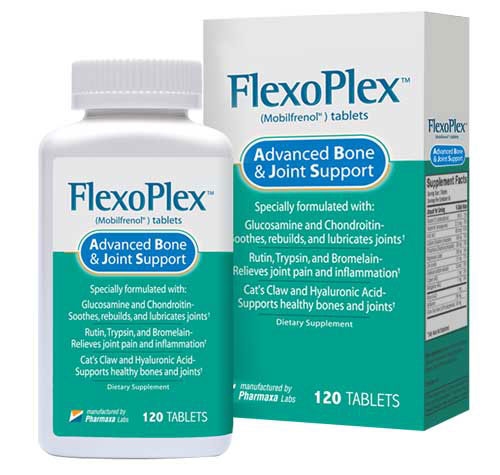 Mobility is vital to all living creatures, especially human beings, and healthy joints are essential to movement. Without good joint health, we're simply not able to move around in the way we'd like to.
Acute joint pain is often due to injuries, gout, inflammation, or a chronic joint disorder. Joint pain is common for people over 30 and most seniors have some kind of mobility issue. Luckily, due to technological advancement and innovations, some supplements might significantly improve joint health and function.
This brings us to one of these joint supplements: Flexoplex.
What is Flexoplex?
Flexoplex is a joint pain supplement which is infused with natural extracts. The formulation is explicitly designed for people with joint pain and stiffness. The natural ingredients offer an optimal strength formula.
Flexoplex intends to:
Reduce discomfort
Block pain signals
Rebuild and repair damaged and worn out cartilage
Lubricate stiff joints for easier movement
Provide better mobility and flexibility.
The manufacturer claims that the product provides long-lasting results. It's formulated to tackle major causes of arthritis and joint pain without compounds that may irritate your stomach.
Flexoplex Highlights
A top joint pain supplement infused with natural ingredients.
Scientifically advanced multi-action formula.
Contains ingredients that might help lubricate joints, enhance flexibility and movement, reduce painful joint inflammation, and repair and rebuild cartilage.
Made by a reputable manufacturing company which is GMP and FDA accredited and compliant to manufacturing regulations.
Provides ingredients that have synergistic capabilities for optimal results.
Flexoplex – Official Flexoplex Video – Live The Pain Free Life Today



Active ingredients in Flexoplex
Does joint pain hinder your movement and make your mobility almost impossible? Do you find it hard to participate in day-to-day activities that you once enjoyed? If so, you no longer need to suffer.
The Flexoplex supplement claims to relieve your joint pains. The formula is enhanced with Glucosamine Sulfate, MSM, Chondroitin Sulfate, and Hyaluronic acid. The combination of these elements brings about effective results.
1. Glucosamine Sulfate
Glucosamine plays a significant role in building and repairing cartilage. The element is extracted naturally from shellfish while the synthetic form is made in laboratories. Cartilage, which is a firm and rubbery tissue, tends to become less flexible as we age, and it can steadily breakdown.
Glucosamine slows this process and plays a significant role in repairing the cartilage. Glucosamine might also have the following effects:
Improve function in individuals with hip or knee osteoarthritis.
Reduce joint stiffness, pain, and swelling.
Offer continued joint pain relief up to about three months after the person stops taking the supplement.
Flexoplex is made with Glucosamine Sulfate which offers relief to joint pain for a prolonged period.
2. Chondroitin Sulfate
Most supplement manufacturing companies tend to use the combination of Chondroitin and Glucosamine Sulfates in their formulas. The two elements are used in treating pain. Chondroitin also helps in retaining water, and it occurs naturally in the body. It is well known for its effects on osteoarthritis.
3. MSM
MSM, also known as Methylsulfonylmethane, is a versatile ingredient used in supplements for treating a plethora of conditions and symptoms. The compound is naturally found in humans, plants, and animals. However, it can be produced in a lab to make supplements in capsule or powder form.
It's a potent element that is widely used by people who want to reduce inflammation and relieve joint pain. One study shows that using supplements infused with MSM consistently for about 12 weeks may decrease pain, swelling, and stiffness in the joints.
4. Hyaluronic Acid
Synovial fluid is a thick substance found surrounding a healthy joint and known to provide lubrication. The synovial fluid contains Hyaluronic Acid, and when it breaks down, it might cause joint pain and stiffness. Other benefits of Hyaluronic Acid include alleviating wrinkles and fine lines, which is why it's often used in skin creams too.
The inclusion of Hyaluronic Acid in the Flexoplex formula allows the supplement to relieve joint pain by increasing lubrication, which helps the bones to slide against each other without causing wear and tear.
Other Ingredients in Flexoplex:
Rutin: This is a plant compound that is widely used in promoting many health benefits like protecting the immune system, improving the functionality and strength of blood vessels, as well as reducing pain and swelling in joints.
Bromelain: If you want to ease joint and arthritis pain, then supplements with Bromelain might offer some relief. Bromelain is an enzyme that's readily available in the stem and juice of pineapples. It fights inflammation and alleviates arthritis pain.
Povidone: This is an inactive element which is added to the pill. It has polymer to make it easy for the supplement to be fully utilized in the body.
Cat's Claw: The ingredient has properties that might improve the immune system. It's used in supplements that address the acute symptoms related to joint stiffness, swelling, pain.
How to Take Flexoplex for Maximum Benefits?
Flexoplex comes in tablet form. Each bottle contains 120 capsules, which is a 1-month supply. The manufacturer recommends two tablets, twice a day- a total of 4 tablets. It is recommended that they are taken with a reasonable amount of water.
For maximum results, take the first two pills in the morning on an empty stomach, and the other dosage an hour before going to bed. However, it's prudent to seek a physician's advice before taking any health, diet, or nutritional supplement.
Are There Any Side Effects?
If you're looking for a long-term approach to alleviate joint pain, then Flexoplex might be a suitable choice. The supplement is infused with all-natural ingredients blended for enhanced results. There are no fillers and chemicals. According to the majority of consumer reviews and reports, Flexoplex seems to be a safe, effective, and legitimate supplement.
However, there are a few customers who registered some side effects like:
It might cause headaches
Adverse reaction due to shellfish allergies
However, these are not experienced by most users.
About the Manufacturer
Flexoplex is manufactured by Pharmaxa Labs, which is GMP and FDA certified and accredited. The company aims at producing the most effective formulas available today.
According to the manufacturer, they use natural elements at their optimal synergistic blends and dosages for effective Flexoplex results. The company has worked determinedly to earn its solid reputation in the industry.
It employs medical and nutritional professionals to develop innovative and high-quality products.
How Much Does Flexoplex Cost and Are There Offers of Combo Packs?
Consumers can enjoy a 60-day, 100% money-back guarantee offer. The company also offers free shipping for orders above $60. Additionally, on the website there are coupons for further discounts. There are four packages available:
| | | | |
| --- | --- | --- | --- |
| Quantity | Normal | Now | Save |
| One Bottle | $59.99 | $39.95 | $20 |
| Dual Flex System (Free Shipping) | $104.98 | $63.90 | $40 |
| Three Bottles (Free Shipping) | $190.00 | $119.85 | $70 |
| Five Bottles (Free Shipping) | $295.00 | $199.75 | $95 |
Flexoplex is not the kind of supplement you can get from the health food store or in a pharmacy. It's available on various online platforms like Amazon but the best place to order your product is on the official website.
Conclusion
Although Flexoplex is one of many joint pain supplements on the market, it has taken the industry by storm. Being made with all-natural ingredients makes it effective and safe for most people.  If the claimed benefits by the manufacturer and the positive consumer reviews and reports are to be believed, then it might be a supplement worth trying.
These factors, in addition to discounts, the manufacturer's reputation and ease of use, make it a highly recommended supplement for relieving joint pains, discomforts, and stiffness.
About Shannon Clark
Shannon holds a degree in Exercise Science and is a certified personal trainer and fitness writer with over 10 years of industry experience.