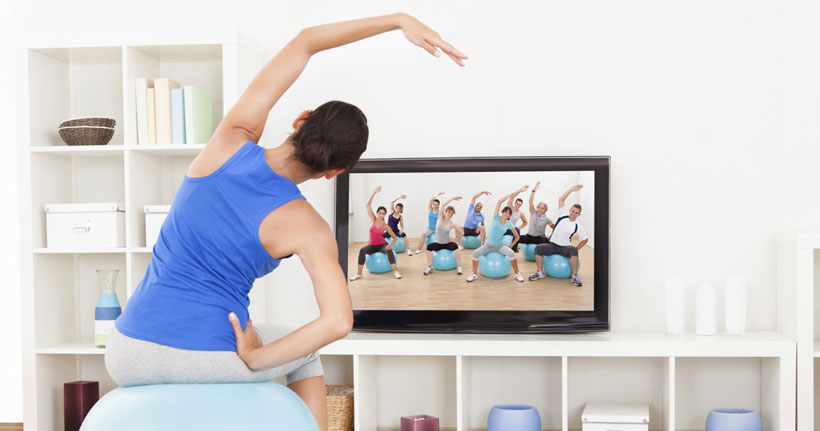 Individual workout and nutrition programs that adapt to your desires and possibilities are the best way to get the results you want and improve your health. When you're physically feeling good, the energy you gain will enhance the quality of your life in every sense.
Have you ever considered online fitness coaching? The moment you decide to devote to coaching over the Internet, the sooner you will be on your way to improving your lifestyle and health, and saving time along the way.
Depending on the program you choose, as well as the communication with your online fitness coach, you will decide how much time you will be spending working out and they will help you achieve your goals, all from the comfort of your own home!
Sounds great, right? It is! Here are three reasons why online coaching might just be for you.
3 Reasons Why You Should Try Online Coaching
Online coaching is a fantastic option for beginners or busy professionals looking to get in shape and improve their health. Here are three popular reasons why you should try online coaching.
#1. An Online Coach Will Create A Custom Workout Program Just for You
When you go to the gym, especially if you are a beginner, you will need a trainer to devote extra time to you to guide you in the basics of proper form and exercise selection. Competent trainers will spend more time with you in the beginning to make sure you start things off on the right foot.
Unfortunately not every trainer is exactly what you'd call competent or they are limited depending on the gym they work for, so a disadvantage with many of these offline programs is that you might not get that crucial initial extra attention from your trainer, or they offer a generic program based on the gym's standards, and some trainers don't always even consider your unique needs when designing your program. Thankfully the latter isn't common but it does occur.
This is where online coaching can be a lifesaver. Online fitness coaching allows you to hire a skilled trainer who will create a complete exercise program that is tailored just for you, and most online trainers give you extra attention when you start out because they know they won't have the advantage of training you in person. This "handicap" thankfully becomes a strength when it comes to online coaching.
During your first online meeting with your coach, you will have a comprehensive interview where you'll provide information about your schedule, goals, health status, as well as your previous workout experience and more. Face-to-face your online trainer guarantees discretion so you can freely ask anything you want. We highly recommend you do so by the way.
Once your initial assessment is complete, they'll get you started on the right path by answering all your questions and will spend that critical extra time with you in the beginning of your fitness journey. Your online coach will work with you closely to help guide you from beginner exerciser to enthusiast in no time.
A Note On Checking Your Health Condition
Just like beginning an offline program with a personal trainer, it is ideal that you complete a health evaluation before you begin online coaching as well. Since the training won't take place in-person, your online trainer will need to know if you have any limitations so they can create the best nutrition and exercise program for you.
Many trainers will ask that you visit your doctor or possibly even a specialist such as endocrinologist because some glands can even affect the weight-loss process, your health or abilities. For example, many people have problems with their thyroids which make them feel tired and non-motivated for training (read more on this page).
But regardless whether or not your coach asks you to get an evaluation, it's best to do so anyways, especially if you are new to exercise or have any existing health conditions.
#2. Online Training Saves Time
Your busy lifestyle doesn't always seem to give you much time for the gym, and even if you "have" the time, a gym isn't always in your neighborhood, requiring you to take a long drive just to workout which eats up even more of your time.
Or perhaps you simply don't like the gym crowd or there just always seems to be traffic on your route to get to the gym. And even when you finally get there your coach just doesn't seem to listen or pay enough attention to you. At this point is there even any point going to the gym? Online training solves many of these problems, especially the time issue.
Sure there are advantages to the gym and one of the biggest is the selection of equipment available to you. But while you may not have the right equipment in your home, your online trainer will keep that in mind when compiling your training program, so it's not that big of a deal. Bodyweight exercises can do wonders too so there really isn't much of a need for fancy equipment, and not to mention you can buy some equipment for your home if needed and these days prices for decent equipment have come down quite a bit.
Ultimately, if you have the motivation to complete the online training and the entire program from start to end by making time at home to perform the program on a regular basis, you will save time and best of all, get in that crucial daily workout since you will no longer have excuses to not make time for exercise.
Check out some motivation tips here: https://www.buzzfeed.com/sallytamarkin/i-flexed-and-the-sleeves-fell-off.
#3. Online Training Costs Less
Apart from time, the price is one of the significant benefits when we plan to start exercising. Going to the gym can cost you less or more, depending on many factors. And not to mention the personal trainer service can get up there in price. For a significantly lower price, you'll get a special workout program that you can conduct yourself. This reflects the cost-effectiveness of online training.
In the gym, you are paying for the use of professional equipment. The online coach will provide you with exercises which you can do with the equipment you have or without via bodyweight training. Plus, you'll pay for this service only once; a personal trainer will charge you every term or hour. Another good thing – there is no appointment here because you organize your time as you see fit.
The Bottom Line
Due to lack of free time and a quickly compounding cost of admission, the gym and personal training have become a luxury for most of us.
Fortunately, modern technologies have brought us many benefits, and one of them is the possibility of audio-visual communication, so you can easily hire online trainers and complete training in the comfort of your own home.
By training you can fight de-motivation, depression, and maintain good health. If you have enough motivation, you won't even notice the absence of a physical trainer. Stay focused on your goals and follow your online trainer's program, and the results will be visible before you know it!
About Shannon Clark
Shannon holds a degree in Exercise Science and is a certified personal trainer and fitness writer with over 10 years of industry experience.