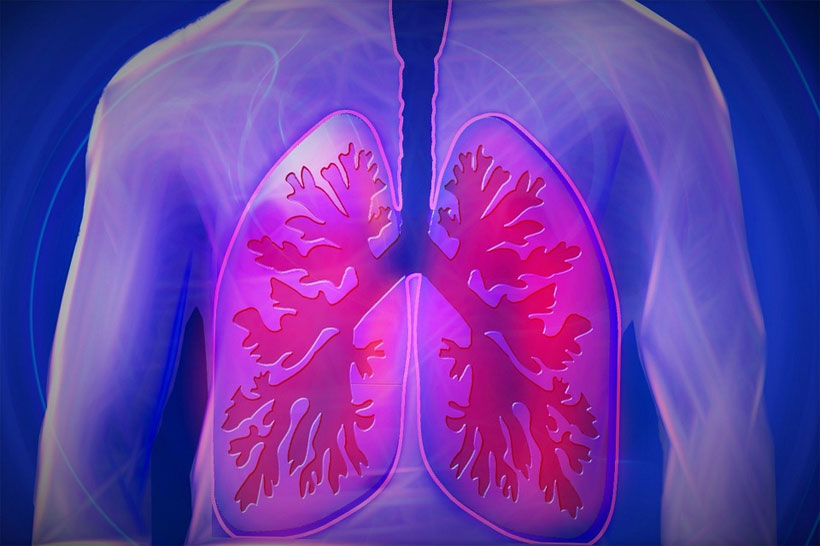 During 2018, Food and Drug Administration has approved 8 new medications for the non-small cell and small cell lung cancer treatment. In recent years, immunotherapy dominates in the clinical trial sphere. Although we still cannot say that all the intricate immunological mechanisms are clear for us, the first of them have already brought promising results. In combination with complementary medicine for managing cancer symptoms, immunotherapy leads to reliable beneficial outcomes with low recurrence rate and high life-quality.
What's new in the diagnostics?
Biopsy with histological examination of the tumor tissue remains the gold standard for diagnosis of cancer, as it allows precise examination of atypical cells and forms the basis for the subsequent lung cancer treatment. In addition to the confirmation of cancer cells presence, biopsy harvests material for the next-generation sequencing (NGS).
Next-generation sequencing investigates DNA of the tumor and reveals defects that have led to the oncology development. For example, patients with the excessive amount of protein PDL1 on the atypical cells surface are the perfect candidates for the immunotherapy. Such patients with non-small cell adenocarcinoma and squamous cell lung cancer can receive the sole immunotherapy, without adding chemotherapeutic medications. The problem is that standard NGS procedure is invasive and time-consuming; it takes no less than 2.5-3 weeks.
Liquid biopsy is the informative alternative option. This is a novel procedure of identifying circulating DNA of the lung cancer cells in the peripheral blood. This technique allows receiving the result already in 7-10 days. Precision of the liquid biopsy is comparable to the standard NGS procedure.
Liquid biopsy is especially valuable in patients with metastatic lesions (e.g. brain metastases), when open biopsy is connected with the serious health risks. In addition, both blood and plasma can be used for the test.
Supplementing conventional treatment options with the innovative ones
Scientific progress does not reject the conventional lung cancer therapy. Surgery, radiotherapy, chemotherapy and continuous observation of the patient after main treatment completion are actively used in the modern oncological hospitals. Nevertheless, conventional therapy is now modified and supplemented by the newer option – immunotherapy. Immunotherapy "switches on" patient's own antineoplastic defenses.
According to the results of the PACIFIC trial, addition of the consolidation therapy with durvalumab after the chemoradiation therapy gave 12-month overall survival benefit for patients at early cancer stages. Further, the KEYNOTE-189 and IMpower150 trials have demonstrated efficacy of the method at stage IV of the disease (the involved drugs included Keytruda, Atezolizumab, and Avastin).
Immunotherapy is also used in patients with small cell lung cancer. This cancer type demonstrates good response to the chemotherapy, but 100% of patients have the disease relapses over time. Results of the IMpower133 trial show that administration of pembrolizumab in combination with etoposide and platinum-based therapy gives 2 additional months of overall survival.
Immunotherapy may be combined with chemotherapy. Additional medications are influencing positively the immune response so the immunological drugs can recognize and kill cancer cells better.
Treatment in the world's leading healthcare facilities
Results of the lung cancer therapy, quality of patients' life and survival rates differ in diverse countries and healthcare institutions. After receiving the FDA approval, innovative technical devices and medications are available only in the selected hospitals. Typically, it is connected with their technical complexity and high value. Due to the continuous development of medical sphere and ongoing scientific research, Germany keeps leading positions in treatment of lung malignancies.
Planning to receive the lung cancer treatment abroad, it is reasonable to use help of Booking Health. Booking Health is the certified medical tourism operator that provides patients from 75 countries with necessary high-technological treatment. Specialists from Booking Health take care about all aspects of undergoing therapy in the foreign country:
Choosing the hospital that specialized in lung cancer treatment.
Establishing communication with necessary physician.
Preparing treatment plan in advance, so you'll have enough time to investigate it.
Providing favorable costs, without additional coefficients for the foreigners (saving up to 50%).
Booking the appointment or hospitalization date.
Help in buying and forwarding of medical products.
Keeping in touch with the hospital after treatment completion (e.g. receiving additional medical reports).
Control of financial aspects and return of unspent funds.
Booking hotels and plane tickets, help with transfer and services of the medical interpreter.
Send the treatment request via the official Booking Health website, and an experienced medical advisor will contact you the same day.
Post-Surgery Cancer Care Tips for Your Skin and Hair
Dealing with cancer is never easy, and chemotherapy and radiation therapy can lead to unwanted changes to your overall body, but these changes will be most evident in your skin and hair. Here are a few post-surgery cancer care tips to deal with hair loss and skin problems.
Go for a hairpiece or wig. It is always a good idea to consider how your body reacts to cancer drugs at the beginning of your treatment, and if it leads to weight loss, shop for a wig or hairpiece early. The reason is that it will help you select something that is a right match for the natural texture, color, and style of your hair. Keep in mind that if you decide to buy a hairpiece, you can get some support from your health insurer because it's a tax-deductible expense. But for this, you will have to get a prescription stating that you need some "hair prosthesis". If it still seems expensive, you can sometimes rent those hairpieces as well.
Discover more about scalp cooling. For so many cancer patients, scalp cooling works quite well in reducing hair loss. It involves wearing a tight cap containing cold gel. There are blood vessels underneath your scalp and using cold gel would keep them from expanding. This way, you will be able to limit the amount of medicine that reaches the scalp and triggers hair loss.
Be sure to have someone listen to how you feel. There is no denying the fact that losing your hair because of cancer treatment is depressing and sure to make you anxious and self-conscious. By talking about it, you can reduce stress and manage your cancer hair care regime better. A good idea is to join a support group to share your feelings and listen to how others undergoing the same problems have managed everything.
Don't become impatient because it's not going to help with anything. If you keep yourself calm and be patient, you will see results, as your hair will eventually return a few weeks after your chemotherapy. Also, keep in mind that it is possible that your new hair is of different texture and color, but in most cases, the change is temporary.
Use mild soap and stick with lukewarm water when chemotherapy makes your skin go dry. Stay away from hormone creams and only apply mild moisturizers on your skin, especially around the eyes and lips.
Other than trying these specific tips, you should also understand the importance of staying active. You should exercise during and after your treatment, as it helps lower stress levels that in turn will improve your hair and skin quality.
Be sure to work with your healthcare provider to identify the best fitness routine that is safe and effective for you. Aerobic activity is usually the best because it gives you the pump needed to feel better about yourself. Sometimes, you can include strength exercise in your routine, but discuss it with your doctor first.
So, try whatever you can to boost your mood, which will accelerate recovery and help you feel better after defeating cancer.
About Jason Spencer
Jason Spencer has a tremendous enthusiasm for all facets of health, fitness and physical performance that stems from an athletic lifestyle from childhood. Jason was fortunate enough to compete in collegiate football and learned to love the challenges that physical activity placed on the body. As Jason progressed through his higher education and became increasingly aware of how science is applied to physical activity and how it reveals the benefits of exercise, he realized very quickly that he wanted to pursue a career that gives him the opportunity to teach others to compete, challenge, and push themselves towards something more valuable to them than anything else; health, fitness and self worth. Being a fitness professional allows Jason to do this for them and he is always incredibly grateful for that. Jason has a Bachelor of Science degree in Neuroscience from Muhlenberg College in Allentown, PA. Neuroscience and his acquired knowledge of the nervous system and muscle stimulation techniques has been extremely instrumental towards building a unique ability and feel for training the body for optimal form and function. As a personal trainer he is certified with ACSM (American College of Sports Medicine). He's also a strength & conditioning specialist with NSCA (National Strength & Conditioning Association). He has additional certifications in both kettlebell principles & techniques (Equinox), and Flexibility & Corrective Exercise (Swedish Institute of Health Sciences in NY). Jason has worked as a trainer and conditioning specialist in a variety of fitness facilities over the years such as: LA Fitness in Piscataway, NJ, the YMCA in Metuchen, NJ, and Equinox Fitness Clubs in New York, NY. He also does private in-home sessions all over the Manhattan area.