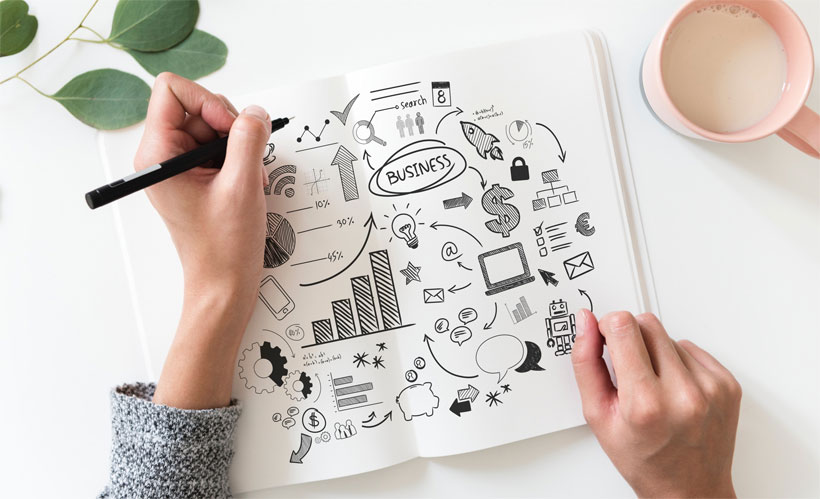 Being wealthy is one of the dreams of just about everyone, and if it is actualized through entrepreneurship, it is a considerable and rewarding achievement.
Starting up your own business can enable you to generate a healthy income where you are your own boss and make all the decisions related to it. The only thing you need to have here is the potential of doing business and making it successful.
One of the best things about being an entrepreneur is the flexibility of the lifestyle. As per https://www.journalreview.org/best-small-business-ideas/, choosing an excellent business idea that can offer you maximum profit just by investing less is one of the most significant deals that you have to crack here.
Top Six At-Home Small Business Ideas for 2019
Here are our top six small business ideas that you can quickly start up at your home in 2019.
#1. Personal Training
While we may be partially bias here, personal training makes it to the top of our list! Starting your own at-home personal training business is a fantastic way to become your own boss and still do what you love.
If you've been working for a big box gym or smaller facility, perhaps it's time to take your business to the next octave by branching out on your own. Offering personal training services from your home is a great path to doing so.
Even if you don't have a spare room or garage to turn into a workout room to train clients, don't fret, you can just as easily train your clients in your backyard. No backyard? Also not a problem! Many successful personal training entrepreneurs train their clients at the client's home, take the training session to the local park or even the client's place of work.
The beauty of becoming your own boss as a personal trainer is that the sky is the limit when it comes to flexibility, and because you're also offering a value-added service by bringing more flexibility to your client's life, you can charge considerable more per training session. Add to the fact you don't also have a boss demanding a portion of your earnings, it's money making time, baby!
#2. Marketing Services
As we all know the thing that every business needs to be appropriately advertise to get familiar among a more significant number of audiences and using the source of digital marketing is a greater idea to get instant successful leads in it.
Therefore starting up a new small business as a marketing agency is a greater idea that will not only help the other entrepreneurs in establishing their companies but also enables you to earn sufficient amount of money as well. It is one of the most emerging companies these days that will hopefully take you the heights of success while keeping your pocket full with the pretty amount as well.
The options and opportunities in this business are unlimited here, and the best part is, you don't need to go anywhere for doing this. You have to search the market correctly and need to execute your market plans properly as well.
#3. Business Planning Services
If you have some business skills, then why not to use them for making some earnings from it. You can set up a small business in a room of your home and can start serving people while helping them in giving some brilliant planning about the successful companies.
A well-written business plan is one of the absolute requirements of almost every business. If you can have skills, you can write a business plan for the different entrepreneurs along with some funding plans as well. But before going further with it, you first need to analyze the market correctly so that you can well know about your competitors and the latest demands of the customers as well.
#4. Photography
The demand of professional photographers is rising by each day. We all need to have some professional photographers for weddings, corporate events, family functions, family portraits, and some other events as well.
If you are passionate about photography and love its different aspects, because you are going to build it up from your home, you can set up your career as freelance photography with the help of right tools and techniques. You can set up your job with low startup costs to attract more clients towards you.
#5. Event Planning
Making up your career as an event planner is indeed a greater idea that you can set up from our home as well. You might have seen a lot of events occurring near to you, whether it is about the wedding or some birthday party, only those events holds up a particular rank in everyone's memories, whose design, logistics and coordination are much better.
Most of the individuals and companies are currently looking for freelance event planners well strong at designing, logistics and coordination to pull off different major events, so you can grab this opportunity in 2019 and can make pretty earnings from it.
#6. Baby Day Care
The number of the working couple is rising at a great place these days. So if you loved kids and wanted to start up your business from your home, baby daycare is one of the best ideas that will enable you to earn money passively.
The only investments you have to make here are on disposable diapers, feeding, and toys and that's it. You have to take care of kids at the working hours of their parents, and you will be then paid accordingly.
The Bottom Line
If you're tired of working for the man and have a skill or desire to branch out on your own, this list is a great place to start your entrepreneurial journey. Many of these positions can also be pursued without a formal education, so it might just be an easier transition to leave the 9 to 5 behind than you may think.
You really can't go wrong with any of these business ideas too, but being that personal training is number one on our list, be sure to check out our how to become a personal trainer guide for some step-by-step tips to help you start a rewarding career!
About Jason Spencer
Jason Spencer has a tremendous enthusiasm for all facets of health, fitness and physical performance that stems from an athletic lifestyle from childhood. Jason was fortunate enough to compete in collegiate football and learned to love the challenges that physical activity placed on the body. As Jason progressed through his higher education and became increasingly aware of how science is applied to physical activity and how it reveals the benefits of exercise, he realized very quickly that he wanted to pursue a career that gives him the opportunity to teach others to compete, challenge, and push themselves towards something more valuable to them than anything else; health, fitness and self worth. Being a fitness professional allows Jason to do this for them and he is always incredibly grateful for that. Jason has a Bachelor of Science degree in Neuroscience from Muhlenberg College in Allentown, PA. Neuroscience and his acquired knowledge of the nervous system and muscle stimulation techniques has been extremely instrumental towards building a unique ability and feel for training the body for optimal form and function. As a personal trainer he is certified with ACSM (American College of Sports Medicine). He's also a strength & conditioning specialist with NSCA (National Strength & Conditioning Association). He has additional certifications in both kettlebell principles & techniques (Equinox), and Flexibility & Corrective Exercise (Swedish Institute of Health Sciences in NY). Jason has worked as a trainer and conditioning specialist in a variety of fitness facilities over the years such as: LA Fitness in Piscataway, NJ, the YMCA in Metuchen, NJ, and Equinox Fitness Clubs in New York, NY. He also does private in-home sessions all over the Manhattan area.