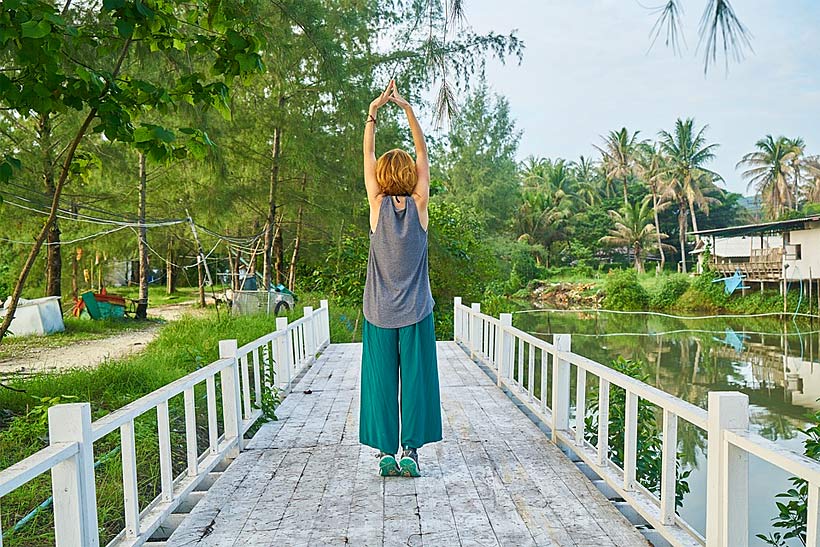 Yoga teacher training is a trend these days. In your Yoga class, you can find a multitude of people with YTT certificate. Most or probably all of them are not even professional Yoga teachers. You might wonder, "Why they have taken the teacher training program when they didn't want to be a teacher?" Before you opine the low-budget of an YTTC as the reason behind people joining it, let me clarify that it's not exactly what you think. The training usually costs more than 1500 USD plus traveling charges.
So what exactly is the reason for this intense love affair between Yoga followers and YTTC program? Why people are willing to spend heavy amounts on Yoga training events?
Well, there is a horde of logical arguments one can give for attending the program. Although Yoga classes are good for fitness and basic exercise, Yoga teacher training is what one does to learn Yoga deeply. Yoga is an age-old science with great philosophical beauty. In an hour long class, a Yoga teacher cannot fully describe various facets of the 5000 years old science. Also, people come to regular Yoga classes for physical workout and not many are interested in getting a deeper outlook. Thus, Yoga TTC programs are the most practical way to know the beauty of Yoga completely.
Still, a Yoga teacher training is not just about getting acquainted with the science of Yoga in a profound way. In a broader sense, it is associated with life. A majority of people attend these events for understanding not only Yoga but also themselves. Yoga is like a mirror that reflects the true image of your soul. Like these, there are a number of reasons to join a Yoga teacher training. Here, we will discuss 10 amazing reasons why you should do it once in a lifetime.
#1. Learning the philosophy of Yoga
Of course, you are going to understand the beauty of Yoga in a better and deeper way during the course of the program. As a Yoga lover, one should invest in learning the philosophy of the ancient science. It is not only beneficial for mastering the art of practicing asanas, but also assimilating the complete meaning of Yoga. Yoga is about the union of each and everything on the planet- you will know about this theory in detail.
#2. Getting out of your comfort zone
Yoga practices taught in Yoga training centers are of advanced nature. The program aims to make you perfect in the field of Yoga. It will take you out of the comfort zone in an astonishing fashion. You are most likely to leave the laziness behind and move forward for a new life. Physically, mentally as well as emotionally, breaking barriers won't be a complicated task after you have sustained the intensity of a Yoga teacher training.
#3. A way to attain complete fitness
Yoga teacher training gives you an opportunity to enjoy complete fitness. Along with physical health, YTTC helps you boost your mental and spiritual wellness. Yoga asanas, Dhyana, Pranayama, Mantra, etc. – all aspects of Yoga are touched in a Yoga training. The relevance of a Yoga TT program increases because of its ability to put one on the path of overall fitness of the mind, body, and soul.
#4. The power of universal knowledge
Yoga is a philosophy, not just a set of practices. It covers almost all forms of knowledge in the world. The India-born science gives one the most perfect image of oneself. Since Yoga has been alive for more than 50 centuries, one can have a sense of multiple generations. By staying in the vicinity of learned teachers, you can get enormous experience of Yoga and life. The training program augments your ability to be curious about various issues around you.
#5. The idea of mindfulness
Mindfulness is the state of high awareness. In a Yoga training center, you will learn the philosophy of mindfulness in an awesome way. Meditation is probably the greatest way to be mindful. The serene ambiance of the Yoga school influences the mind and soul positively. Moments spent in the campus helps in connecting the mind, body, and soul. This connection gives you the highest degree of consciousness.
#6. Entering into the zone of spiritual wisdom
Imagine attending a 200 hour Yoga teacher training in Rishikesh, the land of spirituality. Imagine yourself sitting in Dhyana by the sacred banks of the Ganges. These are the moments you live during a Yoga TTC. Spirituality adorns your life in a beautiful way to emerge as a highly intellectual person. Worshipping to Lord Shiva is considered the greatest karma on the planet. All these are mastered while enjoying the pleasure of a Yoga teacher training.
#7. Understand the inner self
Yoga teacher training is a great way to know the real you. It is about being completely silent and feel the purity of your soul. In the busy and noisy environment of today, nobody has time for his/her life. In a Yoga TTC event, you have the hegemony over each and every moment of yours. There is no one to dominate you. You are the owner of your own body and mind, enabling you to understand yourself better.
#8. Meet a new bunch of family members
A Yoga teacher training is not just a program but also an opportunity to interact with people from various corners of the world. Yogis of different faiths, languages, countries, etc. arrive to learn the beauty of Yoga. You meet with them and make memories. Some of them will become integral parts of your life. It becomes a long-lasting bond.
#9. Boost self-confidence
Spending a month or two in the environment of Yoga give you tremendous confidence. You will be practicing some of the most challenging asanas. The practice of breath-control tests your potential. Deep Meditation sharpens your mind. All these practices in the most intensive forms give rise to an advanced self-belief. A sense of I-can-do-everything dominates the mind of a person, who has joined a Yoga teacher training.
#10. Relive the teacher in you
If you want to be a Yoga teacher, there is nothing better than an YTT program. Almost all those Yoga masters you have met till date have a YTT certification of some form or other. A Yoga teacher training in India is the best way to become a successful teacher, since the country is the birth land of Yoga and the purest form of Yoga education is offered in the country.
Author Bio:
Bipin Baloni is a passionate Yogi, Yoga Teacher and a Traveller in India. He organize 200 hour Yoga Teacher Training in Rishikesh. Bipin Baloni conducts Yoga Teacher Training in India in different cities. He loves writing and reading books related to yoga, health, nature, Himalayas and Trekking in India.
About Mark