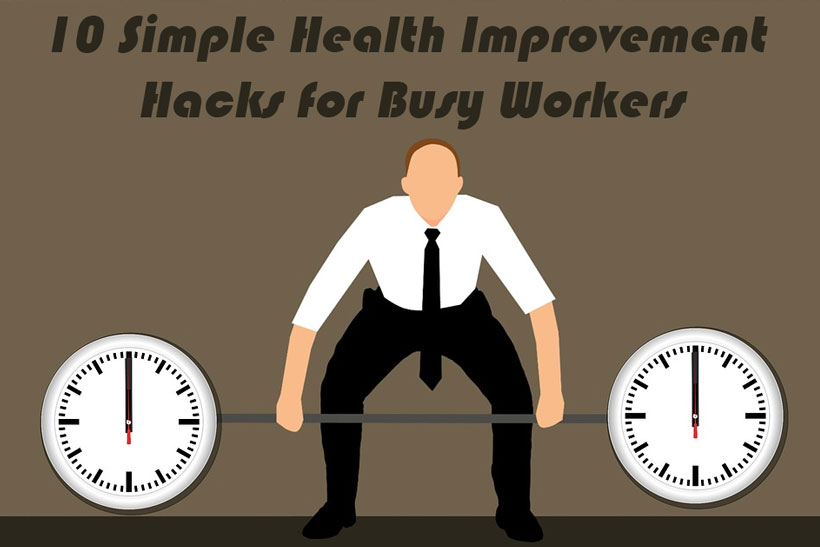 When you're super busy working a highly demanding job, many other important things such as keeping fit can end up on the back burner.
If you're looking for some quick and simple ways to improve your health despite the busy day-to-day grind seemingly holding you back, this article is for you.
So, here are 10 terrific (and simple!) health hacks that will help improve your health.
#1. Home exercises
If you're struggling to find the time to squeeze gym sessions in, you can always exercise at home. Get yourself an exercise mat and do some press-ups, squats, yoga – whatever you fancy.
#2. Group class
A common excuse for not exercising is lacking the confidence to do it alone. So find a group activity where you can get fit with other beginners in the same boat who can help keep you motivated.
#3. Walk more
Sitting at a desk all day is bad for your body, so get up and walk as much as you can. Whether it's a trip to the printer or water machine, it'll help keep you active and fight the effects of prolonged sitting.
#4. Fruit and veg
Get into the habit of eating plenty of food and veg. Rewarding yourself with a piece of fruit each time you've finished a task is a great way to introduce these healthy snacks into your diet.
#5. Walk or cycle to work
Walking or cycling to work is a great way to make exercise a part of your daily routine. For those of you who have to drive or use public transport, consider parking further away from work or getting off the bus a stop early so you can build up that step count.
#6. Superfoods
Superfoods are nutrient-dense foods which supercharge your health, so be sure to include them in your diet. An excellent example is kale –it contains vitamin K, which is important for bone health, and potassium, which helps remove toxins. Check out this Live Science article on superfoods for more examples.
#7. Exercise buddy
There are plenty of workers who wish they were doing more to stay healthy, so why not see if you can partner up with a colleague on your keep-fit journey. From lunch time strolls to sharing healthy recipes, you'll embrace the challenge together.
#8. Join a gym
Grabbing gym time is tough, but you should try your best to two or three times a week. Not only is it a prime route to getting in shape, but it's also a great way to de-stress outside of work. Find a local gym near your work and bring a pair of workout clothes with you to work in the morning. Get dressed and hit it up on your way home, even if only for 30 minutes. If you can't grab any gym time, you can simply get a mini elliptical under your desk. Bring the gym to your office, because any exercise is better than no exercise.
#9. Make your own lunch
Get int the habit of making your own healthy and nutritious lunches. This way, you'll avoid the temptation of munching fast food on your lunch break.
#10. Organic products
Buying more organic food products is one of the best things you can do for your health.They're grown naturally and contain less chemicals, making them better for your body. So check out an organic products provider like Kijani Living, then you too can enjoy the benefits.
That's our list! Share your favorite health improvement hacks in the comments below…
About Shannon Clark
Shannon holds a degree in Exercise Science and is a certified personal trainer and fitness writer with over 10 years of industry experience.