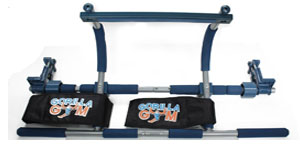 Creating a home gym is a fun way to bring health and fitness into your everyday routine. It means that you have everything you need at your fingertips in order to maintain your health, and that you don't have to leave the house and go to the gym to work out anymore.
Choosing the right equipment for your home gym could mean the difference between a successful workout regime and a waste of time, so we've put together this brief guide on five essential pieces of equipment for your new home gym.
8 Pieces of Must-Have Equipment for Your Home Gym
#1. Adjustable Dumbbells
You don't need to have a giant rack of dumbbells in your home gym. In fact, that would take up far too much space and cost you a fortune at the same time. Rather, you should definitely get some adjustable dumbbells. That way, you can change the weights and configuration as you go, saving you time, space and money. After you're finished, these dumbbells will store easily and out of the way.
#2. Pull Up Bar
A pull up bar is a great addition for any home gym. You can work your lats, biceps, traps, forearms and even your pec muscles with a pull up bar. The pull up exercise is one of my favorite exercises and it happens to be one of the most effective exercises for calorie burn and muscle building. Your lat muscles are among the largest in your body so you'll also get the added benefit of increased calorie burn when performing pull ups. A pull up bar is also an affordable piece of equipment so it won't break your bank. The cost to performance ratio is second to none so definitely add a pull up bar to your home gym.
#3. Yoga Mat
Having a hardwood floor is a beautiful way to give your home some character, but it's awful for working out on. You'll find yourself slipping and sliding around as you build up a sweat. To combat that, you need to get a good yoga mat, so that you can perform all of your workouts in safety. Yoga mats are great because they are made with a super gripped no-slip material which means you'll have better form while you workout. Check out https://www.homefitnessjourney.com/ for a ton of home workouts to put your new Yoga mat to good use!
#4. Adjustable Kettlebell
Kettlebells are a gym staple, and for good reason, too. They provide a means to workout your entire body in one quick workout. However, much like with dumbbells, keeping a range of sizes and weights around your home gym will be a quick way to find yourself without any space. Rather, buy an adjustable kettlebell so that you can adjust the weight from 10 to 40 lbs easily.
#5. Foam Roller
An important part of any workout is the cool down and recovery period, and your home gym should accommodate for this as well. With all the working out you'll be doing, you need a way to soothe your muscles and prepare for your future workouts. A great way to do this is by using a foam roller. These are small and easy to store, which means they won't get in the way. The best thing about them, though, is that they are so easy and convenient to use, and you can basically perform all of your workout recovery in front of the television! This is a great way to thank your body for all the hard work it has been doing for you.
#6. Resistance Bands
No home gym will be complete without resistance bands. Resistance bands are extremely versatile and can even replace dumbbells and other pieces of equipment if you want to further save space. Resistance bands can be stepped on so you can perform the same curl motion you'd do with a dumbbell, or if preferred you can use a door attachment to attach your resistance bands to your door to then perform various exercises including rows. Have a backyard? No problem here! Take your resistance bands outside into your backyard and attach them to your tree to perform a refreshing outdoor workout. The list goes on. Pick up a quality pair though and a set with multiple resistance levels. Bodylastics is one such company that markets high quality resistance bands.
#7. Portable Elliptical Machine
No home workout will be complete without incorporating cardiovascular exercise into your exercise routine. While technically you could perform bodyweight exercises such as burpees to achieve an awesome cardio burn in the comfort of your own home, portable elliptical machines are a great option for those of us who prefer a traditional cardio workout. There are  quite a number of affordable options available and many are quite portable so they won't take up too much space in your home. Many can be folded and tucked into your closet or even under some beds.
#8. A Classic Jump Rope
A classic jump rope is another effective way to incorporate cardio into your home workout routine. This tried and tested piece of equipment is extremely portable and about as effective as can be when it comes to burning calories and strengthening your most important muscle, the heart. While not everyone has the high ceilings to use one in their home, you can just as well take it outside into your backyard or the park if you want to take your home workout away from home for a day. While you may not think of the jump rope as a piece of equipment that deserves to be in the ultimate home gym toolkit, you couldn't be more wrong. There's a reason Rocky Balboa and Apollo Creed train with one!
In Conclusion
To become more motivated to work out, you should consider setting up a basic home gym. By giving yourself a place to focus on your fitness and overall health without having to leave the house, you are increasing your chances of being successful with your fitness goals. Use our guide to begin planning your perfect home gym so that you can get started straight away. Even with minimal equipment and body-weight exercises at your disposal, you'll be in a great position to create a killer home workout routine.