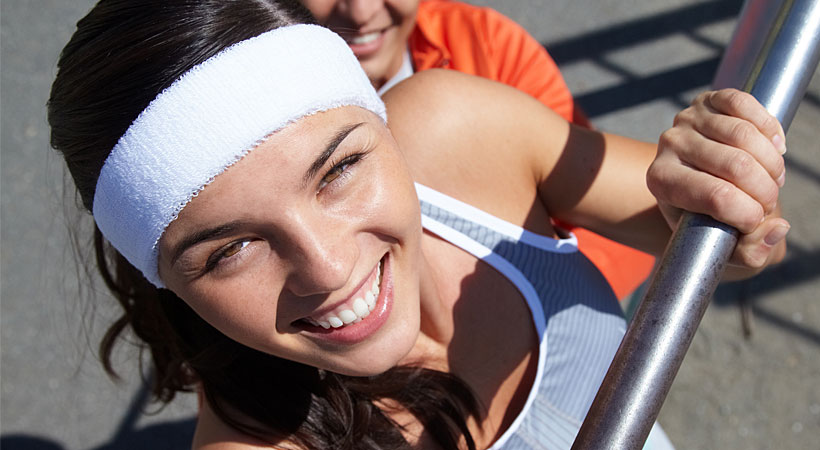 When most of us think about fitness and what to wear, activewear like shoes, shorts or a crop top often come to mind. And while these things are obviously important, there's one often-overlooked item just as useful. Athletic headbands!
There's a reason why many famous athletes sport one. In addition to looking cool, athletic headbands offer many functional benefits like keeping your hair under control or soaking up sweat to keep it out of your eyes.
Because of their usefulness, headbands have been gaining more popularity in recent years. A lot of people use them in many different sports such as football, basketball, soccer, and lacrosse. Runners also often sport an athletic headband. You name the activity, someone will likely be wearing one.
What's even better is that athletic headbands come in many different shapes, sizes, materials, and designs to fit any head and any personality.
3 Famous Athletes Known for Sporting a Headband
The headband has been worn by athletes big and small for decades. A select few sports superstars have turned the headband into the must-have accessory. Kids and amateur athletes have become headband devotees thanks to the style spawned by these superstars.
While a large number of athletes from various sports have worn headbands, only a few have achieved an iconic look while wearing one. These athletes have taken headbands to the next level, or should we say, headbands have taken these athletes to the next level.
#1. Andre Agassi
There was no better sports sex symbol in the 1990s than Andre Agassi. Look at pictures of him wearing his famous headbands from the decade and the 1990s just ooze out of the images. Agassi won each tennis grand slam at least once during his long career. In his 2009 autobiography, Agassi stated he wore a wig to impress female fans early in his career. It is one reason he wore such colourful headbands.
#2. Wilt Chamberlain
NBA legend Wilt "The Stilt" Chamberlain was known for his headbands during his time in the Association. Chamberlain started his career in 1959 with the Philadelphia Warriors before move to the Philadelphia 76ers. It wasn't until he joined the Lakers that his career took off and many fans remember him for his years in La-La Land. Chamberlain won two NBA Finals as a member of both the 76ers and Lakers in the 1960s and 1970s.
#3. David Beckham
David Beckham has had a number of iconic hairstyles that have changed pop culture. From the shaved head to the fauxhawk, Beckham has been on the cutting-edge of hair fashion since his career started. In the early 2000s, Beckham grew his hair out for the first time. The right-sided midfielder needed to keep his blonde locks in place, so he turned to a thin headband to do the job. Beckham's look inspired others to do the same. Lionel Messi would later replicate the style as would others.
4 Benefits of Athletic Headbands
Aside from their cosmetic purpose and the fame they can bring, headbands also offer these benefits for anyone who wears them.
#1. They keep your hair in position and out of your eyes
There is nothing more frustrating than having to deal with your hair while you're trying to score a goal and run long distances. This is especially true for paid athletes who under intense pressure to perform and have team mates who rely upon them.
Picture this… You're about to kick a goal or pass the ball and your hair gets in your eyes. Another scenario in your workout, and you're giving it your all, but every few seconds you need to adjust your hair back because it's always in your eyes. Not only does this break the flow of training, but it can also be dangerous, especially on complex exercises such as the overhead barbell press.
#2. They keep sweat out of your eyes
If you're the type of person who naturally sweats a lot, you know how big of a struggle sweat can be. Even seemingly less intense exercises have you work up a sweat, and before you know it, your eyes are stinging, so you have to stop what you're doing and wipe off the sweat.
With a quality terry toweling or wide cotton headband you effectively eliminate this issue. These types of headbands absorbs any sweat that might drip down to your eyes and allow you to train uninterrupted, no matter how much you tend to sweat.
#3. They work for any physical activity
The versatility of athletic headbands is genuinely incredible. No matter what your choice of sport is, a headband always rocks.
Maybe you enjoy lifting weights, and you're about to do a heavy set of squats or deadlifts. Or maybe you prefer to do calisthenics training in the near park. Or, perhaps, you're about to play a game of soccer or basketball with your neighborhood friends.
You absolutely can't go wrong with a headband. They simply work in any sport.
#4. They keep your headphones/ear buds/earphones in your ears and on your head
Lets face it they sometimes fall out and don't stay in place and a headband keeps them in place.
The Bottom Line
Headbands don't just add style to your workout, they serve a functional purpose by offering benefits that will improve your game. At Grand Headbands, they understand headbands, and have made the best possible headband for every sport both functional and stylish. Check them out if looking for an awesome headband. Picking up a headband today might just improve your future game and make you look great while doing it!