Introduction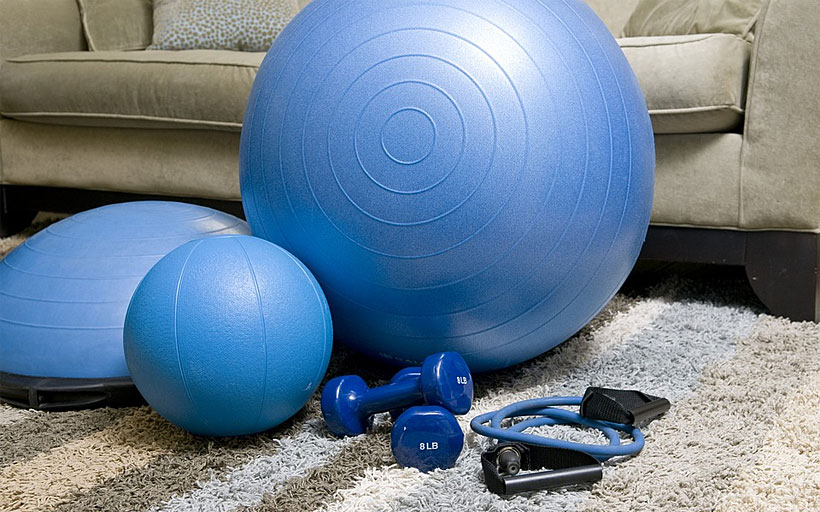 For some people, finding the time to exercise, let alone make the commute to a gym, is quite the task.
If this is you, home training might just be the answer for you.
This is especially true right now with COVID-19 lockdowns sweeping the globe. Being at home for 21 days or more can be really stressful and take a toll on your health.
After only a few days everyone yearns to go out, especially all us folks who live the healthy lifestyle. If you are limited in your capacity to exercise due to restrictions in your area currently, it's time to work out at home.
Health nuts will also want to continue their daily supplement routine to keep fit (read supplement reviews on websites like SETINC before you start using them). Thankfully, you can still order supplements and health products online in most places and get them delivered to your door.
Moving forward, let's first take a look at creating a home gym setup and then we'll check out some awesome exercises and provide tips to help you get the most from your home workout.
First… Your Gym Can Be as Easy or Complex as You Choose to Make It!
For example, you can assemble a few pieces of basic training equipment in your home or make time to complete a few yoga sequences or calisthenic workouts. Regardless of your choice, you effectively eliminate the need for a gym membership and the commute that goes along with it.
Also, at-home workouts offer several advantages over traditional gym training in that you can workout at your own pace, save money on expensive athletic wear, and most importantly, save on costly gym memberships.
In this article, we will take a closer look at some of the pros and cons of working out at home and highlight a few at-home routines that can help you get in shape fast, and more.
Pros of Working Out At Home
On top of cost-savings and being able to work out at your own pace, there are several more benefits that come with working out in the privacy of your own home, including:
No waiting in line for your favorite piece of equipment
Convenience
Zero commute time
More choices in television or music content
Cons of Working Out At Home
Requires imagination to stay engaged
No gym instructor
More likely to sustain injuries
Limited gym equipment
What Equipment Do You Need For A Home Gym?
When it comes to setting up your own home gym, your budget will play a significant role in the quality and the amount of home gym equipment you will be able to purchase.
You might be limited to storing some dumbbells in a corner or have the luxury of outfitting an entire spare room with workout equipment.
In any event, the biggest challenge in setting up your home gym will likely be staying within budget and choosing the right equipment for your fitness needs.
Let's take a look at what a budget and dedicated home gym entails…
Budget Home Gym
Assuming you have a very modest budget, consider purchasing just enough equipment that you can use to train as many muscle groups as possible. In doing so, you won't have to sacrifice too much household space. Some key items worth investing in include:
Dumbbells
Workout bench
Exercise mats
Stability ball
Resistance bands
Heart rate monitor
Dedicated Home Gym
Even if you have the budget for a dedicated home gym, the home training market is expansive and can be overwhelming for experienced fitness consumers, let alone for beginners. To simplify your shopping experience, you may want to consider the following pieces of equipment:
Cardiovascular equipment
Weight machines
Free weights
Dumbbells
Weight bench
Heavy duty exercise mats
Now that we have a general idea of what is needed for a dedicated and budget gym, let's take a look at the prospect of training without any equipment at all.
Tips for Training Without Equipment
Budget constraints or minimal space shouldn't keep you from reaching your fitness goals; in fact, a great workout can be achieved in the privacy of your own home using nothing more than your own body weight. To help better put this into context, some of the best bodyweight exercises include:
Planks
Pushups
Crunches
Mountain climbers
Tricep dips
Lunges
These exercises are all great for conditioning and building strong, lean muscle. Best of all, they can be done within just minutes. In fact, according to an article published in Medical News Today, a leading healthcare publishing company based in the United Kingdom, 30 minutes of light to moderate exercise can significantly benefit one's health.
Are Bodyweight Exercises Effective?
While many people associate a good workout with using professional grade gym equipment, bodyweight exercises can be equally effective, provided they are done properly.
Best of all, bodyweight exercises are versatile and fun and can be done anywhere including your home, garden, the park, or beach, for example. All you need is the desire to get in shape and the commitment to stick to a routine.
Studies have shown that bodyweight exercises, also known as calisthenics, can target the same muscle groups as equipment-based exercises including deep postural muscles, which are the group of muscles that wrap around the body to help keep you upright. Exercises that target these muscles include planks and mountain climbers, which can be done on the floor using your own weight and an exercise mat.
If you have a swimming pool at your home, swimming is not only fun but also a great cardiovascular exercise that can help improve blood and oxygen circulation. Also, swimming can help lower your risk of heart disease and stroke while keeping you physically fit.
Popular Exercises While at Home
You can exercise in the confines of your home and the following exercises are highly recommended.
Walking or Jogging
Walking or jogging inside your home can be easily done. It is a great cardio workout and it will help you shed calories and stay fit. You can try spot jogging for a few minutes followed by walking around the house for a few minutes, spot running for a few minutes and then walking around the house for a few minute again. This will also help your lungs function better.
Dancing
This is an activity which you can perform as a family or alone. It is a great way to shed calories fast. You can turn on dancing videos which are available on the Internet and follow the steps. Even if you are a beginner and do not know dancing you can take part. You will learn dancing and also shed calories. You can also try dance fitness workouts like Zumba which are available online.
Yoga
This is an exercise which will not only aid your physical health it will also boost your mental health. Do the breathing exercises and yoga poses to stay fit. The secret is in the breathing and doing the poses slowly. If you do not know yoga, you can again check online videos and learn the art. There are innumerable videos on websites like YouTube, DailyMotion etc.
Tabata
It is a great workout experience. You do not need any equipment. You do a set of exercises for 4 or 5 minutes, take rest for a minute and do a few more sets of the exercises. These are high intensity workouts, so do it only if you are reasonably fit.
Cleaning
Not many people know that cleaning is a really good exercise. It is great for your core. So go ahead and clean your house and stay fit in the bargain.
Gardening
Again an activity that is not known as a fitness regimen but it can provide good results fitness wise. When you are at home and getting stressed, gardening can be a great stress buster. You can speak to the plants and watch the grow during the period of lockdown.
DVD Fitness Workouts
There are many fitness DVDs in the market and a lot of fitness experts have created videos which are aimed at people who are at home, for example, P90X. You can become a member and download the videos and exercise at home, over time you will see really good results if you keep at it.
Play With Your Children
Play with your kids at home till you become tired. It is a great fitness activity and additionally the kids and the missus will also love it. Most of us do not get a lot of time to play with the kids as we do not have time from the ordeals of work. But the lockout phase can be a blessing because you can use the time to play and enjoy with your kids and family.
The Bottom Line
It is very much possible to get into shape despite not having a gym membership or access to gym equipment. As long as you have the desire to get into shape, the possibilities are endless.
About Shannon Clark
Shannon holds a degree in Exercise Science and is a certified personal trainer and fitness writer with over 10 years of industry experience.