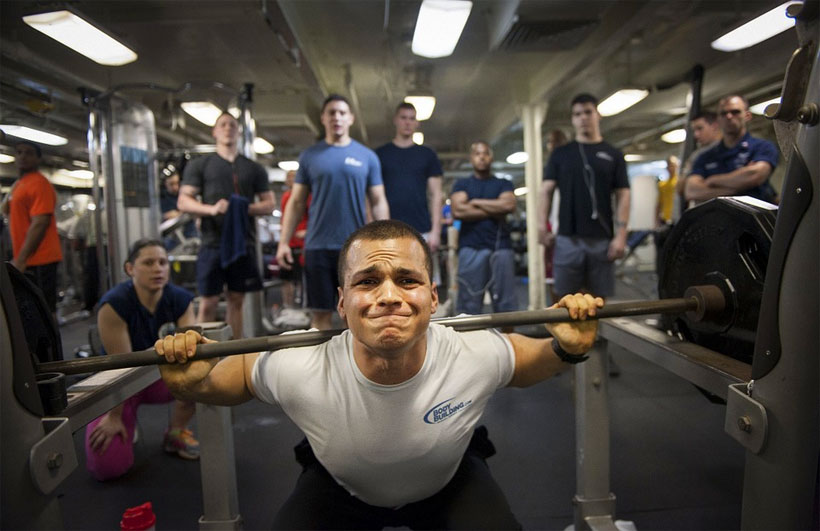 There is more to heavy lifting than just building up the necessary strength and utilizing proper nutrition to fuel your body to perform the lifts.
Knowledge, motivation, and the overall health and fitness of your body play an important role in exercise preparation.
Whether you want to increase your bench press weight or lift more from the deadlift, you will need to prepare for heavy lifting well in advance.
The most important steps before beginning a heavy lifting routine is to prepare your body and mind, educate yourself, work on your technique and progress slowly so you can avoid serious injury.
Search for exercise information and guidelines to learn proper technique, practice and then practice some more, and consult a trainer if necessary for additional instruction.
Before you walk into the gym and start loading the bar with more plates, make sure you have all the information you need, and remember, weight lifting preparation takes time and effort.
Preparation for Heavy Lifting
Not only will heavy lifting increase your muscle mass and dramatically improve your strength, a regular weight lifting training routine will also help you burn calories, boost your metabolism, and even improve your self-confidence.
Whether you decide to hire a professional trainer or exercise on your own, adding heavy lifting to your regular workout routine can help you reach your fitness goals much faster.
However, even though you might be used to working out on a daily basis, lifting heavy weights requires some preparation and planning in advance.
Here are some heavy lifting preparation tips for beginners:
Find the right help, support, and guidance.
Prepare for a day of heavy lifting with proper nutrition and hydration.
Find time to relax and recover.
Don't forget that motivation is an important part of any exercise routine.
Keep in mind that good things take time.
Hire a Personal Trainer to Teach You Proper Form
Are you new to heavy lifting? Do you need any help with your training routine? A personal trainer can help you achieve your goals faster by providing proper instruction and guidance. Even though you might be in great shape, having the help and guidance of well-trained professionals can greatly improve your training routine and make your transition into heavy lifting much easier, and safer.
If you're new to weight lifting or heavy lifting in particular, the very first thing you should do when starting to prepare for a day of heavy lifting is to find a great personal trainer to teach you how to perform the lifts properly. Proper form when lifting is necessary or injury is inevitable.
With so much information quickly accessible to all of us online, you can easily find a reputable personal trainer using big name sites like IDEAfit, ACE, etc., or simply Google your specific local area and you'll find plenty of independent sites to hire one. For example, Dubai Personal Trainers offers top notch trainers in Dubai.
You can find a trainer that can prepare a complete personalized training plan for you, or just schedule a few exercise sessions with a professional heavy lifting trainer to get some valuable advice and guidelines.
The Importance of Training Safely
In order to build up the strength for heavy lifting, you will need to train often. However, make sure you don't overdo it. Stay safe and healthy by planning 3 to 5 strength training sessions during a week. 60-75 minutes should be enough per one session.
Compound exercises like squats, deadlifts and the bench press should be part of your regular training routine. These exercises will help you gain more muscle mass and increase your strength to prep your body for heavier lifts to come.
Most importantly, don't forget the aforementioned tip. Hire a qualified personal trainer if you need help with proper exercise instruction and form. The importance of proper form can't be stressed enough when it comes to heavy lifting.
The Importance of Proper Nutrition and Hydration
Eating healthy is crucial for improving your health and strength. Pre-training meals that consist of protein, carbs, and a little fat can boost your energy and improve your workout.
In addition to eating properly, you will need to stay well hydrated if you want to prepare for a day of heavy lifting. Hydration will improve your muscle and joint integrity, regulate the temperature of your body, improve your health, and clear your body from toxins.
Water is of course key when it comes to properly hydrating your body, however, don't be afraid to mix it up. Some studies show that consuming a cup of coffee or green tea an hour or two before a workout can boost your energy and focus.
The Importance of Sleep and Relaxation
In order to help your body recover and recharge after working out, you will need to find time to sleep properly. An often overlooked fact is that sleep can completely control your diet. A lack of sleep can change your fat cells and make you crave food.
Less than 7 or 8 hours of sleep can reduce and sometimes even undo some of your efforts in diet and fitness. Therefore, in order to give your body time to recover, repair and recharge your energy level, you will need to make sure you are resting and sleeping properly.
Having some time to relax and unwind can greatly improve your workout motivation too! A busy daily schedule and rushing from your office to a gym can stress you out. Therefore, make sure to take some time to enjoy a relaxing activity. Whether it is reading a great book, listening to relaxing music or just taking a walk, make sure you give your mind a chance to relax and recover from your workouts.
Motivating Yourself For Heavy Lifting
Motivation plays a great role in helping you achieve your fitness and lifting goals. Some people even believe that 90% of any success is achieved by high motivation and planning. Therefore, make sure you find the right way to keep up the good spirit when it comes to heavy lifting. For some people it is a great playlist or motivational video, while the others give themselves a pep talk and start hyping themselves up right before a training session.
Dressing to win is another great way to motivate yourself while exercising. Proper attire can boost your self-confidence and help you keep the eyes on the prize. Wearing comfortable clothes that help you feel good and see the right group of muscles will help you see the results and improve your performance.
There is No Shortcut to Success
Heavy lifting preparation requires time and dedication. In order to prepare for a day of heavy lifting, you will have to follow a strict training routine, sleep and eat properly, perfect proper exercise form, and practice. Gaining strength and improving your health and fitness takes time.
Make sure you set up realistic goals right from the beginning. With the help of your personal trainer, create a workout routine and schedule that fits your lifestyle. Make sure you don't overtrain and burn out by setting a regular exercise schedule that you can incorporate in your everyday lifestyle and habits.
With a regular and progressive training plan, you will be able to reach your goals, stay motivated, live a healthier lifestyle, and improve your diet and everyday habits without feeling overwhelmed and stressed out. At the end of the day, you will be confident and ready for heavy lifting!
About Jason Spencer
Jason Spencer has a tremendous enthusiasm for all facets of health, fitness and physical performance that stems from an athletic lifestyle from childhood. Jason was fortunate enough to compete in collegiate football and learned to love the challenges that physical activity placed on the body. As Jason progressed through his higher education and became increasingly aware of how science is applied to physical activity and how it reveals the benefits of exercise, he realized very quickly that he wanted to pursue a career that gives him the opportunity to teach others to compete, challenge, and push themselves towards something more valuable to them than anything else; health, fitness and self worth. Being a fitness professional allows Jason to do this for them and he is always incredibly grateful for that. Jason has a Bachelor of Science degree in Neuroscience from Muhlenberg College in Allentown, PA. Neuroscience and his acquired knowledge of the nervous system and muscle stimulation techniques has been extremely instrumental towards building a unique ability and feel for training the body for optimal form and function. As a personal trainer he is certified with ACSM (American College of Sports Medicine). He's also a strength & conditioning specialist with NSCA (National Strength & Conditioning Association). He has additional certifications in both kettlebell principles & techniques (Equinox), and Flexibility & Corrective Exercise (Swedish Institute of Health Sciences in NY). Jason has worked as a trainer and conditioning specialist in a variety of fitness facilities over the years such as: LA Fitness in Piscataway, NJ, the YMCA in Metuchen, NJ, and Equinox Fitness Clubs in New York, NY. He also does private in-home sessions all over the Manhattan area.