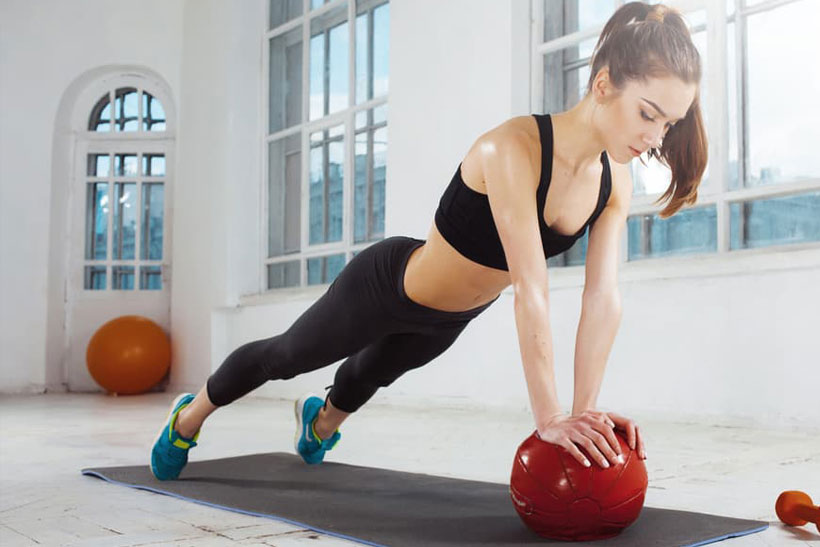 While the conventional way to get your body in shape involving cardio and weightlifting is still pretty much dominant, many new ways of training have emerged and are well-received.
Functional fitness, for example, is one of the rising stars. Exercises inspired by functional fitness help your muscles get ready for daily stimulation.
You can't tap into functional fitness training without using medicine balls.
Below is everything you need to know about this lovely piece of workout equipment and the best exercises to use them.
What are Medicine Balls?

Medicine balls, also known as fitness ball, is roughly 13.7 inches in diameter. These shoulder-length balls were used in rehabilitation to help physically dysfunctional patients to recover.
In sports medicine, these balls significantly improve muscle strength and neuromuscular management.
Nowadays, medicine balls are used in gym and workout centers as well. These weighted products promise to intensify muscle workout.
The great thing is you can use medicine balls in any exercise to challenge your body to the core.
Why You Should Choose Medicine Balls
Medicine balls are a better choice for your health for many reasons. Instead of buying an expensive gym membership, you can always start with simple yet effective exercises with medical balls.
Here are some of the advantages of using medicine balls
These products come with different weights and size, offering many different exercises.
They are compatible with ANY exercise and movement you can think of, from a static one to lie down.
Unlike dumb-bells, they are not likely to damage your floor if you accidentally drop them.
They increase your balance, muscles strength and stability without compromising fun and enjoyment.
Little to no chance of getting injured.
Your joints are safe with medicine balls.
Adding medicine balls brings a whole new excitement to your workouts. Medicine balls also come with different shapes and sizes, so that you can certainly pick one suitable for your need.
How to Choose Medicine Balls
For beginners, you will need a small medicine ball from 2 lbs. Once you get used to the ball and exercises, then you can upgrade your ball to 10 lbs or more. It is essential to keep up with regular increments so that your muscles are strengthened continuously.
Below are some of my recommendations!
AmazonBasics Medicine Ball (Bounceable)
Valeo Medicine Ball (Hardshell)
SPRI Dual Grip Xerball (With handle)
AeromatDula Grip Power Medicine Ball (With handle)
For more information, please follow:  https://www.easysportslife.com/best-medicine-balls
Be flexible when it comes to the weight of medicine balls. As I said, you can always start with the minimum weight and then increase it once you feel ready.
How to Work Out with Medicine Balls
First thing first, you will need a big enough space and 10 minutes to start.
Exercising with medicine balls is quite simple because you can always start with simple aerobic/ anaerobic training.
More importantly, when exercising with medicine balls, you shouldn't do the workouts with rest. One minute break between exercises allows your body to rest and get used with the workout rhythm.
Five Great Medicine Ball Exercises for You to Try at Home
If you have already tried to toss the ball back and forth, here are some more inspirations for you to get your body moving.
#1. Squats
Squats, the ultimate remedy for strong and sculpted butts, are the excellent start.
The classic squat involves spreading your feet till they reach shoulder-width apart, then lowering your hips downwards and at the same time bending your knees.
You need to make sure that you feel all the muscles behind your butts and thighs. With medicine balls, once you bend your knees, raise the ball over your head.
You can try medicine balls with different varieties of squats, such as squat and lunge, side-to-side squat jump and plie squat.
#2. Sit-ups
The second piece-of-cake exercise I want to recommend is sit-ups. The exercise is simple. Lay flat on the floor with both feet and back touch the ground. Use your hands to hold the balls in front of your chest.
Now you just need to do some sit-ups while holding the ball. The weight will engage your muscles even more.
#3. Toe touch
Lie with your back and then put your legs up in the air. Make sure that your legs are perpendicular to the ground. Put the medicine ball above your head; hold it while your arms extend. Life your whole body, including arms and torso so that the ball can reach your toes.
You are not allowed to move your legs. This exercise helps to improve your core so that you should try to reach as far as possible.
#4. Mountain climber
As the name suggests, mountain climber resembles the movement when you climb up. If you climb the mountain regularly, you will see the benefit of this exercise instantly.
The position is similar to a close plank position with both your arms and legs extended. Keep the pose and then pull your knee up to your chest (you can choose right or left). Make sure that the other leg is straight.
Continue to change the knees and keep breathing during the process. You can always add the medicine balls to the process.
#5. Push-up
You can use a medicine ball on simple push-ups. Get to the push-up position and place your hands on the medicine ball. Typical push-ups focus on your chest and upper arms, but with an added medicine ball the whole upper core is engaged as well.
If you feel too tired, you can let your knees loose by placing it on the floor.
The Bottom Line
Medicine balls are indeed the alternative for home-based training and core workouts. These items are useful tools to share with your partner as well.
For those who start with medicine balls, I believe that this article has everything you need, from the definition to the usage. If you have been using these products for a while and are up for a change, consult your trainer for more exercises and a physician in case you have any questions.