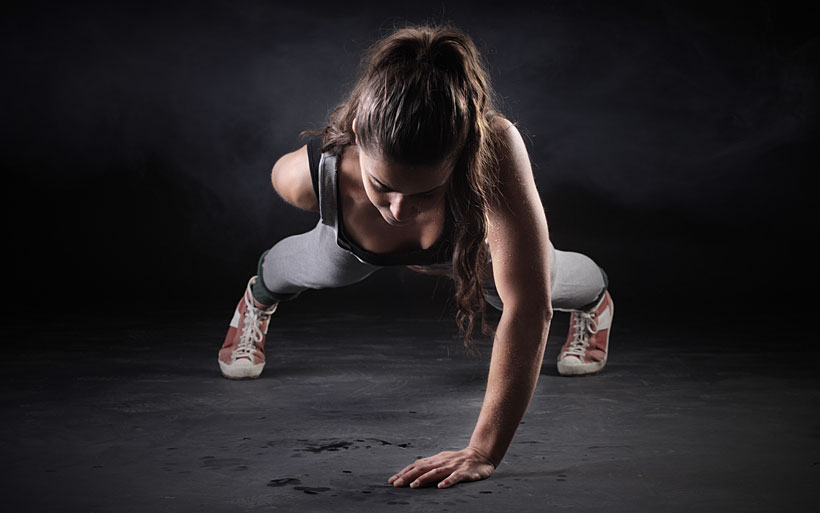 If you like to exercise, but you don't have time to be running to the gym just to pump out a set of reps when you're in the mood, building a home gym should be a top priority. Not only does it free you of the travel and time expenses of having to commute to a membership-based gym, but you also can obtain fuller workout results. In fact, even if you like to go to a commercial gym, you still benefit from having a setup at home to work on whenever you are feeling energetic.
At-home workouts can be even more rewarding because you are under less stress to impress others and can pace yourself better. There is nothing like doing a weightlifting session and then having all your favorite healthy snacks right there in the fridge or a fresh meal waiting for you. Home gyms are also great because people are becoming more and more anti-social at commercial gyms and less fun to work out with in general.
Finding a Space
The key to building a solid gym space is large mirrors. If you can situate a large mirror on any wall, you instantly have a motivating workout partner. Not only does a large wall mirror help you feel like there is some competition, but it also helps you obtain the correct form and balance when you are working with free weights. Large mirrors have an additional benefit of making any living space appear roomier than it actually is by adding depth and symmetry. Always ensure that your workout space is not cluttered with valuable objects that can be damaged by inadvertent movements. A good workout space has a stable floor that will not buckle or bounce when under the load of heavy weights, equipment, and jumping around.
The important aspect of any workout room is that you want it to be free of distractions. When you are at a commercial gym, you are more likely to make excuses to stay and work out because you dedicated all that time to changing into fitness clothes and driving there. When it comes to home gyms, it is easy to make excuses to not work out and to focus on other things. For safety reasons, you need to prevent children from accessing the equipment without supervision.
Choosing Your Equipment
If you are male, you will definitely want a set of free weights to get that sculpted body and strength. It is worth investing in professional-grade equipment. Some of the weight benches out there lock you into place and restrict movement. They may prevent you from doing a powerlifter flex and can, in turn, lead to painful solar plexus injuries.
Ensure that you feel as comfortable with the equipment you install in your home as the equipment at the gym. There are many economy weight benches and devices that look like they are built for children to workout on. Ordering weight equipment online can even be more problematic because the proportions may be smaller than your imagination.
When it comes to doing cardio, there is nothing like a quality elliptical machine. Women and men will obtain some of the best cardio workouts on a top-notch elliptical. Luckily, it is easy to find used models in like-new conditions online in regional classifieds. A lot of people who are extremely overweight purchase this equipment and lose their motivation after a few days or weeks. This makes quality equipment really easy to find at steeply discounted prices. Always be sure that you try out any equipment before you buy it and negotiate a good price by waiting for the right buy.
Women like to do a lot of Pilates, yoga, and low-intensity cardio dance-type training. If this is the case, you can make any clear area into a gym by purchasing some free weights, a yoga mat, and a large screen television to learn the moves with your favorite Hollywood instructor.
Upgrade Your Gym as Needed
Don't go overboard with your gym. A gym is more of a metaphysical concept. You can slowly add equipment and build more dedicated fitness space as you prove the need to yourself. You should always start out with the minimal equipment and work with that before moving on to larger machines, larger weight benches, and adding home security cameras to watch over your investment.
If You Have the Money, Start Your Own Commercial Gym
If you are really serious about working out, you can rent some commercial property and build your own commercial gym. Not only do you have the opportunity to work out, but you can slowly grow your business by inviting friends to make it look busy. You can then ask your friends to recruit new memberships on commission and expand into larger locations if the demand is there.
Providing exclusive access to basic nutritional and fitness tip blogs with universal appeal can make your gym competitive against larger commercial chains. For example, members would appreciate tips on obtaining loads of natural protein and how to rev up their metabolism with vitamin B-12 supplements. Detailed and cutting-edge blogs that may be featured in athletic magazines could also make your gym a hot spot by helping the members see results.
The Bottom Line
A home gym should be viewed as an abstract concept, not a real place, and developed only with top-of-the-line professional equipment as personal or community demand allows.
About Shannon Clark
Shannon holds a degree in Exercise Science and is a certified personal trainer and fitness writer with over 10 years of industry experience.