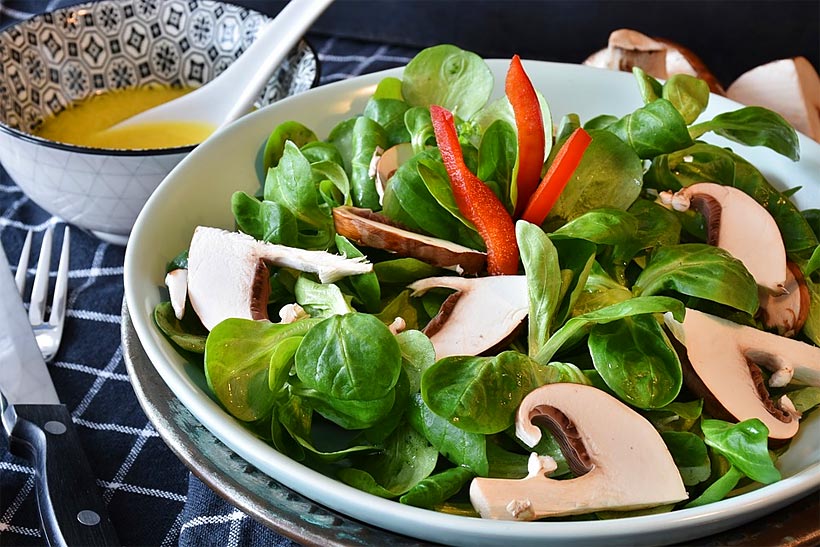 Proper nutrition is the first step to a healthy life but it is one of those things that most people just can't seem to get right. With the enticing aroma of tasty and spicy junk food hitting you from every direction, eating healthy can be daunting.
And yet while breaking old eating habits may be hard, when you learn the benefits associated with eating a balanced diet, you will hopefully want to begin and stick to a healthy meal plan.
Thankfully, good nutrition isn't rocket science, though it certainly can feel that way with all the conflicting information and advice on the subject seemingly at every turn.
All in all, though, good nutrition simply involves consuming dishes that supply your body with vitamins and essential minerals and avoiding those that have high levels of sugar, fat, and cholesterol.
If you want to know whether you are on the right track when it comes to nutrition, here are a few aspects you should look out for:
Health problems such as high cholesterol and high blood pressure.
Weight issues? Determine whether you are overweight or underweight.
Family history? You need to determine whether conditions such as cancer, heart disease, osteoporosis, and diabetes are prevalent in your family.
Whether you know which foods to include in your diet.
You should also ask yourself whether you need a qualified dietitian or a nutrition counselor to provide guidance.
Charting a Path to Healthy Eating
Changing your eating habits may be one of the toughest decisions you will make in your life, but it comes with a broad range of benefits such as helping you manage some health conditions, including: high blood pressure, kidney diseases, celiac disease, and lactose intolerance among others.
The best approach to improved Health and nutrition is to start with small changes. Here are a few insights that can help you improve your health.
1. Create a meal plan.
Delve deep into your current diet and find out if you are consuming enough calcium, fruits, whole grain, vegetables and foods that are rich in fiber. You can then use this information to make a meal plan that features all the food mentioned above. When creating a meal plan, don't be afraid to seek the help of a professional dietician. They will help you create a successful one using their experience and expertise.
2. Track the kind of food you consume every day in a notebook.
This helps you to determine the percentage of the essential nutritional components you consume so that you can adjust accordingly. We can't stress the importance of tracking the food you consume enough, especially when you're just getting started. By tracking what you eat you'll get a great overall snapshot of your day-to-day dietary habits and you will be able to easily adjust your diet if improvements are needed or you fall off track.
3. Incorporate vegetables and fruits at every meal.
They not only help lower risks of certain conditions such as obesity, heart conditions and diabetes but are also loaded with  essential vitamins, periodic fiber, antioxidants, and various minerals.
4. Shun foods that are highly processed and those that have high-fat content.
Although junk foods are tastier and mouthwatering, they the primary cause of most health problems in the world. Additionally, items with high-fat content such as baked potatoes, butter on bread, and salad dressings should be replaced with low-fat versions.
5. Keep your body hydrated at all times.
Sometimes all you need is a glass of water or a cup of tea. Staying hydrated helps you reduce food cravings and also enhances metabolism. However, it is crucial to understand that sweetened drinks such as energy drinks, fruit juice and soda have a lot of calories and sugar and thus should be consumed with moderation.
6. Don't shy away from seeking the help of a qualified dietitian.
This is vitally critical, especially if you have a pre-existing condition. A qualified dietitian will thoroughly assess, diagnose and help you treat your nutritional problems via practical guidance that you can easily incorporate into your lifestyle. Watch out for self-proclaimed "nutritionists" when looking for an expert. Dietitians are the only nutrition professionals to be regulated by law, and thus they must operate by a strict ethical code and in turn will provide the highest standards of nutritional guidance.
In Conclusion
Good nutrition is not an angular resolution; it is a systematic and gradual process that starts with small changes. If you wish to lead a healthy life, it will take relentless commitment and determination to make sure that you incorporate high-fiber foods, vitamins, minerals and whole grains in your diet.
Besides, you need to talk to your nutritional counselor before you decide to follow any diet program. Most diet programs are endorsed to generate revenue for those airing them and might come with some detrimental side effects that may not be addressed.