Introduction
The truth is, most people get a real lift and push from lifting weights or doing sit-ups in front of a mirror. And if you're not happy with your current body shape, looking at yourself while running on the treadmill or riding a gym bicycle can add a certain external motivational presence to your exercise.
Mirrors keep you company in the gym. Even if it is obvious that the person staring back at you is still you, it's still better than feeling like you're going through the stress by yourself.
On the flip side, some people can be totally intimidated by the mirror for various reasons may be because they're too fat. When they look at themselves in the mirror, they think it's a complete waste of time to start gyming. This is totally understandable, but as the saying goes "if you have doubts about your abilities, you may never benefit from your abilities".
There are some basic things that your home gym should have and a mirror is on the top of that list. So it is right to say that your gym cannot be complete without a gym mirror.
Why Install an Activity/Gym Mirror in Your Home Gym?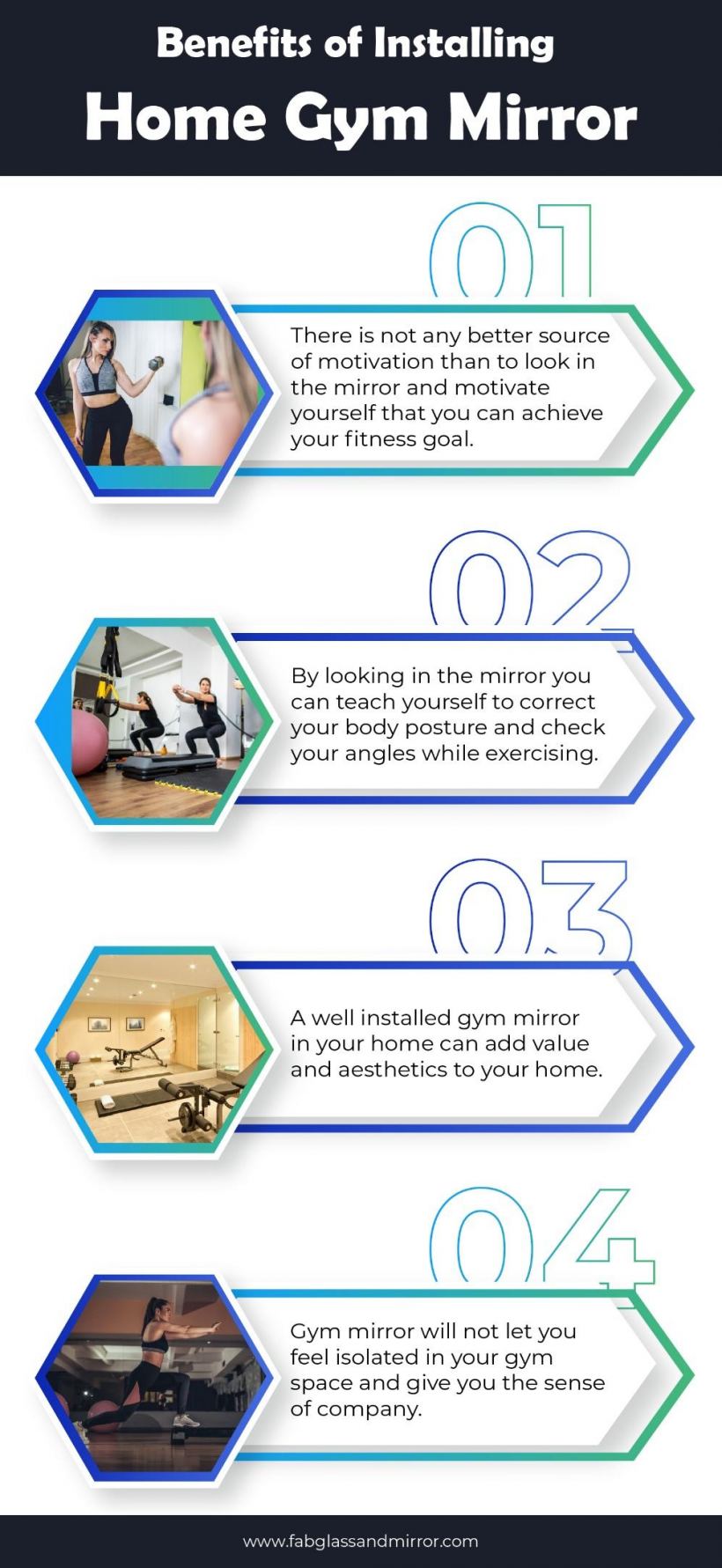 Everybody wants to stay healthy and keep fit, and for these reasons, a healthy lifestyle and workout routine is important.
Some people may decide to join a regular gym to keep their bodies in perfect shape; others may prefer a home gym because of their busy schedules.
Well, no home gym is complete without a big workout gym mirror. A gym mirror can boost your workout experience by helping you improve your posture and more.
Looking at yourself in the mirror will tell you if you'll need to do more to get your desired shape and the mirror will motivate you to stay consistent.
Although, the benefits of home gym mirror are countless, here are some significant benefits you should be aware of…
A Gym Mirror Can Help Increase Your Motivation
There is no better way to give yourself that extra push to achieving your body goals than looking at yourself in the mirror and telling yourself that you can do this. Your will to do more will be heightened. With a mirror in front of you, it can act as your personal trainer telling you if you're doing the exercise right or wrong.
A Gym Mirror Can Help You Perfect Your Posture
If no one is around, you can use the mirror and teach yourself how to perform exercises correctly without any help. When in the gym, it is crucial to check your angles while exercising. For example, when you do stretches, the mirror tells you when you're over-stretching so you don't injure yourself. With a gym mirror, you can do this accurately so you can smoothly complete your workout session.
A Gym Mirror Adds Value and Aesthetics to Your Workout Space
With a well installed home gym mirror, your home just went up in the market. In terms of aesthetics, gym mirrors will make your gym look fun and classy.
What Size Mirror Should be Used for a Home Gym?
For a home gym mirror? The larger the better. In fact, the four corners of your home gym should be completely covered with mirrors.
Big mirrors will help you work out at precise required angles giving you multiple eyes on all angles. While working out, you'd like to notice your curves and measure your chest size, waists, and curves with every workout.
To do these things, you'd need large gym mirrors to help you observe yourself from all angles. So, the size of the mirror you should use in your home gym, shouldn't be a question.
To achieve the best gym mirror result – cover your entire gym room with large mirrors, or at least the front and the back should be covered with large mirrors.
Should I use a mirror on a complete wall or a single large vertical mirror?
Using a single large vertical mirror for your gym will not cut it at all. Firstly, it is not a piece of ideal gym equipment, as it will make the room look boring and less aesthetic. If you're a gym business owner, you might want to leave the single vertical mirrors out of your gym because it will make your business look unprofessional and unattractive. The vertical single mirror will make your gym disjointed and less put together – it cannot give you a good view of your body progress as it can only cover one angle.
Using the complete wall mirror for your gym is obviously the best choice. The kind of aesthetics it brings to your space is incomparable. It will light up your gym and make the space look large no matter how small it is. So, if you own a gym business and you want to attract top clients to your business – the complete wall gym mirror is a good way to start.
How much does a decent home gym mirror cost?
The cost of a mirror for your gym will depend on the size and features. Normally, the complete wall mirror should cost more than the single vertical one. The price of a new gym mirror can range from $200 to $1500. You might get a discount depending on the number of mirrors you're buying, for instance, a mirror sold at $500, can be offered to you at $1300 if you're buying three at a time. This does not include the labor cost to mount the mirrors, which is normally around $50 to $200.
Conclusion
There is no doubt about it, a properly installed gym mirror will increase the value of your home gym – and if you're a gym owner, you should take this more seriously as it can make or break your business.
The benefits a gym mirror will bring to your home gym or fitness business are countless, so try to harness all these benefits and set a high standard for your neighbors or competitors to catch up.
If you're looking for trusted mirror suppliers for your gym, Fab Glass and Mirror is a solid bet, as they provide a variety of quality mirrors for all your gym needs.
Fab Glass and Mirror also offer great discounts depending on the quantity you're buying and they will ship directly to your doorstep if in the USA.
Gym mirror: Yes or no? Does seeing yourself working out help improve your motivation and overall workout? Let me know in the comments below…