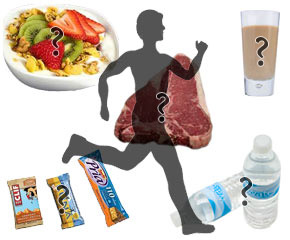 Top 10 Nutritional Mistakes Made by Active People
It isn't just people who are sedentary who struggle with developing healthy eating habits – active people do too.
The reality is that we all struggle at times to consume healthier foods on a consistent basis and it is only made more difficult by the constant exposure to unhealthy options and the ever present advertizing that encourages us to eat "all the wrong foods"!
We can all agree on the benefits of adopting a healthy lifestyle. We will each approach "what that means" to us from our own unique perspective and decide how to proceed from there.
The following list of the "top 10 nutritional mistakes made by active people" can serve as a reminder for all of us and help guide us in making choices that empower and enable us to improve in all areas of our lives not just physically – but mentally and emotionally as well.
The Top Ten Nutritional Mistakes
1.  SKIPPING BREAKFAST
Not eating breakfast is like asking your car to get you to work without any fuel in the tank. Experts agree – skipping breakfast just means you will be hungrier later and make it more difficult to control both your diet and your weight.
2.  NOT EATING BEFORE A WORKOUT
Providing the body with food for energy allows for a better, more productive exercise session. A pre-workout meal consisting of carbohydrates, a little fat and some protein can also improve endurance and hand-eye coordination.
3.  WAITING TOO LONG AFTER EXERCISE TO EAT
One of the best things you can do to prepare for your next workout is eat a small meal that includes both carbohydrates and protein within two hours of your last session. The carbohydrates help replenish muscle glycogen stores (sugar) and protein facilitates the repair of damaged muscle tissue.
4.  REPLACING MEALS WITH ENERGY BARS OR REPLACEMENT DRINKS
They are convenient but too often energy bars offer little more nutrition than your average candy bar. Replacement drinks lack adequate fiber. When it comes to eating nutritionally there is really no substitute for healthy whole foods.
5.  EATING TOO MUCH PROTEIN AND NOT ENOUGH CARBS
The current popularity of low carbohydrate diets has many people trying to fuel their workouts with poultry instead of pasta or other healthy alternative (bananas etc.). Whether you are an endurance athlete or a body builder, carbohydrates are essential to a successful workout.
6.  TRUSTING THE ACCURACY OF DIETARY SUPPLEMENT LABELS AND CLAIMS
Because the supplement industry remains largely unregulated, manufacturers can make unproven and untested claims about their products. Don't fall for the hype and DO your own homework before putting anything in your body.
7.  NOT CONSUMING THE RIGHT AMOUNT OF CALORIES FOR THE AMOUNT OF ACTIVITY YOU DO (i.e. too many or too few)
Your caloric intake should be sufficient to support your active lifestyle, but not so abundant that weight control becomes a problem for you.
8.  BELIEVING THAT EXERCISE MEANS YOU CAN EAT WHATEVER YOU WANT
Most of us learn this lesson the hard way. Whether you exercise a little or a lot, you still need to follow a healthy, balanced diet – and watch your portion sizes!
9.  NOT DRINKING THE RIGHT AMOUNT OF FLUIDS
Dehydration can pose a serious problem, especially if you exercise in hot, humid environments. Drink fluids before, during, and after exercise. This will help you maintain adequate hydration levels. Just don't take it to extremes – drinking too much water is not recommended as it CAN become an issue as well.
10.  JUMPING ON THE LATEST DIET CRAZE IN SEARCH OF THAT ELUSIVE "EDGE"
It is tempting to believe that there is some magic formula out there that will dramatically improve performance or help us effortlessly lose weight – but it just doesn't exist. So we try new plans, consume countless supplements and follow unproven protocols, even though we know the best thing we can do is follow the basic rule of moderation and eating healthy, whole foods, right?
The Bottom Line

The top ten nutritional mistakes are easy to make. We all want the least painful way to get in shape and sometimes we CAN lose our perspective as we make important changes to our lives. IT IS OK! We are human and we WILL make mistakes. Just don't keep doing what has failed you in the past expecting a different result – that is the definition of insanity!
ANY change we make that is intended to help us live a healthier, happier life is a change worth making – just remember to check for results periodically – and if they aren't there – make a new one and your life will be the better for it. So tell us, are you making any of these mistakes? Let us know in the comments below!
See Also:
Website: HealthyHappyFit.com      Email: [email protected] Nick is an author, teacher, and speaker and has been a certified personal trainer and lifestyle and weight management consultant since 1992. He is currently recognized as a master trainer by the IDEA International Health and Fitness Association. He has been a runner since 1964 and has accumulated over 60,000 miles in that time.