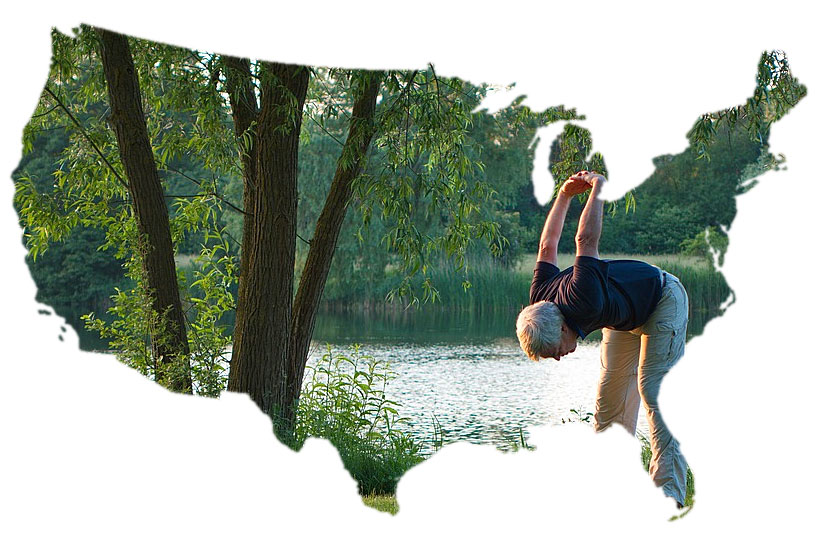 When looking for somewhere to settle in your thriving twilight years, you'll want to make sure you find somewhere that offers a healthy environment and reasonable cost of living. Especially for those on a fixed income—affordability and access to quality healthcare is a must.
Check out this list of the five healthy and economical places for seniors to live in 2019. The ratings are based on a recent study from the Center of Secure Retirement on affordable places to retire, Kiplinger's research on the cost of living and other wellbeing factors, as well as HealthMarket's Medicare Advantage cost index (to determine healthcare costs).
#1. Cape Coral, Florida
Florida is a popular state for both retirement and snowbirds alike. It's year-round temperate climate, and tax structure attracts many seniors. Florida also has one of the lowest annual costs for Medicare Advantage. Cape Coral, in particular, is on the Gulf side of the state, with easy access to Fort Myers–another city with lots of activities and things to do.
Living in Cape Coral not only gives residents access to the beach, but also hundreds of miles of navigable waterways. Whether you're a boater, kayaker or enjoy walking in water-adjacent nature walks, Cape Coral offers plenty of opportunity for outdoor activities.
#2. Cleveland, Ohio
Cleveland is home to the headquarters of the Cleveland Clinic which is a leading research center and hospital in cardiology, urology, geriatrics and many other specialties. Beyond access to high-level healthcare, Ohio is another one of the least expensive states when it comes to costs of Medicare.
While you will have to contend with the midwest winters, the cost of living and home prices in Cleveland are lower than the national average, making it very affordable. For those who love change, you'll enjoy all four seasons. Cleveland is directly on Lake Erie, which offers plenty of water sports and activities in the summer. The city also has several museums and a large theatre district.
#3. Omaha, Nebraska
Omaha might seem like an unlikely choice; however, it boasts low housing prices, cost of living, unemployment, and crime rates. A growing city with strong economic health, more restaurants popping up, as well as expanded healthcare options.
Warren Buffet's (and his company Berkshire Hathaway) are headquartered in the city. The billionaire explained to Business Insider that he wouldn't leave anytime soon. He and his employees enjoy the slow pace of life, little traffic and friendly faces. Most natives also claim there's always something to do with festivals and cultural events every weekend.
#4. Denver, Colorado
If you want to live out west, but not contend with California crowds, costs and smog, consider Denver, Colorado. This mountain town has some seriously active residents. There's no shortage of all-season extreme sports, as well as more slow-paced, nature adjacent exercise options.
While the cost of living might be slightly higher than other options, Denver has a thriving cultural scene. The healthcare options are also abundant and top-notch, with a relatively low cost for Medicare Advantage.
#5. Scottsdale, Arizona
Scottsdale offers the warm desert climate that many people crave in the older years. Along with year-round sunshine, you'll be in good company as 20 percent of the city's population is over the age of 65, according to recent stats. The senior-friendly community offers the charms of a mid-sized city, with larger Phoenix nearby. You'll also enjoy many golf courses, as well as access to biking, hiking and other outdoor activities.
The Mayo Clinic—a leading national healthcare and research facility—has one of it's three major branches in Scottsdale. While Arizona does have one of the lower costs for Medicare Advantage, the cost of living is slightly higher than other spots. However, you can't beat the year-round sunshine.
The Bottom Line
Daydreaming about where you'll spend the rest of your years can be exciting — but actually making that decision leaves many feeling stressed. Luckily, there's a wealth of information out there to aid you in making the smartest decision possible for your circumstances.
About Shannon Clark
Shannon holds a degree in Exercise Science and is a certified personal trainer and fitness writer with over 10 years of industry experience.