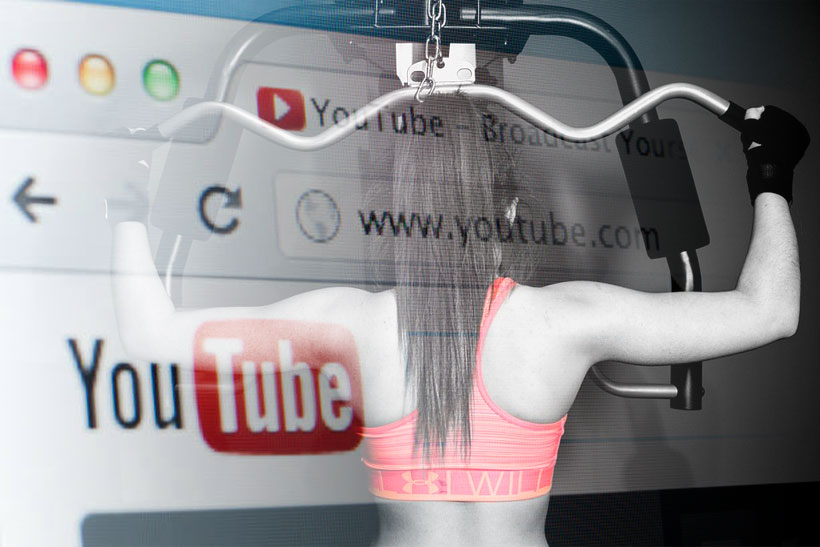 There are a seemingly endless number of workout videos on YouTube. Probably, you have at one time or another checked out a workout video to see how a particular exercise is done and likely even have subscribed to a workout channel or two.
It doesn't really matter whether you are a beginner or a professional; most of us rely on YouTube to learn new moves and to get insights on how to improve our workouts. There are videos that depict all forms of workouts so there is never a lack of what you seek.
Perhaps you are even a fitness YouTuber yourself. If so, I'm sure you quickly realized after launching your channel just how competitive the health and fitness space is. If you're struggling to jump-start your brand, sites like Social10x.com can thankfully connect you with others on the various social media sites, including YouTube.
That being said, let's take a look at seven great reasons why YouTube is an excellent source for fitness tips and advice, especially exercise instruction, workout ideas, and motivation.
7 Reasons to Utilize YouTube for Fitness Advice
Here are seven reasons why you may want to utilize YouTube for fitness tips and advice. There is no shortage of great fitness brands out there. Let's dive in..
#1. Convenience
Instead of having to write down a workout program, you can just search on YouTube, get one that you like and work with it. This strategy works especially with aerobics workout where you will be needed to come up with different moves to make the class interesting and lively. Rather than repeat the same moves, you can simply stream YouTube video and follow through.
#2. Saves Time and Money
You get to save time and money when you find a good trainer on YouTube. Instead of having to crack your hand on what you should do especially if you are a beginner, you can find trainers who will give you programs that you can follow through and get results for free.
Yes, you will be coaxed to subscribe and maybe pay some money by others for even better programs, but, honestly, you really do not have to. Just identify a channel dedicated to fitness depending on what you want and follow it. If you are disciplined enough to follow the program, then you will get results without having to pay a personal trainer.
#3. Flexibility
With YouTube videos, you do not really need to go to the gym every day. In fact, you can just work out at home or anywhere else you see fit as long as you have an internet connection. However, you can also download these videos and use them later when you are offline.
#4. Variety
With YouTube, expect a mix of different videos. You will get boxing workouts, weight lifting workouts, aerobics, body weight exercises, a whole range of challenges and even professionals that will cut it down to show you the right form and movement to prevent you from injuring yourself.
The videos might be too many and confuse you, but if you already know what you want, then it will be fairly easy to choose. The good thing is that you do not have any obligation to stick to one particular trainer as you can always have a mix of several each helping you achieve a specific milestone.
#5. Motivation
YouTube videos motivate you to keep pushing through. There are videos that depict beginners going through a 30-day training and then showing the results. Such challenges motivate you to try and you work through to see if you can also achieve similar results.
An example of a good challenge would be a 30-day push-up challenge where you are required to do 100 push-ups every day. It is such easy to do challenges that encourage individuals to start a fitness journey and stick to it.
#6. Connect with Other People
YouTube also helps you connect with other people just like other social media sites. When you begin following a workout channel, you get connected to other people following the same channel.
The proprietor of the channel can organize events in which people of the same area can meet once in a while and train together. It is such interactions that you widen up your network.
#7. Nutrition
In addition to training and exercise, you will also find within the workout videos individuals who will assist you with your diet. Keep in mind that fitness is not all about the physical exercises, but also involve a lot on what you eat.
If you fail to eat right especially if you are just starting out, then you might not see the results that you desire. There are professionals that will take you through this and show you what their daily diet is depending n what you want to achieve.
The Bottom Line
YouTube is a great source of information, but you also need to be very careful about what you take from it. For example, some videos will show you absurd moves in a bid to impress you or simply provide flat out terrible advice. These videos can quickly lead to you getting injured or down the wrong path with little results.
Our advice is to look for reputable channels like Athlean-X or others who have the credentials to back things up. There are plenty who claim to know their stuff but this isn't always the case. At the end of the day, be careful and selective when choosing the videos you consume.