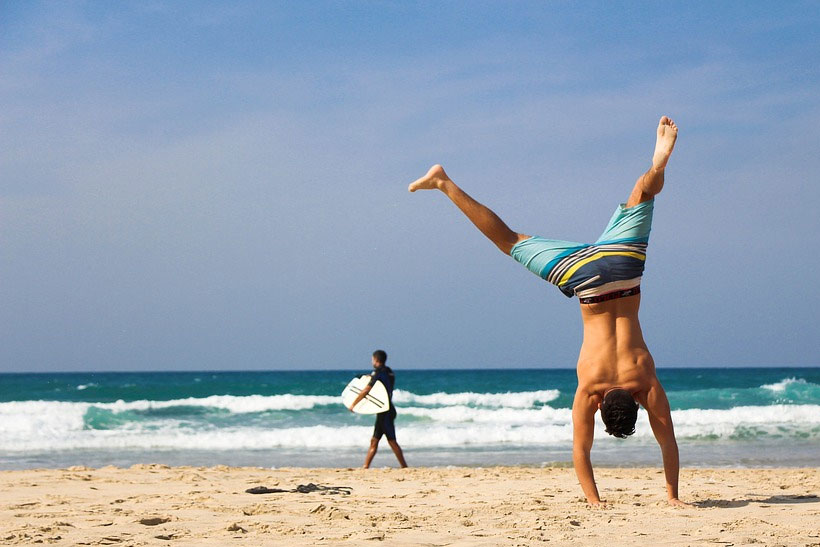 When exploring new parts of the world that you've never seen before, it's easy to become overwhelmed and forget about your overall health. Every day suddenly turns into a cheat day, where you spend long hours lazing in the sun, overindulging in food with many alcoholic drinks poured on top. And why not? It's your holiday, so you might as well enjoy it!
If this sounds like you and you're looking for motivation to avoid the excess while you're traveling, start by asking yourself these 5 questions:
#1. What Does Your Accommodation Offer?
These days, many hotels come with fully equipped gyms or perhaps even a swimming pool, in which case, you have no excuse! However, when such conveniences are not available, you can still turn your room into your own personal workout center.
Start by watching YouTube videos for bodyweight ideas and consider packing lightweight exercise strength-training supplies wherever you go. For example, resistance bands are affordable fitness equipment which hardly takes up any luggage space, while a skipping rope will add that extra push of difficulty to your cardio sessions.
Studies have indicated that 75 minutes of vigorous-intensity weekly physical activity is a decent goal, hence why a 15 minute morning routine should be enough to hold your shape intact.
#2. What Does the Area Offer?
Visit the front desk of your accommodation and query about any local classes available. You may even find some very interesting options tied to their culture, such as a yoga practice you've never heard about or a particular branch of martial arts.
Otherwise, use the terrain to train! Are there any forests you can hike through? A beach you can learn to surf on? A mountain you can climb up or ski down depending on the climate? The potential is endless!
If all else fails, simply go out and experience the nightlife. A few hours on the dance floor can be a great cardio workout in itself!
#3. What Have You Been Eating?
When visiting exotic places, it's very tempting to test out all of the strange cuisines on the menu, and what's more, you should! Just be careful not to gorge yourself for every meal, otherwise, those numbers on the scale will be very quick to reflect this.
Avoid excessive calorie consumption by cooking at least one healthy meal a day. This way, you can keep an eye on your diet by making specific grocery choices, loading your system with vitamins while saving a lot of money as you do so.
Snacks can also be an important fuel source during your more active days, but don't give in to the temptations of cookies and chocolate! Always favor fruit, nuts, or granola bars to provide you with a slow-burning energy without any nasty crash at the end.
#4. What Have You Been Drinking?
Traveling is all about that carefree living, far away from the pressures of normal responsibilities. This often means cocktails on the beach or shots at a nightclub, followed by coffee and energy drinks in the morning just to get through.
The problem comes when people tend to exceed their daily calorie limit by drinking these beverages alone. In fact, a single serving of alcohol can cost you anywhere between 100 – 150 calories, and that's not even including any of the ingredients it's mixed with! So be careful!
Of course, it's your choice how you spend your holiday, but one inescapable fact is that water is the most important liquid on the planet and should never be neglected. Always carry a bottle on your person, order a large glass with each meal, and try to hydrate between every other drink if you can.
#5. Can You Walk There?
If the distance allows for it, then walking is always the best mode of transport. By using your feet, you will discover many hidden areas, save a lot of money, and complete your daily step counter in no time at all. So tie up your most comfortable pair of shoes, draw out some plans on your map, and then set off to see this world at a much more casual pace.
However, when choosing to travel by foot, always ensure that you know the way home. It is also recommended that you research any nearby areas notorious for their criminal activity, and avoid them.
Finally, if you have the time, why not join a walking tour? These guided adventures will not only cover much distance and burn off those pesky calories but will also be the perfect way to learn about the landmarks, the cultures, and the history of this amazing place you find yourself in.
About Mark