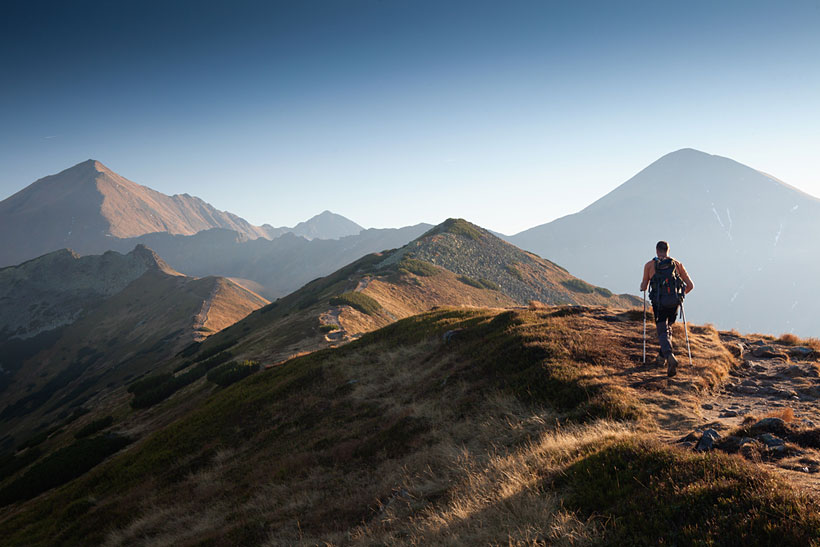 Packing is an art. You've gotta make sure you have all the essentials without overdoing it and being stuck with a bunch of stuff you should have left at home. And when you're headed out on an outdoor adventure, proper prep is vital; after all, you want to keep your load lightweight but also have enough items on hand to stay safe and comfortable.
Use this checklist, where you'll find the right type of clothing, useful gear, smart snacks and more, to prep and pack for your next outdoor adventure.
1. Dress Accordingly
The outdoors clothing you pack should be ready to handle all types of elements and also be light enough so you can easily carry multiple layers. You'll want:
A water-resistant hiking jacket that can weather rain or snow. One with comfort stretch fabric that enables you to move and that has pockets is also helpful. Opt for one in fleece if you'll be in cold weather.
Several pairs of socks. Look for lightweight, slip-free pairs that will work in case your feet get wet.
Appropriate footwear, including hiking boots if you plan to trek on some gnarly trails.
Quick-drying pants and moisture-wicking T-shirts, so you don't get bogged down by water or sweat.
A sun-shielding hat.
Pack some gloves and mittens, too, especially if you'll be in colder conditions. Additionally, look for multifunctional clothes, like a three-in-one jacket that can be worn as a shell and vest together or separately, or convertible pants-to-shorts. You'll have less to pack and will get more use out of your clothes.
2. Carry Smart Travel Gear
The right travel gear will keep you safe and make your outdoor adventure more enjoyable. These items should be on any adventurer's travel checklist.
Lightweight backpack in which to carry your gear
Reusable water bottles to stay hydrated
Headlamp or flashlight, so you can always see your path
A knife or multi-tool, which can come in handy for activities like cooking, setting up a tent and pulling out splinters
First-aid kit in case injuries occur
Map and compass or GPS device to stay on track
Fire starter,which could be as simple as candles or dry tinder in a plastic bag, and a butane light or waterproof matches so you can start a fire
A whistle,which can be used to ward off bears and other creatures, as well as alert others that you need help
These are some essentials, but you might also want to splurge on some nifty binoculars so you can check out what's ahead and see cool wildlife and nature.
3. Stay Charged Up
According to Travel + Leisure magazine, one of the top items people forget to pack but wish they did is a phone charger. Even though you may want to unplug on an outdoor adventure, a phone is still helpful to have in case of emergency or if you get lost.
Get a phone charger you can charge at home and then take with you on the go in your backpack. Even if your device dies while you're out and about, you'll still have a power source to reconnect it.
4. Maintain Hygiene While Roughing It
Other common items on the list of things we forget to pack include toiletries. With that in mind, bring travel-sized versions of toothpaste, a toothbrush, deodorant and a comb or hairbrush with you. Even when you're roughing it, you can still feel fresh and clean.
Don't forget to pack sunblock, hand sanitizer and alcohol wipes, too. The Skin Cancer Foundation recommends to reapply sunscreen every two hours, so make sure to carry some with you. Even if you're near a source of water, it's great to have cleaning wipes on you when you're trekking so you can clean up before you snack.
5. Get Fueled
Staying fueled up on an outdoor trip is essential; after all, you want to have the energy to make your way back on a trail you embarked on, and you want the trip to be fun — not full of the hangries.
The Academy of Nutrition and Dietetics recommends these travel-friendly foods for camping and hiking trips:
Trail mix
Seeds and nuts
Dried veggies and fruits
Energy, nut-based or granola bars
Ready-made tuna pouches
Whole-grain tortillas
Chicken, salmon or meat jerky
If you're camping for a few days at a time, some shelf-stable options in addition to those mentioned above include fruit or vegetable puree, canned meats or meat pouches, whole-grain pastas and dried soups.
But make sure to sanitize your hands before eating, and aim to eat a snack at least every couple hours or more frequently whenever you're hungry.
6. Protect Your Valuables
If you plan to sleep in a tent in the great outdoors, you'll want to safeguard all your precious items. Here are some tips.
Keep valuables in your vehicle whenever possible. Store them in a mini-safe for extra protection, and make sure you have your car alarm activated.
If you've brought items like a portable fridge or grill with you, use a chain and padlock to lock it up.
Keep IDs, like a passport or driver's license, in a safe.
It's wise and makes sense to leave treasured items at home. So before you bring iPads and video games to use at your campsite, think about watching the stars or sharing stories instead.
Check and Double-Check
Like anything, it can be easy to forget to pack needed items for your outdoor adventure. To prevent arriving at your outdoor destination without all the essentials, make a list of what you need and use it when you're packing for better peace of mind. If you're traveling with a loved one, pack together so you don't miss anything.
Remember, safety first, which relates to having the appropriate clothing, gear and food on hand. You'll also want plenty of phone charging power and protection for your belongings. With all that, you'll be ready to enjoy whatever awe-inspiring things you encounter in nature.