Introduction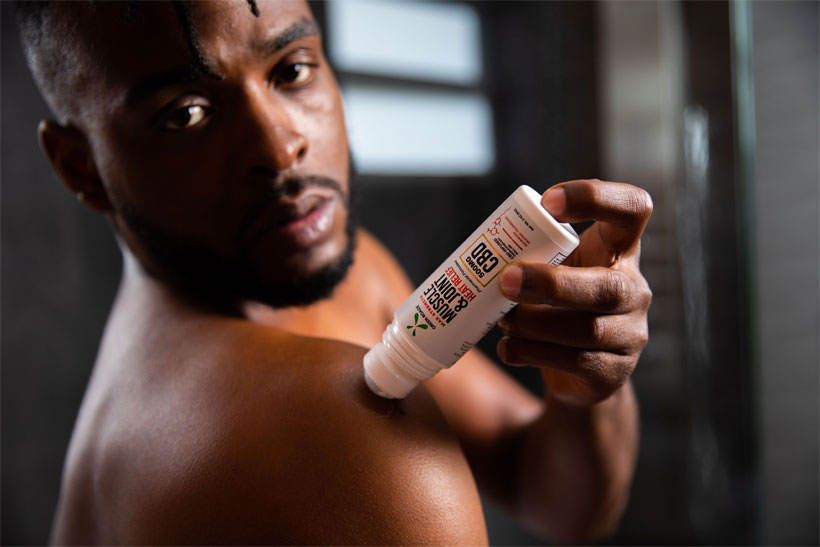 If you are one of the few that are not already familiar with the ever growing market of CBD, the CBD market is fast approaching the $22 billion mark.
This rapid growth is bringing the world of CBD to even more consumers and many are curious what all the fuss is about.
CBD oil comes in many forms too so consumers have plenty of choice as to how they want to utilize CBD.
CBD can be purchased as a cream or lotion, vape oil e-liquid with hemp, in soft gel or capsule format, as sublingual drops, drinks, gummies or hard candies, and more. You can even pick up CBD wholesale.
In fact, it's not just regular consumers who are excited about the potential benefits of CBD. Many athletes are also turning to CBD to help with muscle recovery after workouts and competition.
CBD is helpful with numerous ailments, disorders, and even anxiety. It is of no surprise that it can also be used for muscle recovery and relaxation.
Seven Ways CBD Helps with Muscle Soreness and Recovery
Here are several ways using CBD can help you with muscle recovery between workouts and after injuries. We hope you will gain some new knowledge and want to give CBD a shot during your next workout.
CBD Helps Your Muscles Relax
Muscle tension is common with workouts and injuries. Any seasoned trainer will tell you that leg day is notorious for muscle tension and pain. Just getting off the toilet can be a challenge after a grueling leg workout. Muscle tension is normal and yet contributes to additional pain in the area. This is why many athletes and trainers will use muscle relaxants to help ease the tension so recovery is faster.
Some athletes have used benzodiazepines to help alleviate tension and pain. If you use some CBD gel capsules after your workout, you will find it has the same effect as benzodiazepines. Benzodiazepines are effective but can lead to an addiction. CBD is not addictive and can be used as needed.
CBD Reduces Inflammation
When micro-tears in the muscle occur during a workout, inflammation is our body's natural reaction.
The most common treatment for inflammation is icing the muscles. There are no conclusive studies that say icing can shorten recovery time. It certainly works, but recovery is the same with or without it.
The best CBD oil helps ease tension and can shorten recovery time. Some athletes now use ice for the soothing it offers and CBD to help reduce the time it takes to recover.
CBD Helps You Sleep Better
Sleep issues are prominent in the US and there are many options to help with it. Sleep is important because our bodies need the downtime for repair.
When we struggle with sleep, our bodies cannot do their job at repairing and maintaining. When we sleep, our bodies repair damaged proteins. It also removes cellular debris, converts lactic acid to glucose, and stimulates muscle cell differentiation.
While exercise is a good way to regulate sleep, other factors can still get in the way of healthy sleep. Environments can be too bright or too loud. You may have a sleep disorder or an illness. CBD helps in a few ways to get the sleep you need. If you have anxiety, CBD can help ease your mind so you can drift off to sleep.
Since it can contribute to easing muscle tension and inflammation, it can also allow you to relax physically for sleep. Make sure you allow yourself enough time for 7-8 hours of sleep and maintain a healthy diet to boost the effects of CBD.
CBD Eases General Pain & Discomfort
Pain can be a deterrent to continuing workouts and the ability for your body to repair itself. CBD works in a few ways to help alleviate your pain so you can recover quickly.
Vanilloid receptors have an effect on our pain tolerance and CBD can use those receptors to build your tolerance so you feel less. It can also inhibit pain and inflammatory transmissions to your spinal cord and brain.
CBD Increases Muscle Cell Differentiation
There have been interesting studies released about CBD and an increase in muscle cell differentiation. We need cell differentiation to produce new myofibrils (muscle fibers), which make up the muscles. When there is a muscle tear, our body sets out to create new myofibrils to compensate for those tears.
This is how we build muscle and any increase in muscle cell differentiation is a welcome one. While CBD is assisting with the inflammation and pain, some will also help speed up the process of building new muscle fibers. This contributes to quicker recovery time and can help bulk you up.
CBD Lowers Cortisol Levels
Cortisol has an important function in helping the liver detoxify the body. It is housed in our adrenal glands and when our adrenaline kicks in, so does cortisol. This can be an okay thing but if there is too much, it can be damaging. When we workout, we raise those cortisol levels. This, in turn, can work against us in achieving muscle gains.
It can create the "plateau" effect and lead to frustration. When we are sleep deprived, cortisol levels also rise. Maintaining a healthy cortisol level becomes even more important. Taking CBD before a workout can help keep them at a healthy level during the workout. If you take some before bed for sleep, it will also have the side effect of managing your cortisol levels.
CBD Speeds Injury Recovery
Technically, muscle tears are injuries to the body. But there are other injuries to consider. Sprained ankles, pulled muscles, and broken bones can be common after a workout or competition. These injuries can take longer to heal and recovery can be frustrating. Reducing inflammation, easing pain and muscle tension, and sleep help with these injuries.
Using CBD while recovering from a serious injury can assist with your treatment. If your doctor prescribes you medication, be sure to talk with them about your use of CBD. CBD does have some interactions with medications. You won't have to worry about something serious, it can cancel the effects of other meds. Some meds even reduce the effectiveness of CBD.
Top Three CBD Gummies For Post-Workout Recovery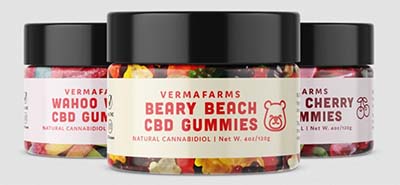 You may be surprised to learn that while CBD gummies for pain, anxiety, and sleep are the most popular reasons to take them, fitness trainers and athletes love them too.
CBD gummies reduce post-workout recovery time by reducing inflammation, encouraging muscle-development, and promoting sleep.
They make an excellent alternative for traditional painkillers like NSAIDs and opioids, and they help people working toward a fitness goal focus to prevent injury and keep pushing toward the finish line.
Selecting your CBD gummies seems like it should be simple, but because there are no agencies currently regulating CBD products, you need to be informed before you purchase anything.
Look for products that are made from domestically and organically-grown hemp, and make sure they come with a certificate of analysis verifying purity and potency.
Additionally, it is a good idea to understand the different CBD formulas on the market, so you know exactly what you are getting when you order.
All hemp-derived CBD is made with industrial hemp, which only contains 0.3 percent THC or less. Though this is not enough to cause a high, CBD formulas that use more of the plant may put you at risk for failing a drug test.
Be aware of your company's policy regarding testing positive for THC before you take any full or broad-spectrum CBD. CBD isolate is the only formula of CBD that contains absolutely no THC.
#1. Verma Farms
While somewhat fresh to the market, Verma Farms is quickly making a name for itself as a standout CBD gummies brand for focus, recovery, and sleep. Inspired by the Hawaiian Islands where the hemp they use for their CBD is organically grown, Verma Farms gummies are just about perfect. Not only are the plants never sprayed with chemical fertilizers or pesticides, the extract itself is made with a special eco-friendly process that never uses and additives or solvents.
Verma Farms CBD gummies are completely free of THC, so athletes do not have to worry about getting penalized or banned. And as always, they come with a certificate of analysis so you can be confident in your choice to make Verma Farms CBD a part of your fitness routine.
In addition to CBD gummies, Verma Farms also offers a full line of products, including oils, topicals, dried fruit, and even steak-flavored dog treats.
Dose: 10mg-21mg
Price: $34.99 – $39.99
Save on a pack of 3: $85.00-$99.00
#2. Charlotte's Web
Created by seven brothers who made a mission out of helping a little girl named Charlotte reduce the number of seizures she had, Charlotte's Web has become one of the most recognized names on the planet for CBD products. The hemp used to make their full-spectrum CBD gummies is cultivated sustainably, and was genetically formulated to create the ideal mix of terpenes while remaining non-psychoactive—perfect for those working toward their fitness goals.*
*Charlotte's Web CBD gummies are made with full-spectrum CBD, which means that though they are non-psychoactive, they do contain minimal amounts of THC. Not enough to get you high, but possibly enough to make you drowsy or fail a drug screening. This means that if you are a professional athlete, these gummies may not be for you.
In addition to their gummies formulated for sleep, calm, and recovery, Charlotte's Web offers a full line of CBD products, including capsules, oils, topicals, and isolates.
Dose: 10mg
Price: $54.99
Save on a pack of 3: $131.97
#3. CBDfx
CBDfx broad-spectrum CBD gummies are formulated using the best ingredients available, including hemp grown on Kentucky farms that use organic practices. Their vegan gummies come in three varieties: Berry-flavored gummies that are just plain CBD, CBD gummies with spirulina and turmeric added to boost pain-fighting power, and specially formulated CBD gummies for sleep that contain added melatonin.
*Keep in mind that while the aim of CBDfx broad-spectrum CBD is to provide the entourage effect without exposure to THC, there may still be enough THC present to cause you to fail a drug screening. However, the spirulina and turmeric CBD gummies are an excellent choice for people who are not regularly screened for THC, due to their added inflammation fighting power.
CBDfx has the widest selection of products out of all the brands mentioned here, including edibles, capsules, topicals, oils, drinks, and pet products.
Dose: 5mg
Price: $9.99 – $49.99
There is no deal for buying multiple packs, but there are gift bundles and wholesale discounts on the website.
Conclusion
Athletes, trainers, and the average person in the gym can benefit greatly from using CBD for muscle recovery.
Folks who are new to workouts can find more motivation with the use of CBD.
Athletes who need to maintain a specific weight or keep their stamina up will see it's benefits.
Trainers and those with specific muscle goals will be able to achieve them sooner.
The injured may be able to cut down their healing time.
The best thing about CBD is it's not addictive and can be used as you need it. CBD is well worth the investment when you consider all the wonderful things it can do for us in our everyday lives.
Taking CBD gummies before you work out can help you push your limits and make faster progress, taking them after can help you recover faster and get a good night's sleep.
Take CBD gummies for pain related to your workout, for reduced inflammation, and to help you focus on reaching all of your fitness goals.
The CBD gummies listed here are the best gummies to incorporate into your fitness routine, and are made to give you the boost you need to take your workouts to the next level.