Introduction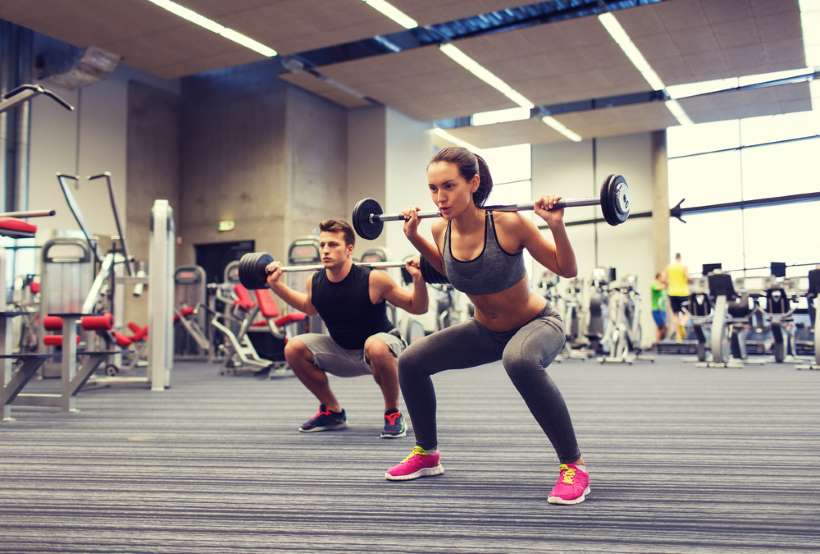 Do you want to learn how to open your own gym?
If so, you should check out our guide here with all the steps you need to take to start your journey.
If you have a passion for fitness and understand how to get people healthy and reach their fitness goals, it's only a matter of time before you may consider opening your own gym.
However, before you throw all your savings into buying gym equipment and renting a venue, it's vital that you do a little research.
Learning how to open a gym and run a business is more complicated than simply helping people implement a healthy lifestyle.
It's about understanding the industry, knowing how to market your business, and learning how to manage your finances.
But don't let that turn you away from a potentially successful and incredibly rewarding business. We can help.
Keep reading for a step-by-step guide on how to open a gym.
Tips to Open Your Own Gym
Understand Your Intentions
First, when learning how to open a gym, it's important to understand your intentions and goals behind the business venture. Do you want a small, private gym with a modest amount of one-on-one personal training clients? Alternatively, would you prefer a larger, open-gym concept where people come and go as they please and you have less personal involvement?
Each style of a gym can be beneficial, depending on your intentions. For example, a smaller gym comes with deeper, more meaningful relationships with your clients, which can lead to a more faithful client base. However, a larger gym requires less emotional energy and allows for a greater capacity of gym members, even if you don't know all of their names.
Determining the driving force that's led you to open a gym is vital to its success and your continued motivation and passion for the business.
Research the Market and Draw Up a Business Plan
Learning how to open a gym means doing your homework. In this case, it means doing an adequate amount of market research to further understand the industry. Seek to answer the following questions:
What is your market potential?
Is this industry growing or in decline?
How intense is the local competition?
How will you stand out and diversify yourself from the competition?
Who are your top competitors and how much of the local market share do they own?
What is the competition doing right?
In what areas is the competition lacking?
Once you've answered these questions (and others), it's time to draw up a business plan. A business plan is your thorough guide to the future of your business. However, it's also the source lenders and investors will use to determine whether or not they want to finance your business.
A respectable business plan should include:
An executive summary – serves as an overview of your business plan
A description of your company – who and what you do, as well as your business goals
Products and services – the products and/or services your business will offer and how they will benefit consumers
A market analysis – presents the data uncovered in your market research pertaining to target customers, industry trends, competitors, etc.
Sales and marketing strategies – outlines how you intend to reach your target customers as well as your sales model
Company organization and management – details the structure of your company (sales, management, owners, etc.)
A financial plan – explains your costs (equipment, advertising, location, etc.) as well as potential financial growth
We cannot overemphasize how important a properly written business plan is. It will show you potential growth, highlight obstacles, and play a large role in getting your business the startup money it needs.
Get Financed
Now that you've finished your business plan, it's time to pitch it to potential lenders or investors. If you fail to get lending from one source, don't give up, you have several options.
First, you can apply for a traditional business loan through your bank. While these offer solid, fixed interest rates and a hands-off approach to your business, they also have some drawbacks. Banks won't approve you for a business loan unless you have a respectable credit score, and even if you're approved, you may not get all the money you need.
Alternatively, you can turn to investors. You can approach personal investors such as friends, family members, and co-workers. You can also try crowdfunding platforms to find the necessary startup funds for your gym.
Find a Venue
Once you have your financing (or are sure you can get it), it's time to start shopping for the right venue. Learning how to open a gym and run it successfully means finding a location with the right feel for your vision.
For example, if you're looking to attract a lot of heavy lifters, you may want an industrial or shop-type setting. If you're looking at a more intimate gym, you may want a studio with lower ceilings and modern designs.
Regardless make sure you consider the costs involved in each location, such as:
Monthly rent or mortgage payments
Utilities
CAMs (common area maintenance fees)
Insurance
Rent inflation
Take Care of the Logistics
Next, you need to start looking into the logistics of operating a gym.
Every gym needs gym equipment. Learning how to open a gym and come in under budget means learning how to shop frugally. It may mean starting slow with limited equipment and slowly building up your facility.
You also need to consider business software and hardware. This includes things like point of sale systems, check-in systems, security systems, computers, phone lines, etc.
If you're planning on hiring employees, you need to make sure your starting team consists of people you can trust. The initial stages of your gym will be an important time of learning the industry and depending on the other people involved.
Finally, make sure your business is licensed through the city and registered through the state. You should also get proper business insurance to protect you, your company, your employees, and your clients.
Initiate a Marketing Plan
Lastly, you need to start getting the word out about your new business. Marketing skills are a major factor in learning how to open a gym and avoid failing a few years down the road.
There are endless marketing options out there, but here are some vital steps every business owner should take:
Build a professional website
Learn how to maximize SEO on your website
Create social media profiles and start amassing followers
Make sure the community knows you exist
Experiment with various forms of digital marketing (email marketing, PPC advertising, etc.)
Try traditional marketing tactics (radio, TV, direct mailing, etc.)
Pros and Cons of Investing in Gym Management Software
A lot of gym owners are already using gym management software to streamline their processes and enable them to focus more on improving and marketing their services to old and new customers.
Depending on the gym software's features, it can:
automate membership management
facilitate online class enrollment and scheduling
enable SMS and email notification to members about their schedules and other promotional updates
improve task management among gym personnel
provide a smooth and convenient payment processing and assist managers and gym owners in coming up with marketing and operational strategies in light of real-time customer and sales data.
With its price ranging from $120 to $250 monthly, it pays to know the pros and cons of investing in one before you start getting on the bandwagon just to make sure you won't regret in the end. Read on…
Pros of Investing in Gym Management Software
As the gym owner, it is essential and wise to carefully weigh the pros and cons before you start shelling out your budget to address your gym management issues. Let us start with the pros…
Pro #1: Streamlines and automates the management processes.
The manual gym management approach is full of inefficiency, paperwork, and time-consuming check-in processes and billing. The software is primarily designed to replace these with a fast, easy, and streamlined method to organize and manage a gym smoothly.
Pro #2: Improves membership sales.
One proven benefit of investing in gym management software is how it promotes sales in several ways. For instance, it streamlines and automates all the administrative tasks that require hours to accomplish when done manually. With the software's help, more time can be diverted on improving customer retention and driving sales from new members and potential customers. Moreover, to have a mobile application these days where almost everyone is on their mobile phones gives an edge over the competition as membership application is just right at the people's fingertips. And with email marketing services in place, automatic send-out of emails and SMS to customers and prospective customers who have signed up for newsletter about new gym offerings keeps that engagement and bond. This tells your customers that they have indeed chosen the right gym.
Pro #3: Enhances member retention.
Keeping your current gym members is vital if you want to sustain your revenue, keep your costs low, and grow your gym business. Retention is only a product of having a strong relationship with your members and this area is what the software aims to fill. It enables easy monitoring of your members' whereabouts and behaviors so you can get to know them and their likes and dislikes better which is important so that you can target your marketing efforts towards trust-building.
Pro #4: Minimizes delinquencies.  
Gym owners try different ways of ensuring that their members will pay on time without them having to remind over again. Software providers are trying to address this by featuring automated email reminders to members before their due dates. The reports that the software generates also enables owners to look over the gym's financial performance and easily spot delinquency cases so they will be able to reach them head on.
Pro #5: Facilitates accurate decision-making.
Aside from financial reports, the software also presents performance and trend analysis reports which might specifically indicate which workout times are the most traffic and which classes are most crowded. This easily accessible insight allows owners to improve the areas that need it and optimize on other potential areas. The report can likewise show detailed member profile listing, allowing owners to study which demographic group get attracted to their services and why.
Pro #6: Enhances member and customer satisfaction and boosts employee morale.
A gym goer always opts to visit a fitness center that can let him experience a different kind of awesome gym experience. While investing in top of the line workout tools and equipment plays a huge role to achieve this, having a gym app with awesome interface and functionalities can also make a good customer impression.
The same is true for employees who will get to appreciate the help that gym management software can provide to ease their jobs. To create work schedules that can turn out pleasing to everyone and ensure that all employees are still keeping their morale is hard but with the software, it can get done.
Cons of Investing in Gym Management Software
However, some experts have identified a few downsides which do not outnumber the benefits, nonetheless:
Con #1: Cost
There are a lot of available gym software in the market today and you can definitely find one at a cheap price. However, for the most part, features can be compromised and you may only end up wasting your investment. It is wise and smart to invest in reliable gym management software instead. Nowadays, however, decent web-based gym apps with basic features come with a hefty price ranging from $120 to $300 monthly. Besides the volume of features, other factors that can affect the pricing are the brand's credibility in the market, the availability of customer support, and update inclusions.
If you want your software to address all your issues and allow you to achieve so many tasks efficiently, then you will have to bear the huge investment cost. Make sure to spend only what you can afford. Most importantly, make sure that each feature you are to pay for can truly benefit your gym.
Con #2: Job Shifts
Let's face it; how savvy and comfortable people are with technology still varies even if we are living in this digital age. So, if by using a gym software, you can finally downsize your staff because the administrative tasks can now be completed easily, aside from the economic impact it can cause on the unfortunate employees, it is also difficult to decide who among your trusted personnel should you let go and who among them will be retained. Technology and automation are designed to assist, and not replace, people but sometimes, gym owners will be inclined to do the latter.
Looking for More Advice on How to Open a Gym?
If you're looking for more tips on how to open a gym and run a successful business in the fitness industry, be sure to check out some of our other articles before you go. We also have plenty of advice on diet, exercise, and living a healthy lifestyle. Good luck!
About Shannon Clark
Shannon holds a degree in Exercise Science and is a certified personal trainer and fitness writer with over 10 years of industry experience.