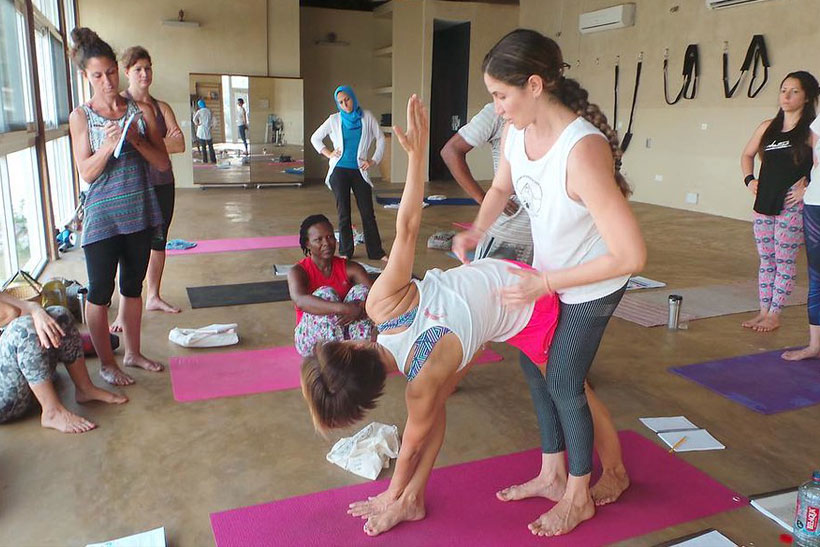 Yoga is derived from a Sanskrit word 'yug' which means to unite through various means like breathing, exercises, techniques, yoga asanas or poses and meditation.
It is the knowledge of the body which was originated in India thousands of years back. Yoga can help one to lose weight or back pain. It can also make one very flexible to even bend to touch one's toes and bend backwards.
But the most important benefit of yoga is it makes one's mind at peace helping in bringing composure and acceptance with oneself, with life and with the world surrounding us. It creates understanding where one gain perspective about everything. It not only brings flexibility to one's body but also builds strength.
There are many types of yoga like Ashtanga yoga which is sequence of yoga linked with movement to breath, hatha yoga which includes basic yoga postures, Bikram yoga or hot yoga which is done in a temperature of about hundred and fifty degree Celsius and with 40 percent humidity, Iyengar yoga in which a correct alignment is formed along with various props like chair, Kripalu yoga which states to learn from our body and to know and accept it, etc…
This is important to know that there are few risks and side effects associated with yoga. Injuries during practicing yoga are pretty rare but there are some serious side effects too.
People with medical conditions like pregnancy, high blood pressure or glaucoma or sciatica should first consult their doctors before indulging themselves in doing it. Also, the beginners should always start with easy postures and not directly start with extreme postures as it can be very dangerous and can lead to serious injuries and pain. If after doing yoga someone feels pain in any body part he/she must immediately consult a doctor to make sure that it is nothing serious.
Anyone who is preparing or considering preparing for yoga teacher training must keep a few things in mind. I am sure that you guys are both excited and anxious about it since yoga teacher training can be intense but it is a great profession due to the growing popularity of yoga around the world and not just in India. Following are some tips for preparing for the same-
Going through books – it is a way to become familiar with some of the Sanskrit words, philosophy and other few things about yoga. It is just a way to get some textbook knowledge prior to actually starting the formal yoga teacher training. Remember that since it's the first time you might not understand a few things written in those textbooks and you should not let your morale get down because of it.
Online course – one may help a person who no more has the habit of studying. It will create a habit of studying that will help in the formal yoga teacher training. This teacher training course can be taken by the person of any age, caste, creed, nationality or gender without any discrimination. There are many online courses so one should choose them wisely.
Eat properly – it is suggested to eat a lot of food especially a plant-based diet prior to yoga teacher training. Since plant-based diet helps to keep the body energized and fit so that even the intense body training which is done during yoga teacher training does not affect the body. It also protects the body from unwanted illness and diseases along with keeping you energetic.
Always try to attend the training – one should always attend the yoga teacher training and be present on the mat. One should never try to miss the practice even one day. Even if you are a mother and has the responsibility of a child you should somehow try to convince yourself that the dad will take care of it properly.
Practice makes a man perfect – always remember this phrase. The more you practice the more you get yourself prepare for the physical demand to do yoga for a full day after bringing a yoga teacher. Also, it helps in improving the postures and alignment. Always try to be better than yourself and keep practising.
Understanding the props – there are a lot of props used in yoga. You should understand and practice their use properly during the training process so that you can always focus on the skills in the class and not on how to use a particular prop.
Take tests – along with physical strengths, psychological strength is equally important for a yoga teacher, this one should keep giving tests to work on it. Also, it will give the trainer an idea about what you have learned and what you need to work on.
After the yoga teacher training will be completed, I am sure you will find a newly transformed and a better you. You will always cherish this so you should work really hard. You should always remember your goal to make this choice and strive to work really hard to achieve it. I wish all the potential and to be a yoga teacher trainer all the very best!
About the Author:
Vivek Roy is an enthusiastic Yoga blogger and Traveller from India. He has done 200 Hours yoga teacher training in India. He loves to travel and share the knowledge of yoga around the world.  For more information about him visit his website.
About Mark