Over 30 Gamified Fitness Experiences in a Single App: By The Conqueror
Many people remember periods of their life based on the kind of exercise that made them feel confident, living life to the fullest.
Various sports might have shown up for you in high school during peak stir-craziness with the whole "teenager" thing, spending hours in the gym to keep a good body shape may have boosted your confidence during college, or maybe at-home strength training with an online coach has been big for you in the last few months of quarantine.
The truth is, it's normal to get bored with exercise no matter the phase of life. So we should ask ourselves how we can fall back in love with sweating again and again.
Working out without a purpose can make you feel bored or it can make you struggle to find the motivation to continue. But if you can balance it with some gamified exercises, you will be able to increase your strength, exceed your fitness goals and keep up your motivation.
Knowing the need to kickstart the mojo, The Conqueror has set up virtual challenges to boost the connection, engagement and motivation for fitness pals around the world to fall in love again with sweat and develop a new personal accountability system.
The Conqueror app and virtual challenge community has 150,000 members at the moment and welcomes more every day to this global tribe.
The Conqueror Challenges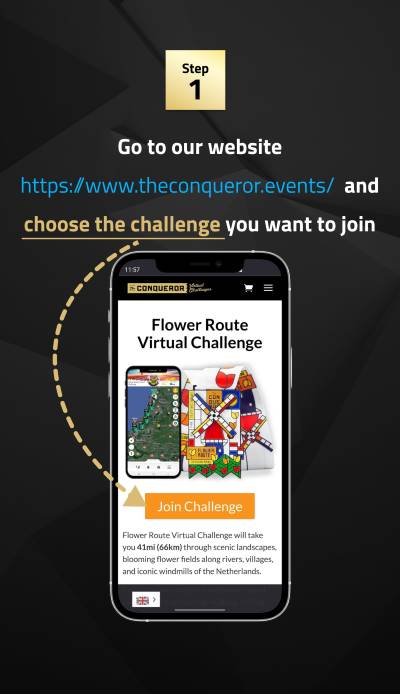 The Conqueror Challenges is a start-up that helps people from around the globe to keep their promise of staying active.
Over 400,000 people have already tried the challenges, ranging from short to long distances, which can either be done at home through indoor activities like using a treadmill, cycling on a stationary bike or done outside through activities like jogging, walking, swimming, or rowing etc.
In fact, any distance-based exercise counts as completing a virtual challenge and it can be completed with family or friends anywhere in the world.
Better still, you can virtually travel the world, visiting locations such as Yellowstone, Road to Hana, Niagara Falls, all the while sharing your pain and pleasure with a global network of fitness enthusiasts.
Gamified Fitness Challenges That Help You Travel Around the World Virtually
With more than 30 gamified fitness experiences along the most well-known landscapes around the world, The Conqueror brings your work out to fun and challenging environments.
As the virtual travelers advance along with the map, they can see the street view at virtual milestones and unlock virtual postcards. The postcards are sent via e-mail and contain interesting historical information about those milestones.
These of course can be shared via social media, generating excitement for friends and family, especially when they see the beautifully crafted finisher's medal which represents the adventure the challenger has been on.
The Bottom Line
By choosing and committing to sign up for a virtual race with The Conqueror Virtual Challenges, from the word 'go' you can help make the world a better place; the app offers a gratifying choice to make an environmental impact, whether it is to help the forests regrow or reduce waste by collecting plastic bottles. For each 20%of the challenge you complete, The Conqueror donates towards either cause. The social impact you make from the outset is yours to own.
So, whether you want to complete a challenge to lose weight, overcome an injury, increase your strength or add a bit of extra spice to that workout routine or training goal, The Conqueror has an interactive challenge suitable for you.
Join our encouraging and engaging community of over 150,000 tribe members to help you get some inspiration, you won't regret it.
About Theresa Duncan
Originally from Detroit, MI, Theresa has been offering health and fitness advice for the last 30 years while working as an engineer. She decided to turn her passion into a profession, and finds nothing more satisfying than helping others reach their health and fitness goals.