Introduction
The history of the fitness industry is filled with trends and gimmicks. There have been hundres of popular fads like: Tae Bo, Thighmaster, Body by Jake, the Shake Weight, and many more. Only a few fitness concepts have truly withstood the test of time, such as staples like gyms and personal trainers. These models have persevered in this competitive space, since the dawn of the fitness industry, because they actually work!  And quite frankly, they require work too.
This harsh truth is only becoming harsher for us, as virtually everything else in our lives is getting easier. Our options for food, entertainment, information, dating, shopping…the list goes on and on. Despite things getting more expensive, everything is more readily available and easier to obtain. Soon our cars will likely even be driving themselves. Just think about that. Everything is getting so easy.
And we love it. All of it. If we didn't, these convenient options wouldn't be on the rise. Just take a look at some of the monumental changes to our lifestyles in recent years:
To-go food orders have become 40% of restaurant revenue, with the to-go segment growing 300% faster than in-restaurant dining since 2014.
Digital grocery orders account for 12% of US grocer revenue, and this number is climbing.
AMC theaters reported a roughly 30% decline in revenue between 2022 and 2019, because people are seeking more and more entertainment options from the comfort of their home. In other words, we've grown so comfortable at home that even going to a movie theater is unwelcomed effort.
Do we even need to discuss malls? Some people reading this article won't even remember the days of hanging out at malls. Online shopping has all but driven one of our nation's most beloved past times into extinction.
The Metaverse. Facebook's multibillion-dollar bet that we are all going to want to stay in our homes in the near future, building our lives in the digital world instead of the real one. Yikes!
The Rising Desire for In-Home Fitness
So, what does the future of fitness look like?  Well, like everything else, the growing segment is in-home fitness. Global online fitness reached $16 Billion in 2022 and is expected to grow more than 25% every year for the foreseeable future. By 2031, it is projected that the in-home fitness industry will be larger global gym industry.
Segments in the In-Home Fitness Industry
There are two primary segments in the in-home fitness industry, which are: online exercise-along videos and in-home personal training.
Training With Online Videos
Much of the content in the online video space is not great. Expect a lot of the same gimmicks and fads fitness has exhibited in the past here. Fitness influencers will package up their catchy new fitness ideas and sell them to the masses as a new and easy way to get fit, in the end they'll all just be examples of the new generation's shake weights.
The more quality online content will be filled with tried and true exercise routines, with the influencer of your choice walking you through them. However, there are two primary challenges to these type of routines. First, without proper guidance, poor technique will ultimately lead to inefficiency and/or injury. Second, our bodies are all unique, so these one-size fits all prerecorded workouts provide one-size fits none results.
In-Home Personal Training
In-home personal training is also on the rise. This fitness movement combines the long-time fitness staple of personal training with the stay-at-home movement, and it is resulting in a pretty darn good service. Why? Because it still requires you to put in the hard work!  However, you get to do it at home, and you get to do it under the expert guidance of a certified fitness professional, who can help you with proper technique and programming.
Top Three Companies to Watch
There are three companies to watch as this industry continues to grow and evolve.
1. Mobile Trainers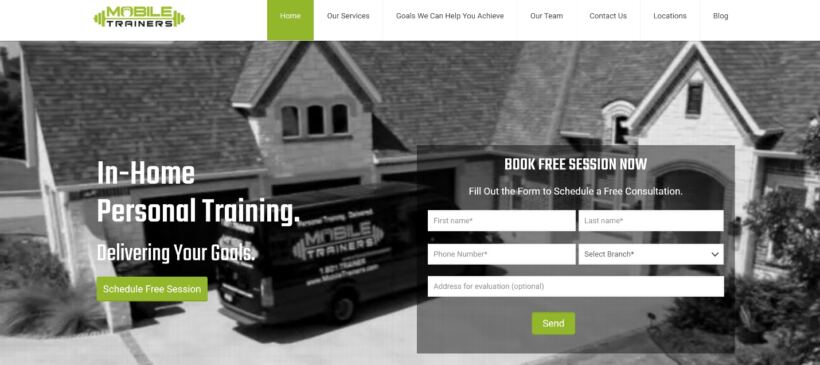 The first on this list is Mobile Trainers. These guys aren't franchising, which means they aren't trying the typical get-rich-quick approach that most big fitness brands pursue. These guys are actually managing each of their branches themselves, ensuring high quality service. It might take them a little longer to get a national footprint doing it the old fashioned way, but their customers will be able to tell the difference.
Founded in Scottsdale, AZ in 2020 on the mission of bringing the industry's most elite personal trainers out of the gym and delivering them directly to client's homes, Mobile Trainers aims to bring a premier fitness experience to your living room. They claim to be the fastest growing in-home personal training company in the US and have operations in Phoenix, Dallas, Miami, Denver, and Austin, which is pretty fast growth in just a few years.
In addition to personal training, Mobile Trainers offers nutrition consulting and 3D body scanning. Their website indicates that their nutrition consulting is performed by a registered dietitian on staff, and the 3D body scanning is also conducted at clients' homes, allowing them to track progress
2. GymGuyz

GymGuyz was founded in 2008 by Josh York in Long Island, NY. This guy clearly got in before in-home fitness grew to the popularity it is today, and he began franchising back in 2014. He reportedly begain this company in his parents' living room with the dream of scaling a mobile fitness business using his van. According to their website, they now have a whopping 38 locations. However, 14 of these locations are in the greater New York area, so their national footprint may not be as mature as it sounds. Still , their copyrighted slogan, "#1 In Home Personal Training" seems to be right on point. The future will tell if they can stay on top of the rising wave of in-home fitness.
3. Outfit Personal Training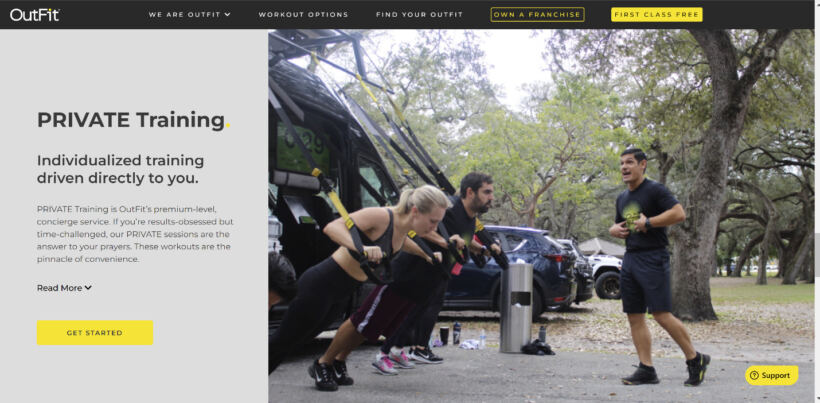 This is an example of a mobile gym. Founded by former Navy Seal Randy Hetrick, this is a franchise focused on building an outdoor mobile training empire. While this may not quite sound like it is in step with the growing desire to train within the four walls of your home, the founder of TRX training equipment, Randy Hetrick, should not be counted out. The vans looks sophisticated, and the workouts look fun, the only real question is if people will fall in love with the idea of exercising outdoors with these mobile gyms.
Conclusion
At the end of the day, fitness does require hard work, and most of the fitness trends of our checkered past are based on the same sales pitch: an easy way to get fit. That's what we all want, right?  We want to get into top physical condition with as little effort as possible. Well, don't buy it, because the simple truth is: fitness requires work.
Hopefully we learn from our past mistakes as we head into the next generation of fitness. In-home training can be a very good way to achieve fitness goals, especially when combined with the help of a certified health professional like an in-home personal trainer.
About Theresa Duncan
Originally from Detroit, MI, Theresa has been offering health and fitness advice for the last 30 years while working as an engineer. She decided to turn her passion into a profession, and finds nothing more satisfying than helping others reach their health and fitness goals.